Screens, stages and airwaves have this year been dominated by celebrations of the life of William Shakespeare, 400 years after his death. Tourists have flocked to his native Stratford-upon-Avon to see where he was born, baptised, and periodically returned to from London to see his circle of friends. Many have also visited New Place, the house he aspired to buy once he had made his money in the city. It recently was revealed by a major programme of archaeological excavation and painstaking research by the Shakespeare Birthplace Trust.
Just across the road is an intriguing building which is currently capturing the imaginations of journalists and visitors alike – a medieval guild chapel which preserves traces of a remarkable scheme of paintings. They are paintings that William's father, John Shakespeare, appears to have attempted to destroy.
As a buildings archaeologist, I've been researching the Holy Cross guild buildings for the last ten years, and thanks to the painstaking work of the conservators Perry Lithgow, the paintings are clearer than they have been for centuries. New details emerge from the walls every day.
The paintings were part of a scheme of decoration commissioned by Stratford's Holy Cross guild, a religious organisation which dominated the political, religious and public life of the medieval town. One of their wealthiest members, Hugh Clopton, merchant and sometime Lord Mayor of London (and the original builder of Shakespeare's New Place), commissioned them just prior to his death in 1496.
Such patronage might not seem unusual to modern audiences, but the message behind it certainly was. Medieval life was brief, and death, Purgatory and Judgement was a certainty – even for Lord Mayors of London. Joining the Holy Cross guild was therefore a form of medieval spiritual life insurance, ensuring that your soul would be prayed for long after your death.
Seeing and believing
The imagery is powerful even today. Over the chancel arch, Jesus presides in Judgement, with the souls of the elect rising from their graves to be greeted by St. Peter in the Heavenly Jerusalem. Meanwhile, the damned (whose sins of pride, luxury and gluttony are helpfully identified by labels held in outstretched hands) are rounded up by demons, and dragged through the grisly mouth of hell to unspeakable torments beyond.
On the north wall of the nave, popes and prelates, kings, knights, merchants and peasants parade in a grim "Dance of Death", the images juxtaposed with stanzas of verse from a contemporary poem by Lydgate. The death theme continues on the west well, where an angel stands over a shrouded corpse in the grave accompanied by another medieval poem Erthe Upon Erthe.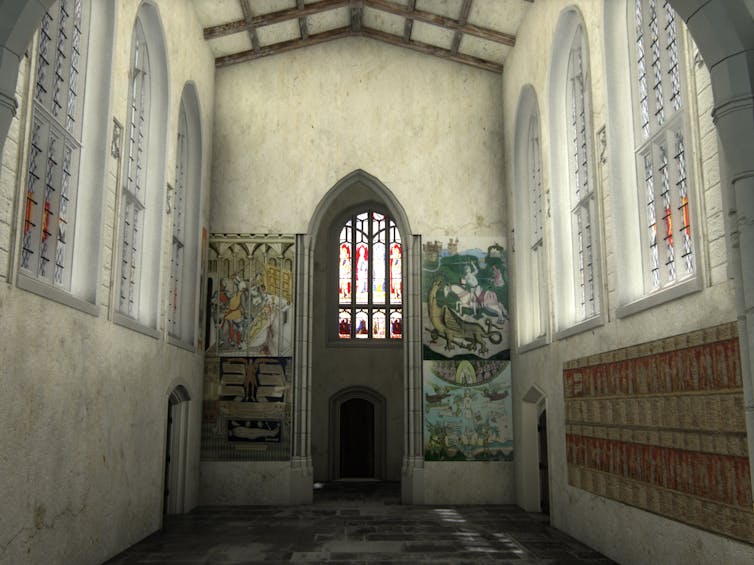 But of course, it is John Shakespeare's involvement in the paintings which has caused most interest in the press.
From 1563-4, Shakespeare senior was a chamberlain for the Stratford Corporation and signed off the year's accounts, including the payment of 2s. for "defasyng ymages in ye chapell". This has long puzzled academics. Legislation against guilds and images was passed by Henry VIII's son Edward VI in 1547, as part of the ongoing legislative programme of the English Reformation. But it appears to have taken Stratford another 16 years to cover over the paintings in the guild chapel.
While it is tempting to read complex religious motivations into the strategy of the Corporation – or indeed John Shakespeare, whose religious affiliations have been the subject of much speculation, the answer is probably pragmatic. As my Stratford colleague Bob Bearman has argued, the members of the Holy Cross guild were Stratford's elite. They spent six years petitioning the Crown for the return of their buildings and land, and re-emerged in 1553 with remarkable continuity of personnel as a newly-incorporated "Corporation".
It is possible that they simply locked the door of the chapel in 1547, and only finally got round to tackling the images in the 1560s, when the dust caused by the major religious upheavals of the day had settled. Even then, references to the Dance of Death in 1576 and to paintings in the chancel in 1641 suggests not everything had disappeared from view – or memory.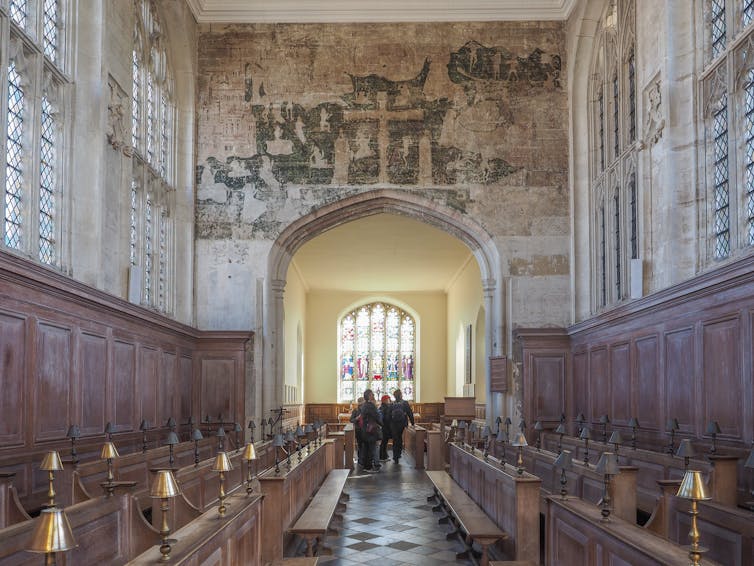 Culture wars
In the past few years, events in the Middle East have reminded us how the destruction of cultural heritage can be used as a weapon of war. Stratford is a powerful reminder that such destruction is a fundamental part of our own cultural inheritance – as it was for the young William Shakespeare.
Going to school in the former guild buildings and growing up surrounded by the traces of England's Catholic past must have had a powerful effect on his imagination. Were the ghostly outlines of cadavers and corpses, saints and sinners still visible behind thin layers of limewash when Shakespeare was growing up? What ideas and stories did they inspire which later found their way into his poetry and prose?
Today, the rediscovery and conservation of the paintings is seen as a way of drawing visitors into yet another gem on Stratford-upon-Avon's tourist trail. Yet in 1804, when the paintings first came to light during restoration works, they had a more mixed reception. Local and national antiquarians described and drew the paintings using the latest lithograph technologies, but they were almost immediately covered up again.
They were viewed as examples of rather crude and fragmentary artwork whose merits were not recognised in a world dominated by Renaissance aesthetics, and whose subject matter was still considered to be a dangerous incitement of Catholic tendencies. It was only in the late 19th century that the conservation movement began to change clerical and public opinion and art historians and archaeologists began systematic work on medieval wall paintings.
Stratford's guild chapel provides a timely reminder that the way in which a society values its religious buildings and art, and the decisions it makes as a consequence, will have a profound impact not just on their survival, but also on their ability to engage and inspire future generations.