Anyone reading the news from Israel and the Gaza Strip could be forgiven for thinking it's November 2012 rather than July 2014. Back then, Operation Pillar of Defence was conducted in the Gaza Strip over eight days, with the goal of ending rocket fire into Israel and disrupting the military capability of Hamas in the longer term.
The current incarnation, Operation Protective Edge, will pursue the same aims, no doubt in a similar fashion – but it is ultimately bound to fall short in the same way.
This latest flare in violence was sparked by the murder of three teenage Israeli settlers in Hebron, with two Palestinian suspects thought to be members of Hamas. Although Hamas has denied responsibility, Israeli prime minister Benjamin Netanyahu has repeatedly said Israel holds the organisation responsible and is acting against it.
Israeli collective punishment has included the arrest of hundreds of Palestinians, home demolitions, the restriction of movement in the West Bank, and the killing of numerous Palestinians in clashes.
Blame game
In an apparent revenge attack, a Palestinian teenager from East Jerusalem was murdered by Israeli youths, sparking clashes and riots in Shuafat and elsewhere. For weeks, Palestinian militants have launched hundreds of rockets against Israel from the Gaza Strip, although these have caused no Israeli casualties thus far. According to Palestinian sources, Israeli strikes on the Gaza Strip have reportedly killed 77 (including civilians) and wounded hundreds of others, with this figure inevitably rising over the course of the operation.
It is all just as tragic as it is familiar. The predictable pattern is this: the blame game is recycled with mutual recriminations from each side, a cease-fire is negotiated, each side claims victory, and the status quo is reinstated, albeit with more grieving families than before. We then wait for the next round of violent hostilities, possibly interspersed with a set of failed negotiations just for good measure.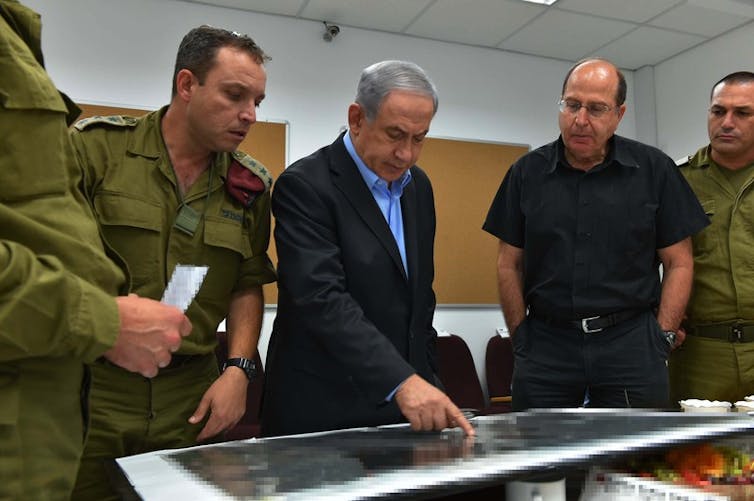 Israeli Defence Minister Moshe Ya'alon said his forces will "exact a huge price" from Hamas. Although 40,000 reserves have been called up, there is no real appetite for a ground invasion similar to Operation Cast Lead in 2008 or a reoccupation of the Gaza Strip, which would undoubtedly incur many Israeli casualties. While the right wing and sections of the public support such a move, Netanyahu's risk-averse nature makes it less likely. If, however, pressure builds and he believes that his political survival is at stake, this calculation could change.
Mowing the grass
As it stands, this is just another episode of what Israeli experts refer to as "mowing the grass", a process the New York Times describes as having "the limited goals of curbing rocket fire, destroying as much of the militant groups' infrastructure as possible and restoring deterrence".
Leaving aside the callousness of the metaphor, history has clearly shown that the effectiveness of said deterrence is temporary at best. The killing of current militant leaders will bring new ones in their wake, potentially even more radical, and add to the list of Palestinian grievances.
There is a serious need for long-term thinking, not lethal temporary fixes, because the truth is that there is no military solution to this conflict. The occupation needs to end in order for Palestinians to live with dignity in a state of their own. It also needs to reverse what David Horovitz describes as the blackening of Israeli hearts .
In November 2012, just a month or so before his death, former IDF chief of staff Amnon Lipkin Shahak was asked to assess Operation Pillar of Defence. His response is worth quoting in full:
The operation was conducted fairly well and the result is reasonable. But that's not the point. The point is that we must reach an agreement with the Palestinians. Without it, we will have to launch these operations again and again with similar results; and our leaders must also finally understand that in order to reach an agreement with the Palestinians we must talk and close the deal with those who are willing to talk to us and reach an agreement with us. I am referring to Abu Mazen (Palestinian President Mahmoud Abbas). If, god forbid, he will leave, then we will be done for and left with their crazies and our crazies. They will finish us.