At 2am GMT on January 20, Lost in London – Woody Harrelson's feature length directorial debut – begins shooting on location in London. It will simultaneously be broadcast live into 500 cinemas in the US.
The publicity for the film has been intentionally light on detail about the plot. We know that it is based around Harrelson's real-life misadventures during the course of an evening in London as he attempted to get home to his family some fourteen years ago. The film is a comedy co-starring Owen Wilson and Willie Nelson. That is all that has been revealed so far – the publicity has to date focused on the novelty of the mode of production.
And appropriately so. Because Harrelson's film can only take place due to a confluence of technological, commercial, industrial and artistic developments. Together, these advances demonstrate that we have entered a new age of cinema.
Event cinema
Most important, perhaps, is the phenomenon of "event cinema" screenings – the broadcast or retrospective screening of live events including music, sport, theatre and opera to cinema audiences. Long gone are the days when going to the cinema just meant going to see the latest Hollywood blockbuster. The ubiquity, popularity and commercial success of "event" cinema has been growing apace. In 2003 a David Bowie concert was broadcast live by satellite from London to promote his new album Reality; then in 2006 the Metropolitan Opera in New York began frequent live transmission of their performances. The UK's successful NT Live programme of screenings launched in 2009.
Similarly, live and experiential cinema – the creation of live events around a particular film screening – has been rapidly expanding. In 2017, Secret Cinema, now in its tenth year, launches an elaborate live production of Moulin Rouge, following their 28 Days Later and Dirty Dancing successes of 2016.
Many such events are experimenting with hybrid forms, combining theatre and cinema. In 2015 there was, for example, a one-off theatre performance of the participatory Rocky Horror Show – which was broadcast live from the West End to cinemas all over the world. And in summer 2016 a landmark collaboration between NT Live, Edible Cinema, Omnibus Theatre and King's College London saw the staging of an elaborate immersive encore screening of Martin McDonagh's Hangmen.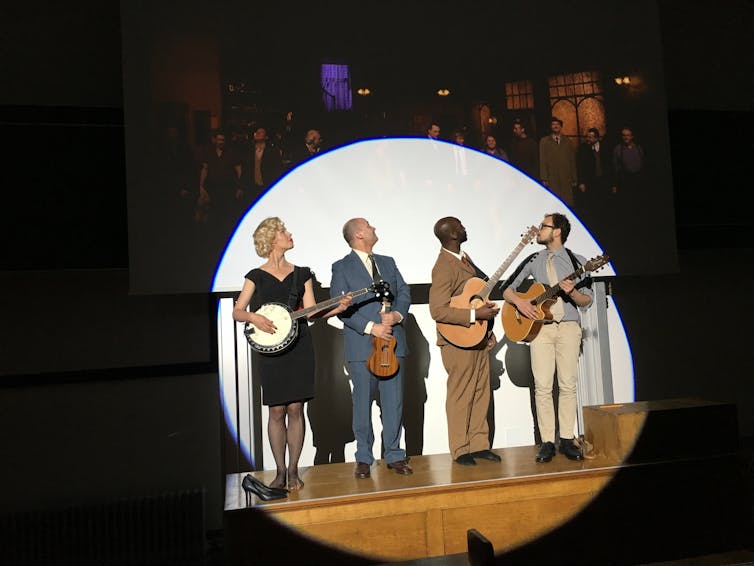 Other artistic and experimental practices which blend theatre, film, live audience engagement take advantage of networked technologies include Blast Theory's My One Demand and The Night Vision Experiment, a live internet performance which unfolds over social networks. We are also seeing the integration of smartphones into cinema screen spectatorship.
Lost in London
But this is the first time that Hollywood narrative cinema is going live in the same long-established vein that television soap operas have adopted with occasional one-off anniversary or commemorative live broadcasts. In 2010 "Eastenders Live" was broadcast live to the nation to mark the shows 25th anniversary. Ten years earlier "Coronation Street Live" similarly marked the 40th anniversary of the soap opera.
Lost in London builds on the emergent traditions of "one take cinema" pioneered by Timecode (2000); Russian Ark (2002); and Victoria (2015) made possible by the portability of digital film cameras.
The critically acclaimed Birdman was famously produced as if in one take – such is the appeal of this particular style – the origins of which can be traced to Hitchcock's Rope (1948) which broke with narrative convention by disguising the cuts to give the illusion of being filmed in real time. This technology which enables live continuous dramatic action to be filmed across various geographic locations – in the examples above in St Petersburg, Los Angeles and Berlin, is now brought to London.
What the Lost in London approach may mean for the cinema of the future is uncertain. The impacts of event cinema upon theatre audiences and economies are only just starting to be understood as recent reports show. The same is true of live cinema's impacts on cinema audiences.
A new genre
But what is clear is that this is a manifestation of a new film production genre. Lost in London is made specifically for live exhibition.
What is also certain is that the demand for live, new, experiential cinema is growing, partly in response to online file sharing. Just as the music industry has been forced to evolve new business models through live events, so must the film industry. In Lost in London we start to see evidence of this incremental change. This "ground breaking" film event is drawing on a number of now very well established conventions and techniques. It is made possible by the technologies of multi-camera streaming, which are proven to be robust, reliable and are now well established. And that there is a market for such stunts is clear from the growth of "event" and "live" cinema.
With Lost in London the question remains as to whether the format will evolve a new filmmaking approach which meets dual economic ends – on the one hand as a novel marketing strategy to generate attention, and build interest leading up to a traditional film release and on the other as a more cost-effective strategy, compressing the time of filming thereby radically reducing the budgets required for on-location production.
Whether the Lost in London format heralds a new aesthetic form, a new marketing strategy or a new economic mode of production, or a combination of all three, only real time will tell.