It's 70 years since the first shots were fired in the still unresolved conflict over the status of Kashmir. The dispute is a legacy of the partition that accompanied Britain's withdrawal from India in 1947. Both India and Pakistan claim the region, and both are now equipped with nuclear arsenals. Since 1947, they have fought four wars – the most recent being the Kargil conflict in 1999 – of which three have been fought principally in or about Kashmir.
Under the terms by which Britain brought an end to the Raj, it was up to princely rulers to decide whether to accede to India or Pakistan. Kashmir (or Jammu and Kashmir, to give its full title) was one of the few princely states adjoining both new dominions where there was a real decision to be made.
The state is in the far north of India, stretching into the foothills of the Himalayas. In 1947, its maharajah was a Hindu but more than three-quarters of his subjects were Muslims. He delayed signing up to either India or Pakistan, hoping that he might be able to achieve independence. But in October 1947, the princely state was invaded by fighters from the tribal areas in north-west Pakistan. They wanted to overthrow the maharajah and claim Kashmir for Pakistan, and were motivated by both jihad and the prospect of loot. They received support, including transport and weapons, from sections of Pakistan's armed forces.
The maharajah appealed for Indian support in repulsing the tribesmen and fled from Srinagar to his heartland of Jammu. He also signed the instrument of accession by which his state became part of India. The official Indian account says this document was signed the day before troops landed in Kashmir; much of the evidence suggests it was signed a few hours after the airlift started.
The first Indian troops flew into the Kashmir Valley shortly after dawn on October 27 1947. The airfield at Srinagar, the Kashmiri capital, could only take small planes. At most, 300 Indian troops a day could land there, transported in planes requisitioned from commercial airlines. India's military deployment had the backing of the maharajah's principal opponent, a charismatic, left-leaning Kashmiri nationalist named Sheikh Mohammed Abdullah, who became Kashmir's dominant political figure.
Indian troops succeeded in repulsing the invaders from the Kashmir Valley, but not from all of the princely state, and the conflict escalated into the first war between India and Pakistan. The United Nations helped to delineate a ceasefire line, in effect a partition of Kashmir, and sent military observers. They are still there, and the plebiscite mandated in UN resolutions to give Kashmiris a choice between India and Pakistan has never been held.
Along with fighting occasional wars, Pakistani leaders have admitted arming and training groups to fight against Indian rule in Kashmir. The insurgency that erupted in 1989 was triggered by local factors, but Pakistan's backing made it more formidable. Although India largely defeated the armed separatists by the late 1990s, a low-level insurgency continues to this day. A recent report based on Indian official data suggested that 41,000 lives have been lost; Kashmiri separatists often cite a higher figure.
Step forward, step back
When General Pervez Musharraf was in power in Pakistan from 2001 to 2008, progress was made towards a deal over Kashmir. The Pakistani leader greatly reduced support for insurgent groups and proposed that the ceasefire line (or line of control) should become a permeable border, along with steps towards greater autonomy and the withdrawal of troops. India was receptive, but the moment was lost when Musharraf resigned from office in 2008.
While the Kashmir conflict is often seen as a dispute between India and Pakistan, there is another dimension to it: while Hindu-majority Jammu is more comfortable with Indian rule, the Indian authorities and the people of the Kashmir Valley are still at a stand-off. Although there's an elected state government, separatists don't contest the elections, while India's repeated interventions mean that many Kashmiris feel they have little say in how they are governed.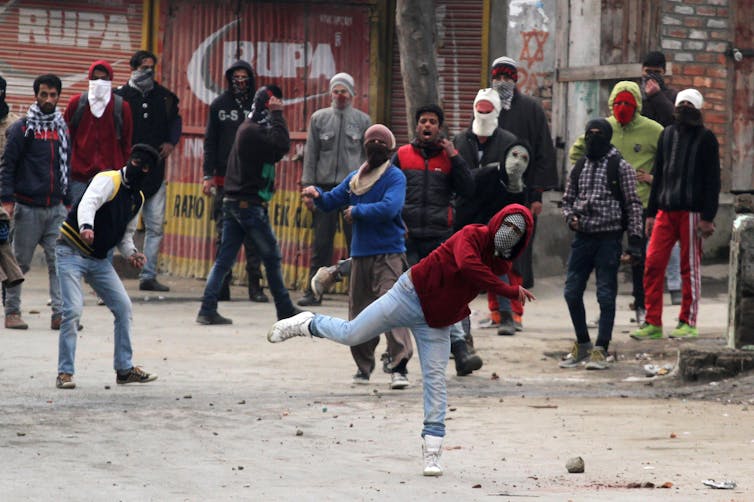 The large military presence in the Kashmir Valley, along with alleged human rights abuses, has stirred disaffection. In 2010, thousands of young Kashmiris took to the streets to protest against Indian rule. They threw stones while the security forces responded with pellet guns and bullets. About 120 Kashmiris were killed over that summer, which contributed to the radicalising of a new generation. Last year, protests prompted by the killing of a young and popular armed separatist led to another upsurge of violence.
In recent months, some prominent Indian public figures have warned of the scale of the disaffection. Palaniappan Chidambaram, a former home minister, went so far as to say: "The alienation of the people of the Kashmir Valley is almost complete. We are on the brink of losing Kashmir." Wajahat Habibullah, once a senior official in Kashmir, lamented that "my life's mission to win over the people of Kashmir for India is lost, irretrievably". He described young Kashmiris as "educated, talented and consumed with hatred of the Indian state".
The Indian government promises attention to Kashmiri concerns, but there's no sign of genuine political initiative. Delhi seems to have decided it can simply contain the insurgency and ride out any political turbulence. The Kashmir issue does not sway many votes in Indian elections, and the level of international concern is low – meaning there's no great pressure on India to resolve a problem which has festered ever since independence seven decades ago.