Pakistan recently announced that it will send military personnel to Saudi Arabia. The details of the deployment remain elusive, but a composite brigade of the Pakistani military will reportedly fulfil advisory and training roles. It seems Islamabad and Riyadh's longstanding relationship is getting stronger – so what are the implications?
First of all, Pakistani troops have been deployed in the Saudi kingdom before. Pakistani military engagement started when its special services participated in the operation to eliminate fundamentalist elements that seized the Grand Mosque in Makkah in 1979. Afterwards, tens of thousands of Pakistani troops remained in Saudi Arabia during the Iran-Iraq war. Most were recalled after the war ended in 1988 – but a smaller contingent stayed on.
The two countries' close ties were tested in 2015 when the Pakistani parliament unanimously rejected a Saudi request for Pakistani troops to support its Yemen campaign, but the relationship never quite broke down. Despite the parliamentary rejection, Pakistan still provided some naval assistance early in Saudi's Yemen operations, and since then, the two militaries have conducted joint exercises.
Former Pakistani Army Chief General Raheel Sharif was made the head of the Saudi-led Islamic Military Alliance to Fight Terrorism, and Saudi troops participated in the 2017 Pakistan Day Parade.
On alert
Reports broke in early 2017 of Pakistan sending a brigade of its troops to Saudi Arabia, but there was never a confirmation from Islamabad. The decision to send troops was finally made in February 2018 and announced in a surprise press release from a Pakistan military spokesperson on February 15, 2018. The military was clearly the decisive authority here, as parliament was apparently not consulted on the deployment. The timing of the announcement also spoke volumes about Pakistan's current worries.
At around the same time, the Indian prime minister, Narendra Modi, completed a successful trip to the Middle East. He received a warm welcome in the UAE, and the prospect of a closer partnership between the two states clearly left Pakistan rattled.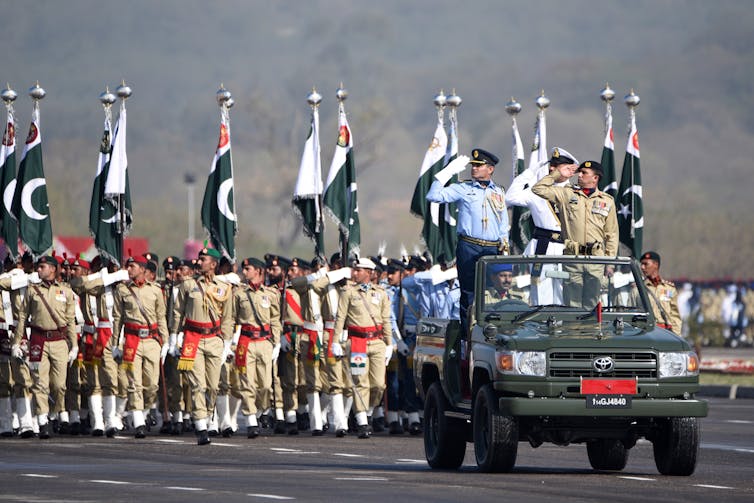 Equally, Pakistan has deep reservations about Indian activities on Iranian soil. During Iranian president Hassan Rouhani's recent trip to India, a deal was struck that grants New Delhi operational control of the Chahbahar port in southern Iran. The Indian-Iranian connection has caused problems before: two years ago, Kulbhushan Yadav, an alleged operative of the Indian intelligence agency's Research and Analysis Wing who ran his operations from Chahbahar, was arrested as he entered Pakistan from Iran.
So Pakistan's military has been prompted to counterbalance Indian influence in a more vigorous manner, safeguarding its strategic interests. The Pakistan military's footprint within the Saudi kingdom is growing in proportion to its sense of security in the Middle East writ large – and that's especially apparent in its ever more vocal support of Riyadh's war in Yemen.
Sense of insecurity
Pakistan is also worried about its own deteriorating relationship with the US. Washington has not only withheld hundreds of millions of dollars in security aid to Islamabad, but is taking further punitive actions to press Pakistan to do more over alleged Taliban sanctuaries.
At the intergovernmental Financial Action Task Force meeting in February 2018, the US, the UK and France jointly moved a resolution that sought to place Pakistan on an international terror-financing watchlist. The move met resistance from Turkey, China and Saudi Arabia – and while US pressure finally prevailed in putting Pakistan's name on the list from June 2018 onwards, the episode showed that an array of states are emerging as Pakistan's new supporters at international forums.
According to the Pakistani defence minister, the latest troops sent to Saudi Arabia have embarked on a training and advice mission, and will not be dispatched onward to Yemen. The Pakistani army has apparently developed significant expertise in mountain warfare and counter-insurgency during recent military operations in Pakistani tribal areas and the Swat Valley, and will be transferring these skills to Saudi forces. And the only mountainous region within the kingdom that's currently a conflict zone is on the Yemeni border.
But whatever specific role this deployment plays in Saudi Arabia's Yemen campaign, it's part of something bigger. This new chapter in the Pakistani-Saudi relationship is part of a story unfolding across the Middle East, where political, economic and security partnerships are being realigned and tested. The region's balance of power will soon look very different indeed.