There's nothing attractive about a flaccid penis. And the reaction to US designer Rick Owens's peek-a-boo designs that he sent down the runway in Paris would hardly make you think there was.
The media response ranged from schoolboy sniggering to prudish – and faux – outrage, with pixelated images protecting the modesty of the male models in print – and the opportunity to show a penis in a fashion context taken up with glee by many online outlets.
Owen's autumn/winter collection channelled myriad variations on the classic double-breasted pea coat – which were much admired in the fashion press. But there were also a small number of subversive upside-down tunic-like, asymmetrical garments that were either cut so high at the front that the model's "manhood" – to quote MailOnline – was exposed, or incorporated peep holes through which a glimpse of genitals could just about be seen.
The front row, usually characterised by being either fawning or blasé at most catwalks, was clearly taken aback. Footage of the event shows an uncomfortable shifting on the benches, and much concentration on smart phones. Many of those in the audience couldn't quite fathom what was happening and missed the great reveal altogether.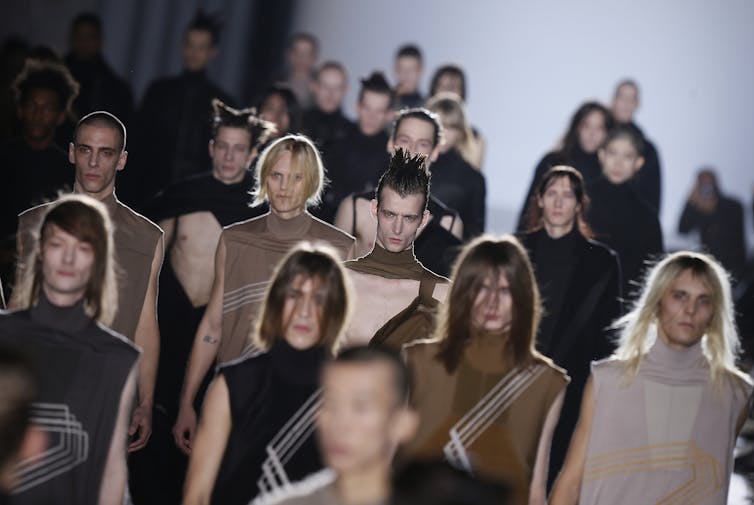 Owen's own backstage comments on his collection range from an admission that this was a puerile gesture to describing himself as "a little deranged". Along with admitting to being inspired by classical statues.
The idea of pushing the boundaries in fashion is a long-held precept for womenswear and menswear in a certain segment of the designer cohort. And in menswear it sits neatly alongside the feminisation of men – from face creams to floral tailoring.
But pushing men's fashion like this isn't new. Those with long enough memories will know Alexander McQueen's mid-1990s' bumsters – yes, bum cracks on the catwalk – while Jean Paul Gaultier, Comme des Garçons, John Galliano and McQueen have all sent men down the runway in skirts. Of the new generation of designers, JW Anderson has played a similar role. But, apart from in Scotland or at weddings, a man in a skirt is a still a rare sight.
But Rick Owens's push in the opposite direction – towards masculinity – goes against the fashion grain.
This perhaps explains the amusing response of the media to this provocative collection. The Twittersphere also approached the topic with customary humour. #DickOwens was trending soon after the show. But the blushing reaction has an uncomfortable undercurrent. Popular media coverage of menswear catwalks is usually heavily peppered with the implied criticism in the questions: "Would your boyfriend wear this?". And this was only amplified on this occasion. But where do you ever see this sentiment in relation to womenswear?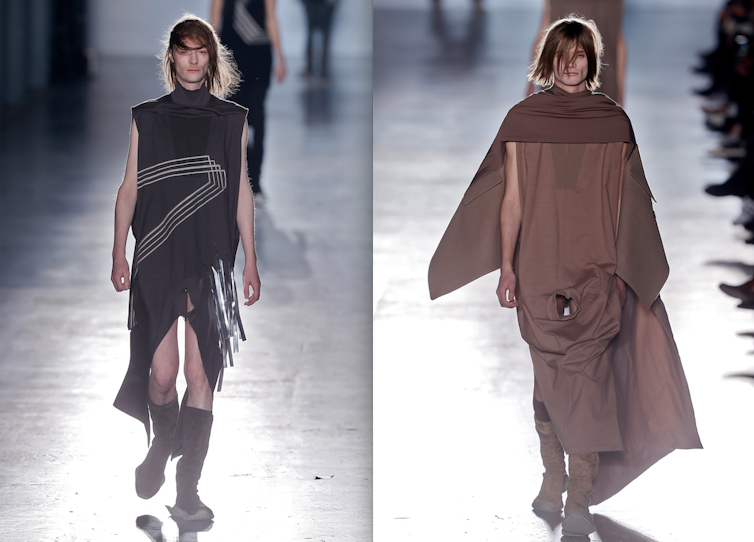 It was in the tabloids that there was most "outrage". "Privates on parade" trumpeted the Mail: "Is this the most outrageous fashion trend ever?"
The Guardian asked if penises on the catwalk were "a flesh flash too far". Their print article showed such a small image of one of the offending tunics that you'd need a jeweller's loop to discern the precious package.
The outcry was not universal. Owens is a challenging designer who has a loyal following. The Financial Times described the penis hunt as "a hoot" and blogger turned fashion expert Susie Bubble was unperturbed. She said:
I liked that you hardly noticed it. It wasn't nudity for the sake of nudity. I honestly didn't see until somebody pointed out the dick flaps and the undie holes.
These reactions are more normal, because they are in line with normal fashion reports, that routinely ignore female nudity. The media's shock at a few barely seen penises sits uncomfortably with the endemic casually sexist exploitation of female models – many of them teenagers. Fashion journalists talk about "nipple count" in the most off-hand way.
That the female models are frequently underwear free – with their "womanhood" discretely displayed – doesn't get a mention. Of course, a pair of knickers would spoil the line.
That the fashion penises were exposed in the same week that the UK's Sun newspaper first withdrew and then reinstated its topless Page 3 "girls" does seem ironic. Naked young women on and off the catwalk are still fair game in our sexist media, whereas young men, apparently, are not.