At the beginning of the university year, new students are busy adjusting to a life of lectures, whipping up their next meal (seven recipes with baked beans anyone?) and managing their time. A familiar picture perhaps – but there's something different about this year's intake of undergraduates.
Across England and Wales, the majority have recently taken the reformed A level exams – and our research suggests the new system is not effectively preparing students for various aspects of university study.
It was in 2012 that the then secretary of state for education, Michael Gove, wrote to the Office of Qualifications and Examinations Regulation and told them: "The single most important purpose of A level qualifications is to prepare young people for further study at university".
Proposals for wide-ranging reform were drawn up for England (Wales took a slightly different path) and introduced in phases the following year.
Testing times
The changes meant that the majority of A level assessment is now based on exams at the end of a two-year course. Exams in January are out, and tests are no longer based on individual modules. Other changes meant AS levels (still a one-year course) no longer counted towards A level grades, and coursework was minimised.
These changes went ahead despite a range of critical comment from teachers, students and parents. They highlighted chaotic implementation, delays and a lack of information and resources.
More fundamental were concerns about the focus on performance in the short exam period and about how well A levels prepare students who do not go on to university. Some predicted the "slow death" of the AS level with a loss of subject breadth (and numbers studying for these qualifications have dropped dramatically).
Putting students off?
We are already appear to be seeing an effect on university applications in the reformed subjects as they are phased in. Some subjects, such as chemistry, English and history, experienced more than expected drops in university applications (taking into account the drop in overall applications).
Data released later this year from UCAS will reveal the impact on the next group of reformed subjects. But early indicators suggest a drop in university applications for geography, drama, theology and religious studies. There is also a longer trend of reduced applications for ancient and modern languages.
In our research, funded by the University of Exeter's Education Incubator, we wanted to understand the effects of these reforms on the ground – by talking with A level students and teachers as well as university students and lecturers. Working with undergraduate student researchers, we focused on biology/biosciences, English and geography.
Feeling unprepared
We found that the reformed A levels are considered overall to be more rigorous in terms of content. But they are not preparing students effectively for the type of assessments they will face at university.
At university, students often face more frequent coursework, group work and more regular examination than they do for A levels. These differences are already causing increased difficulty for some students because the reformed A levels were focused on exams at the end of a two-year course.
Universities should be aware that new students may feel particularly unprepared for assessments in the first year. They could help by ensuring high-quality guidance and support for group work, managing multiple deadlines and regular assessed coursework.
Supporting independence
One of the main changes to A levels was an effort to promote an increased expectation of independent study, especially in coursework. This was something students and their teachers viewed as positive – but highly challenging.
Yet while this approach does appear to prepare students for more independent working at university, we found it also leads some to assume they should not need to access available support – even when they might benefit from it.
In setting expectations about independent study, schools, colleges and universities can instead emphasise "supported independence". This recognises that working out when to ask for support, and doing so, is a necessary part of the learning process.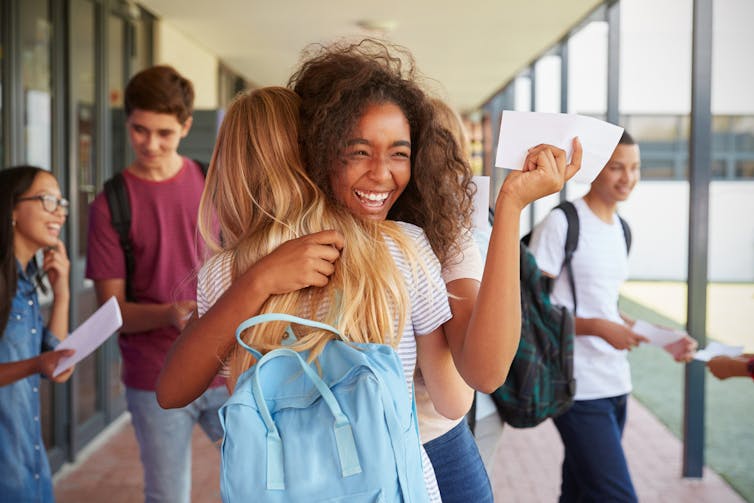 Universities should also heed the evidence that the school a student attended, and their social background, shape expectations about accessing support. Some students strongly take messages about independence to mean they should not access support.
Easing the transition
It would be easy to conclude then, that the new style of A levels aren't yet fit for purpose, and need further reform. We think that given the level of change still working through the qualification systems at A level and GCSE this would be a hasty reaction.
Instead, schools and universities can play their part in collaborations that bridge the knowledge gaps between the two phases of education, and in easing the transition through high-quality support and development opportunities.
We think the Department for Education should commit to a review of A levels to assess the effectiveness of the reformed qualifications in preparing students for university.
First, the department should investigate the number of schools that enter students for the AS level and then the next year the A level (effectively cramming a two-year course into one year). It should also review the number of students who are "off rolled", or transferred, on to other qualifications if it looks like they are not succeeding. Secondly, the government needs to address the issue of low perceptions of aspects of the new A level courses.
It is clear the reformed A levels aren't yet preparing students as effectively as they could for the type of assessments they will face at university. The question that remains is whether they are putting some students off from university study in those subjects completely – and whether application rates for those subjects can recover.