The U.S. Supreme Court has issued its long-anticipated ruling in Masterpiece Cakeshop, Ltd. v. Colorado Civil Rights Commission. In a 7-2 decision, the justices sided with a Denver bakery owner who refused to make a wedding cake for a gay couple.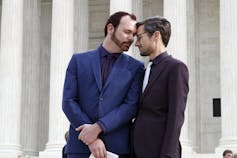 The couple took the case to court in 2012 after the Christian baker turned down their business. A lower court ruled the baker violated Colorado's public accommodations law, which forbids discrimination by businesses serving the public, including on the basis of sexual orientation.
In the majority opinion, Justice Anthony Kennedy wrote that Colorado officials "showed evidence of a clear and impermissible hostility toward the sincere religious beliefs" of the baker.
The narrow ruling did not, however, meaningfully resolve the larger issue of religious freedom that was central to the case. In focusing on state officials rather than the baker, the justices left unanswered the major question of whether a business owner must provide services that conflict with his or her religious beliefs. Analysts suggested that the court left open the possibility of a different ruling in the future, depending on the specifics of cases.
Masterpiece Cakeshop has, once again, highlighted the vast difference between the reality and the rhetoric of religious freedom, often considered to be an ideal that promotes harmony and equality. My research, as a historian of religion, has examined the challenges of pluralism. In a religiously diverse society, rhetoric of religious freedom has often led to conflict.
The rhetoric: Equality and goodwill
Throughout U.S. history, Americans have idealized religious freedom and imagined that it brings harmony.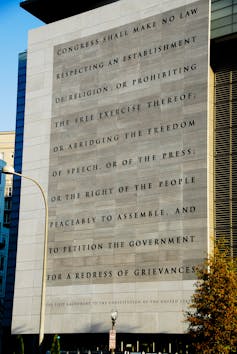 The Founding Fathers believed the First Amendment guarantee of religious free exercise and against the establishment of an official church promised less discord. In an 1802 letter, Thomas Jefferson, for example, wrote that "religion is a matter which lies solely between Man & his God." As the nation's third president, he argued that a "wall of separation between Church & State" would give all people equally the right to free conscience.
Later presidents echoed the view that religious freedom brings equality and unity by preventing government from favoring particular faiths.
Before his election in 1960, John F. Kennedy tried to ease fears about his Catholicism by affirming religious liberty. Kennedy believed this freedom kept one group from oppressing another. It formed the basis of a society, he declared, where people would "refrain from those attitudes of disdain and division which have so often marred their works in the past, and promote instead the American ideal of brotherhood."
In the early 1990s, George H.W. Bush identified religious liberty as the basis for other rights. He credited it as a major reason for the vibrancy of American society.
The reality: Conflict and debate
But, the promised harmony has proved elusive. Scholars such as Steven K. Green and Tisa Wenger have documented arguments about religious freedom throughout U.S. history.
Minority communities, ranging from Catholics to Mormons, have fought to have their traditions and customs recognized. As I show in my work on pluralism, Americans have long debated what constitutes a religious expression rather than a cultural practice. Legal scholars have also argued if religious expression can extend into political, social and business interactions.
These debates have required the intervention of the courts and have often ended at the Supreme Court. Thus, a right intended to free Americans from government has instead necessitated frequent involvement of a major government institution.
Further complicating matters, the Supreme Court has changed its position over time. Its evolving interpretations show how religious freedom debates create shifting categories of winners and losers.
To the courts
Like Masterpiece Cakeshop, one of the Supreme Court's first religious liberty cases involved marriage. In 1878, a Mormon resident of the Utah territory sued the federal government after he was charged with bigamy. He argued that the law violated his religious liberty by criminalizing his polygamous marriage. The Supreme Court disagreed. In Reynolds v. United States, the court ruled that the First Amendment guaranteed only freedom of belief, not freedom of practice.
In the 20th century, the Supreme Court showed greater sympathy to religious liberty claims. In several cases – including one brought by Jehovah's Witnesses challenging a statute requiring a permit for public evangelizing and another by an Amish community that objected to Wisconsin's compulsory public school law – justices sided with those who claimed their freedom was violated.
That changed in 1990. The court ruled against two men who lost their jobs after using peyote, a cactus with hallucinogenic properties that has long been used in Native American religious practices. Because they were fired for drug use, the men were denied unemployment benefits. They claimed that as members of a Native American church, they used the drug for religious purposes. Moving away from earlier decisions, the justices ruled that religious belief was not a ground for refusing to obey laws "prohibiting conduct that the State is free to regulate."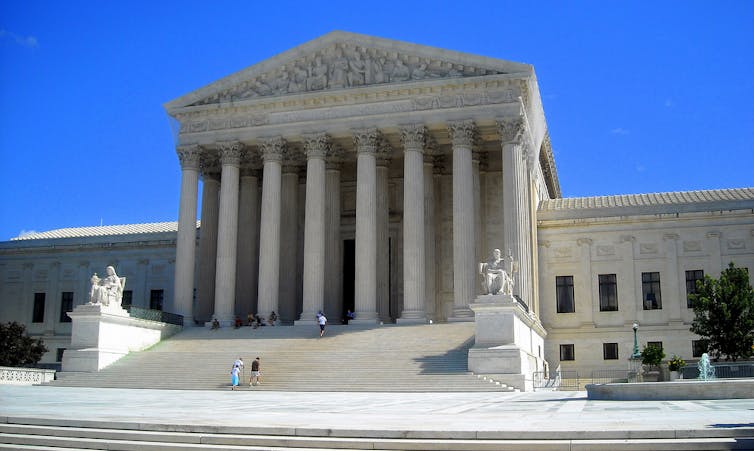 New century, new conflicts
It was in response to the peyote case that Congress passed the Religious Freedom Restoration Act (RFRA) of 1993. It required that laws restricting religious expression must show that they serve a "compelling government interest."
RFRA was central in the Supreme Court's 2014 decision in Burwell v. Hobby Lobby. That contentious split ruling allowed small, closely held companies the right to deny contraceptive benefits mandated by the Affordable Care Act on the grounds of protecting their owners' religious liberty.
Similarly, in October 2017, the Trump administration invoked freedom of religion when it allowed all employers a religious exemption to the contraception coverage requirement in the Affordable Care Act.
Critics saw that policy change as an attack on women's rights. Reaction to it on both sides again showed that government involvement in debates about religious freedom invariably produces winners and losers.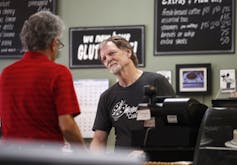 The Supreme Court ruling reached on June 4 likely allows those who advocate a broad right to religious liberty to claim at least a small victory. But the narrow scope of the Masterpiece Cakeshop decision ensures that this divisive debate, which has raged for nearly two centuries, will continue for the foreseeable future.
This is an updated version of an article orginally published on Nov. 29, 2017.