One of the UK's flagship sustainability policies is in big trouble. Less than a year from now, the theory goes, all new homes will be "zero-carbon". The reality is rather different. Economic meltdown, a housing crisis, pressure from developers and poorly designed legislation have all combined to leave the country way behind schedule.
The policy dates back to 2006, when the Labour administration introduced stringent sustainability legislation. All new homes, they said, would be "zero-carbon" by 2016. The provision of solar panels (and other renewable energy technologies) and better energy efficiency would balance out emissions from heating, lighting and use of appliances leaving net emissions at zero.
To achieve this, building regulations were to be progressively tightened in the run up to 2016 and a Zero Carbon Hub would be formed to knock together the heads of house builders, NGOs and bureaucrats.
At the time this target was hailed as world leading and on some level the policy has been a success. By December 2014 some 33,000 homes had been built to sustainable standards, according to one measure. However, we need to look at the bigger picture.
Fast forward a decade or so and under the Conservative-led coalition government the agenda has spluttered from problem to problem. The reforms to building regulations have been delayed and are not achieving the kinds of levels envisaged. The latest were introduced a year late and only achieved a 33% improvement in energy performance, against a promised 44%. This leaves a big gap between where we are now and the next iteration, which is supposed to achieve "zero-carbon".
What actually is a zero-carbon home?
More worryingly, despite six years of negotiations it still isn't clear how "zero-carbon" will be defined. What we do know is that zero-carbon is likely to be anything but.
The definition of emissions, for example, was weakened in the 2011 budget. It now includes emissions from heating and lighting but it wont include those from "unregulated energy" – that is, energy used by appliances within the home.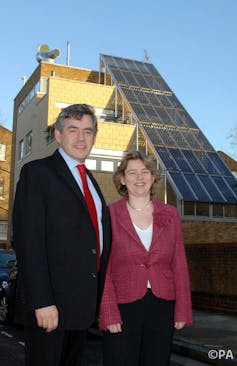 Emission reductions won't even have to be achieved in the house itself. "Allowable solutions" have been introduced instead, a level of emissions above which developers can pay into a fund for low-carbon infrastructure to be built elsewhere as a way to "off-set" carbon.
Precisely at what level these allowable solutions will kick in is not clear, nor how the fund will work in reality. What is clear is that developments of fewer than ten houses (which comprise the vast majority of house-building) will be exempt from allowable solutions. Tellingly, the WWF left the Zero-Carbon Hub in protest against what it saw as a "watering down" of policy.
With so many details still to be decided, it is unsurprising that there is little confidence that the 2016 target will be met.
Zero-carbon comes at a price
This is not necessarily the coalition's fault however. In many ways it is the result of inherent contradictions within the policy. The underlying rhetoric has been that technology – solar panels, heat pumps, insulation and so on – will do all of the hard work and consumers need not worry themselves about how they engage with and run their homes.
But who pays for this technology? Government figures show that complying with the 2010 sustainable building regulations meant a 5% increase in real production costs compared to 2006. Complying with 2013 regulations would see that figure rise to 9%. Want to build to the strictest zero-carbon standards? That's a 50% increase.
Labour never adequately addressed the question of "who pays", sowing the seeds for today's problems. More often than not it has been housing developers who have had to shoulder the costs because there has never been a significant enough "price premium" attached to sustainable homes.
These costs would come down as technologies and expertise became more widespread, but the 2008 credit crisis and the increased politicisation of housing affordability and supply changed things. These sustainability requirements had the potential to hinder the construction of new housing, so developers were vocal in their opposition.
The coalition has been more sympathetic to developers than other parties may have been. Yet in many ways these policy reforms were inevitable. While it would be nice to say that the government should force increased costs on builders, the reality is very different as the government must consider whether environmental policy will jeopardise housing supply. In the midst of a financial crisis, the industry couldn't afford the costs associated with the initial zero-carbon proposals.
In many ways this watering down could have been avoided if the initial policy had more of a focus on giving home owners an incentive to be greener. The challenge for the next administration is finding a way to encourage developers to build the homes we desperately need while sharing sustainability demands between both buyers and builders. We need homes, but we owe it to future generations to make them green.