A drama about the first convicts to colonise Australia in 1788 gave BBC2 a rare ratings win over BBC1 and ITV after its first episode. But despite attracting over 3m viewers, Jimmy McGovern's Banished was not so well received by the critics, and some in Australia are even proposing a boycott of the show when it airs there this June.
Towards the end of the first episode governor Phillip asks Mrs Johnson – the Reverend's wife – if she has ever been robbed or raped by a native or convict. No, she hasn't. That, Phillip explains, is because she has been protected by soldiers, and soldiers need to be kept happy.
So the empire portrayed – apart from governor Phillip – is cruel and violently sexist. Storylines are driven by the fury of abused, outnumbered women, and the humiliations of lonely, despised men. On the one hand, it is difficult not to see this as another disturbing case of sexual violence as plot device.
But empire was not nice, particularly for women. From the highest authorities, imperial masculinities and policies reflected anxieties about what would happen among men if women were absent, how to control them when they were present, and the need to protect them from native "others".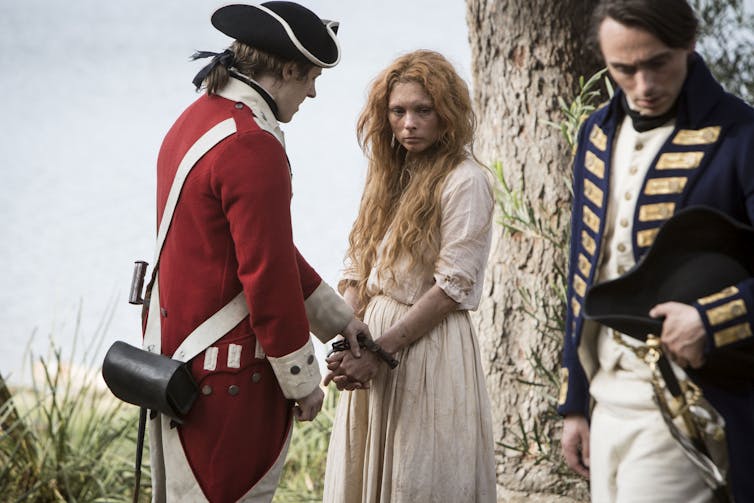 Empire relied on the creation of class, race and gender hierarchies. And convict women were very close to the bottom of this patriarchal ladder. But stereotypes of these initial colonist convicts as hardened criminals, and women in particular as depraved whores skilled only in vice, have been overturned by historians since the 1970s.
So arguably, the programme has captured something of the essence of colonialism, but it is a shame to see the depiction yet again of female convicts as little more than prostitutes.
The show almost entirely fails to capture another side of colonialism. And this is, in the main, where the complaints have come from. A number of reviewers (not to mention historians on Twitter) have highlighted the omission of any indigenous cast members.
Eora on the shore
McGovern has defended this decision, pointing out the importance of doing the portrayal justice, which he felt was not possible in a time frame that focuses only on the first two weeks of the landing.
Adding indigenous characters in the name of accuracy may not be easy. As Grace Karskens noted in The Colony, a brilliant history of early Sydney, governor Phillip apparently chose his camp because it was the one place "where there were no Eora waiting on the shore". But there were numerous and well-documented encounters in these first days. The Europeans gave hatchets, trinkets and red cloth. The men spent days trying to entice the women to converse, as painted by lieutenant William Bradley in his journal.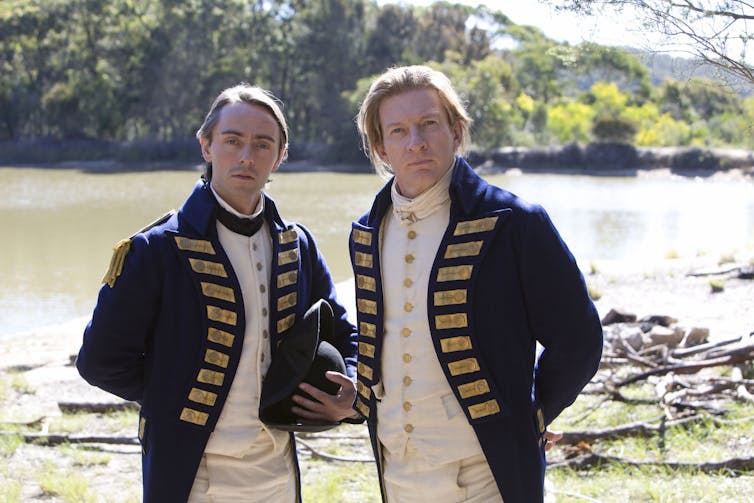 But it is one thing not to include Aboriginal characters, quite another to virtually ignore their presence altogether. And the future episodes of the show won't do much to appease critics. The next few episodes of Banished contain only fleeting references to "the natives". The odious private Buckley comes to admit that he came to New South Wales because of the "native women, all naked, carrying bowlfuls of fruit, all willing to fuck me".
One sign of their existence comes when the company's fishing nets are cut, apparently in retaliation. But the colonists would also have lived among the ashes of burnt out fires, huge shell middens, trees showing marks of fire, carved sea creatures adorning rock platforms. From the safety of the water, the expert Eora fisherwomen might have watched the beach scenes as they manoeuvred their canoes.
It is true that violent conflict did not come immediately. But for two centuries, until the landmark Mabo decision of 1992 recognised Aboriginal and Torres Strait Islander's rights to the land, the legal fiction was maintained that Australia had not really been owned by its Aboriginal inhabitants before "civilization" arrived in 1788.
During the 1990s bitter political, public and academic debates known as the History Wars fought over how to present this troubled past. Banished is clearly aimed at a British audience less aware of this recent debate; governor Phillip comes across as an enlightened and moral leader founding a nation against all odds. In Australia, by contrast, the First Fleet's arrival is increasingly remembered as a dispossession.
Banished was a real opportunity to set an agenda for the portrayal of this crucial moment in Australian history. Unfortunately, in bringing old stereotypes of women and indigenous people to the fore, it has missed that boat.