People without a tertiary education will be increasingly less able to participate in the future labour market.
Over the five years to November 2015, the majority of Australia's employment growth was in occupations that require post-school qualifications through either university or vocational education and training (VET).
This is no longer a trend – it is an established labour market reality.
The Department of Employment projects that of the almost 1 million jobs expected to be created in Australia from 2015-2020, 920,000 will require a post-school education. Only 69,000 jobs – just 3.4% of the total – will be available for people who do not progress beyond Year 12 or equivalent.
Despite a clear and present need to continually train and educate Australians, universities, TAFEs and other institutions tasked with this critical job are funded by a flawed and failing system.
The need for a new governing body
There is a strong case for an independent authority to govern the tertiary funding system.
Independent status means the authority would operate at arm's length from government.
It would have a clear charter to oversee and administer the Commonwealth's investment in tertiary education to achieve policy objectives, and in the case of VET by agreement with the states and territories.
At a minimum, pricing decisions should be made, or advice provided, on pricing (encompassing subsidies, student contributions and HELP settings) by reference to a transparent, evidence-based process.
The Commonwealth government now seeks advice from Infrastructure Australia before finalising decisions on investment in physical capital.
Recommendations on competitive research funding are taken through the Australian Research Council (ARC) and government investment in scientific research and development is independently determined though the CSIRO.
Incorporating an independent perspective into its decision-making process ensures that government decisions are based on thorough assessments of long-term needs and cost/benefit analysis.
How would this work?
A tertiary education finance system must be effectively governed.
An overarching body should carry out the governance functions that relate to the tertiary sector as a whole.
These functions include:
assessment of need and demand, particularly in relation to population growth, including the balance of growth between higher education and VET;

advice to government on future resourcing needs based on an assessment of need and demand (as above);

monitoring of and advice on fiscal sustainability of direct outlays and the long-term costs of income contingent loans;

pricing principles and pricing methodology;

administration of HELP (including interface with the Australian Taxation Office and the Department of Finance), and oversight and monitoring of both the costs of HELP and the provision for the written down value of the HELP loan book.
Higher education financing functions include:
price setting covering public and private contributions for different tertiary qualifications, and including the relative contribution to teaching and learning and research;

establishing settings for flexibility in private contributions based on fair pricing and benefits to students;

co-investment with institutions in physical infrastructure required to increase participation in areas of population growth, renew existing infrastructure and invest in new equipment and technology;

administration of sector specific programs and funding schemes; operation of administrative and data systems;

payments to institutions, accountability and reporting.
VET financing functions include:
establishing, monitoring and adjusting a co-investment model agreed between the Commonwealth and each state and territory which replaces the current National Partnership Agreement, including: courses to be funded, prices and contributions for the Commonwealth, states/territories and students;

administration of Commonwealth VET programs outside the inter-governmental agreement.
What could this look like?
A successful model needs to include the critical functions above, as well as information and funding flows for an integrated tertiary education financing system.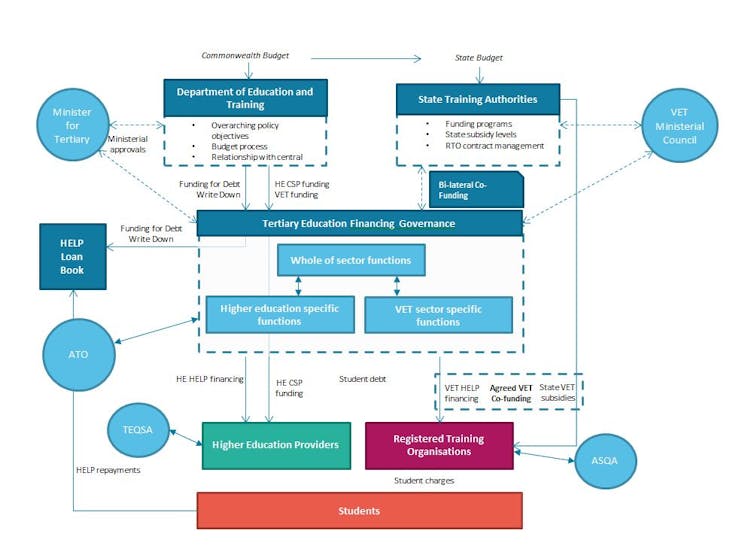 This diagram sets out a possible model in which these roles could be fulfilled by levels of government.
Some functions are represented as important across the higher education and VET sectors.
However, specific funding arrangements for the sectors are seen as distinctive, reflecting the Commonwealth's direct responsibility for higher education funding, its shared responsibility with the states and territories for VET funding and the distinctive roles of the sectors.
Central to the model are more explicit functions for HELP system oversight, settings and provision of costs.
The design of an independent tertiary education financing authority must carefully weigh the extent to which its powers are advisory or compulsory. It would also allocate functions and powers between the authority, the department, and state and central agencies.
Any model for an independent authority must have a governance and operating framework that recognises that minister(s) and Cabinet are accountable for policy decisions, setting financing parameters and entering agreements with state governments.
However, the legislative basis of the tertiary education financing system is less important.
Our major priority must be developing and adopting a coherent and integrated approach to financing, and making long-term investment decisions to achieve near universal participation rates in tertiary education in Australia.
This is a complex, demanding nation-building task. It is a national project similar, but no less complex, to that commenced over 30 years ago when Australia set the objective of achieving universal participation to the end of senior secondary schooling.
This was a significant achievement in its time, but one which is no longer sufficient to underpin a cohesive, productive, healthy and globally engaged society.