On Tuesday night, SBS' Insight program aired concerns about temporary migrant labour exploitation. These issues tend to come to national attention when a particular case is exposed, but mostly they are not seen as national priorities – and, as such, the response is generally reactive rather than proactive.
The exploitation to have attracted attention most recently often involves student-visa holders, working-holiday-visa holders and 457-visa holders.
Just a little under ten years ago, many of these situations would more immediately have been framed as issues of labour trafficking. But, since then, there has been a shift away from identifying and responding to these cases as potential slavery or trafficking offences, and instead focusing on labour exploitation as an issue for the Fair Work Ombudsman to review and/or redress.
The problems with purely pursuing employers
The current focus in tackling temporary migrant labour exploitation is workplace breaches. This involves the pursuit of employers who have paid below the minimum rate or breached working conditions in other ways to achieve outcomes such as financial reparation for employees and, potentially, to fine employers.
There are a number of concerns to be raised here.
First, while it has been recommended that the Fair Work Ombudsman has no responsibility to report on migration status to the Department of Immigration, for many workers their migration status is a significant concern and obstacle to reporting exploitative conditions.
Such conditions and fears include non-payment, significant wage deduction, being forced to work in breach of visa conditions and experiencing a range of threats, intimidation and/or abuse. An example is student-visa holders being required to work for more hours than they are entitled with the threat of being fired if they don't complete the hours.
And the threat of being reported to the department, even for those whose work status is legal, has been identified as a significant obstacle to reporting employer exploitation. There is a concern that migration status, particularly for those who are working in breach of visa conditions, is an obstacle to making contact or working with the Fair Work Ombudsman.
The fear of deportation and/or the inability to find alternative employment is significant. This is the case for many reasons, including but not limited to the shame of returning home, fear of retribution from the employer, or the significant debts incurred to get to Australia.
We need to understand the vulnerabilities of workers who have been exploited, and to create a system that supports workers – regardless of their migration status. The current response is not focused on preventing exploitation but responding to it, and is not well-designed to respond to the complex issues that impact workers coming forward in the first instance.
The second concern is the distinction between cases referred to the Fair Work Ombudsman and cases referred to the Australian Federal Police (AFP) for criminal investigation, and why there is no overlap.
The AFP currently has no process for referring a case they are dealing with to the Fair Work Ombudsman to enable the pursuit of remuneration and/or compensation. Similarly, there is no formal process for referring cases to the AFP. It is unclear why this is not happening.
In the course of my research involving interviews with stakeholders, authorities and migrant workers, it has been made clear that some of the cases related to the 7-Eleven scandal have included situations where individuals had passports confiscated, were forced to work in breach of student visa conditions and were living in accommodation controlled by their employer.
It seems none of the 7-Eleven cases raised so far have been investigated by the AFP as possible offences under the slavery or slavery-like practices legislation. Yet the cases that have come to light have clear and direct overlap with the relevant Criminal Code.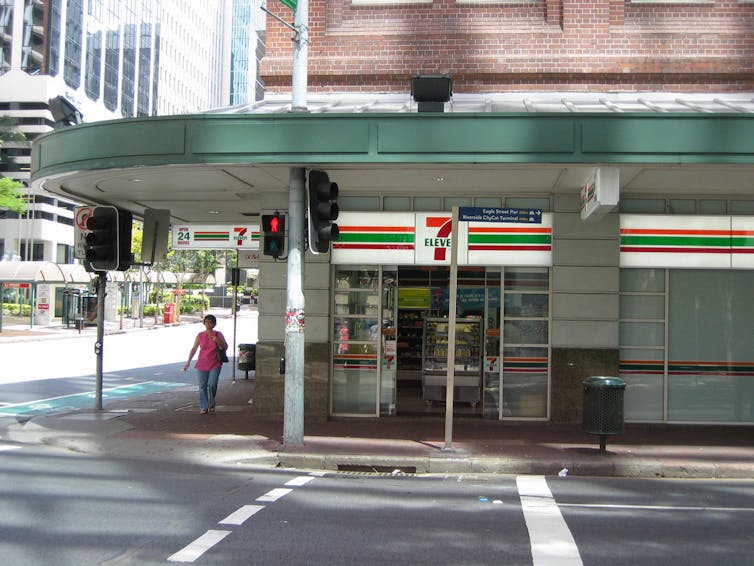 It's trafficking, too
Human trafficking is tackled as an issue of criminal exploitation. This requires AFP involvement to determine whether there is a potential criminal offence and the transfer onto the government-funded, Red Cross-provided Support for Trafficking People package (if required/desired by the victim/witness). This process is solely focused on criminal matters as an outcome, in addition to welfare and support provisions for victims.
There is no automatic or supported process to enable access to remuneration or compensation. All civil matters are outside of this process.
Civil compensation in trafficking cases has been sought. But it is clear this process is piecemeal and pursued purely on a case-by-case basis.
Australia has pursued very few trafficking-related charges. This creates a vacuum of legal precedence in the area of human trafficking, reproducing a false notion that Australia remains a nation where such practices are relatively uncommon.
The absence of transparency regarding the Commonwealth Director of Public Prosecutions decisions not to pursue trafficking cases referred to it via the AFP, other than to note the limitations of the evidence, creates a significant obstacle to understanding how best we can pursue prosecutions under these laws.
There is an opportunity to review how we respond across all forms of temporary migrant labour exploitation – regardless of the victim's migration status – to ensure both criminal charges and civil and administrative remedies are pursued.
This will allow us to better understand the breadth of exploitation that is occurring in the dark places across many industries, and to better redress the conditions that create and sustain exploitative practices.