Beijing has successfully fought off Almaty, Kazakhstan for the 2022 Winter Olympics. China's capital forged ahead with its bid despite concerns that its games will take place over an unprecedented geographical area and will require a set of colossal construction projects, and now the work will begin.
But Beijing only had one serious competitor for a reason: enthusiasm for hosting events on an Olympic scale is waning. That's because of what's called mega-event syndrome, a complex of crises and problems that has always troubled the hosts of major international events.
Many other hosts have fallen victim to the syndrome over the years, and as Oslo and Boston's dropped bids for the Winter and Summer Olympics have demonstrated, the troubles that bedevil mega-event hosts have begun to put countries and cities off.
The syndrome has seven major symptoms.
Symptom one: overpromising benefits
Overpromising is widespread, especially when prospective hosts forecast the economic impacts of mega-events. Chicago's thwarted bid to host the 2016 Summer Olympics was premised largely on then-mayor Richard M. Daley's claim that hosting the games would create 315,000 new job years (the equivalent of a year's work for 315,000 people).
This did not wash, and a renowned sports economist dismissed this forecast as "crazy". Economists agree that providing subsidies for mega-events is not a sensible idea, because they are bad value for money.
Symptom two: underestimating costs
Like most mega-projects, mega-events routinely overrun their budget – sometimes massively so. The average cost overrun for the Olympic Games is 179%. This is much more than the 27% average overrun of large transport projects.
Symptom three: event takeover
Mega-event priorities often end up taking over local development projects when a country is chosen to host a games or a tournament. The most extreme example is Rio de Janeiro, where urban development has been driven almost exclusively by mega-events over the past ten years, beginning with the Pan American Games in 2007, and then the Football World Cup in 2014 and the Olympic Games to be held there in 2016. The mayor of Rio acknowledged as much when he said: "The Olympic plan is Rio's plan, and Rio's plan is the Olympics."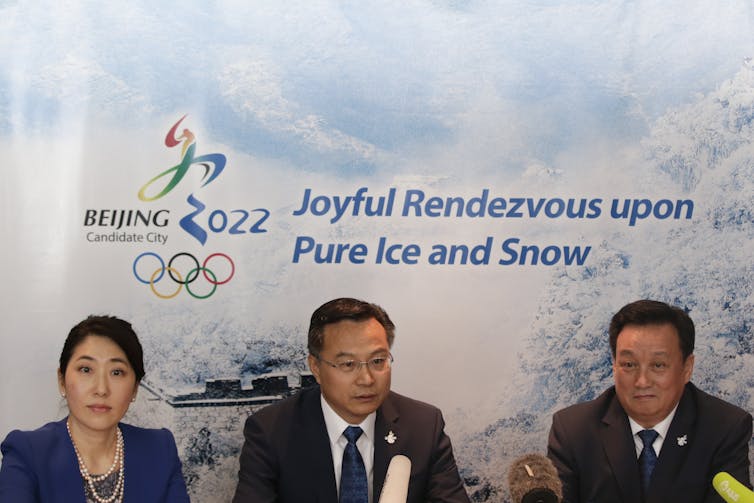 Symptom four: public risk taking
The public ends up carrying the risk of cost overruns in preparing for mega-events because it has to provide the deficit guarantees that event governing bodies demand. The organisers of the 2014 World Cup in Brazil and the 2014 Winter Games in Sochi expected private investment to make up a large share of the funding for the event. But when it didn't materialise in either case, taxpayers ended up covering more than 95% of the costs.
Symptom five: rule of exception
The preparation for most mega-events introduces exceptions that suspend or alter existing legislation. Exceptions can cover areas such as taxation, immigration, property rights, urban planning, and freedom of speech. Hosts often displace residents in the run-up to a mega-event. Several tens of thousands have been evicted in Brazil in the run-up to the 2014 World Cup and the 2016 Olympic Games.
Symptom six: elite capture
Proponents often justify hosting a mega-event by predicting it will create broad benefits to relatively disadvantaged citizens, but mega-event planning tends to privilege business and real estate interests, politicians and wealthier people. Event-induced gentrification has become a familiar sight in most mega-event host cities that harness events for urban regeneration – from Atlanta and Sydney to Vancouver, London and Rio.
Symptom seven: event fix
"Event fix" occurs where mega-events become seeming quick fixes to fast-track major urban development projects. The deadline of mega-events acts as a "shot of adrenalin" for cities to get projects finished that would otherwise have stalled or never happened. As a result, cities and countries spend large sums on hosting an event just to secure the non-sports investment they are chasing.
Looking for a cure
The latest casualty of the syndrome was Azerbaijan, host of the 2015 European Games. The rush to get the games together in just three years meant that many of these issues played out all too painfully in Baku, and the massive budget overruns that the country's citizens paid for were just part of the picture.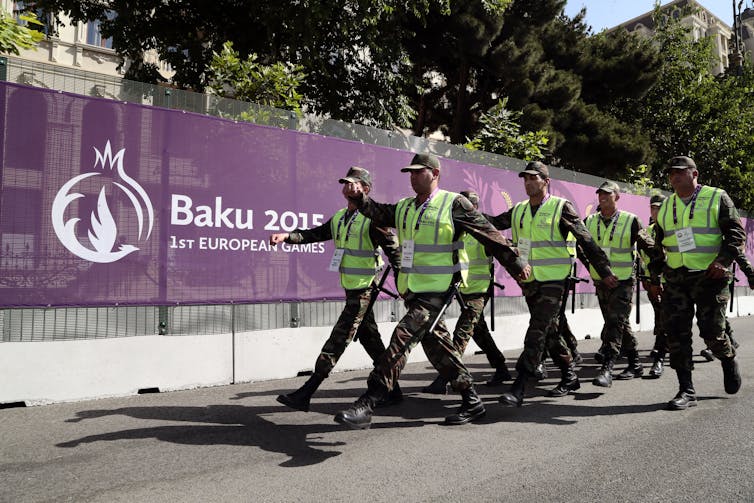 The pace of construction allowed little time for thinking about how the event fitted into city plans and forced evictions have been reported. Worse still, the silencing of dissent against the government while the world's attention the country has plagued not just the European Games, but also the Eurovision Song Contest, which Azerbaijan hosted in 2012.
So far, attempts at reforms – such as the Olympic Agenda 2020 – have only dampened the symptoms of mega-event syndrome, rather than curing it. Radical changes are needed to make the rules of the game fairer for everyone.
For a start, hosts have to stop trying to tie mega-events to large-scale urban development. Organising something like the Olympic Games in just seven years is complex enough without turning it into a massive domestic development initiative. They should also cap public expenditure so that local people don't end up paying when costs overrun.
Cities and countries should also learn to bargain with event governing bodies for concessions and seek independent advice on the costs. The IOC, FIFA, UEFA, and others are monopolies. This means they can impose their terms and make substantial risk-free income, as long as there is enough demand for their events.
And finally, the size of mega-events needs to be scaled back. They have become much too large to be beneficial for cities or citizens.
It is a good time to push for these changes and address mega-event syndrome. The IOC is facing more difficulties finding enough cities to bid for both the Summer and Winter Olympic Games and the shake-up at FIFA has opened a window for reform. It may already too late to change the game in time for Beijing's 2022 gambit – but changed it must be.