Speculation is rife that Julian Assange could be about to emerge from the Ecuadorian embassy in London, where he has been holed up for three years. There has been a change in his legal circumstances and, perhaps sensing an opportunity, the British government has lodged a formal protest with the Ecuadorian government about its refusal to give him up.
But anyone expecting to catch a glimpse of the Wikileaks founder in the near future may be sadly disappointed. He is unlikely to think it safe to come out just yet.
Assange is an Australian computer programmer and former hacker. But, owing to his editorship of the Wikileaks website, he is best known for overseeing the release of hundreds of thousands – if not millions – of classified government documents.
The most notable of these were papers relating to US intelligence and operations in Iraq, Afghanistan and Guantanamo Bay. The US was not impressed when Wikileaks released these in 2010 and began investigating both Assange and Chelsea Manning, the US Army soldier who leaked the documents. Manning is now serving a 35-year sentence in the US for her role in the release of the documents.
These US investigations do relate to the latest developments in Assange's situation, but are not the basis of the legal difficulties he has in Sweden, where he was visiting in 2010.
There he faces charges for the sexual offences of unlawful coercion, rape and sexual molestation. Assange has not yet been charged because the Swedish prosecutor wants to interview him, in Sweden, about the allegations. In Sweden a putative defendant has to be interviewed prior to any charges being brought. Sweden issued a European Arrest warrant in June 2012 in an attempt to bring him back to comply.
Upon hearing of this development, Assange, who was in London, sought diplomatic asylum at the Ecuadorian embassy. This was granted in August 2012.
He does not have personal diplomatic immunity but since the Ecuadorean embassy is immune from UK legal process, he cannot be arrested while he is on the premises (or in a diplomatic car).
So, a stand-off has developed. Assange has stayed in the embassy since 2012, with British police stationed outside, prepared to arrest him should he venture out. The cost to the UK taxpayer for this has already topped £12m and continues to rise.
Assange said he sought asylum in the embassy because he feared that if he were to return to Sweden, he would be extradited to the US to face the Wikileaks charges.
Sweden has not said that it would do this – and it's not certain that it could easily happen in legal terms either. But it has not categorically said that it wouldn't either and Assange, rightly or wrongly, also feels that the full legal process may not be followed in his case.
Swedish law
Now, the Swedish statute of limitations is about to expire on some of Assange's alleged offences. A statute of limitations is a piece of legislation which prevents the trial or punishment of an alleged offender after a certain period of time (often known as period of prescription). The precise details of which crimes are covered and time periods differ between countries.
They are a controversial measure. Those who speak in their favour say it is important to stop courts from getting clogged up with old cases and to respect the fact that evidence deteriorates over a long period of time. Some also argue that statutes of limitation allow victims to move on (a point with which one of Assange's accusers appears to agree).
Others argue that it is wrong to privilege the ease of administration of justice, and the rights of a defendant over those of victims, especially in serous offences.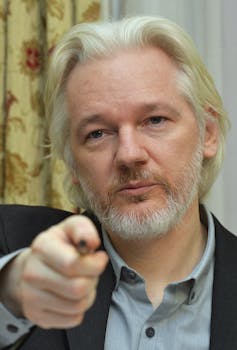 They are complicated issues, and this is in part why different states deal with the issue differently. In some states there are no periods of limitation for sexual offences. In Sweden the offences alleged against Assange have statutory limitation periods of between five and ten years.
The period of limitation for the charge of unlawful coercion and one of the two allegations of sexual molestation levelled at Assange has run out. And the statutory period of prescription on the second charge of sexual molestation will expire next this? week.
So, in spite of Sweden offering talks and suggestions about how Assange could be interviewed in the Ecuadorean embassy in June of this year and again on August 13, Assange will not be charged with, still less stand trial for, these alleged offences there.
He has said he is saddened that he will not be able to provide his side of the story in relation to these allegations. His detractors say he could have done so by either going to Sweden, or agreeing to their proposals about Swedish officials coming to London.
So, does this mean that Assange's legal worries in Sweden are over? The answer is no. The statutory limitation period for rape, the remaining allegation, is ten years. Therefore Swedish prosecutors have another five years to come to an agreement with Ecuador on how to proceed to interview Assange, and make a decision on whether to charge him.
Given that any proposals and negotiations are likely to be based on the idea that Assange will not set foot inside Sweden to talk, it seems likely that he will sit tight in the embassy for some time soon, much to the chagrin of the British government.