Earlier this month, clothing manufacturer and retailer American Apparel, Inc. filed for Chapter 11 bankruptcy.
American Apparel is a vertically integrated company, which means that it designs, manufactures, sells to other retailers and sells directly to consumers. All of its products are designed, produced and distributed from three facilities that are located within a 30-mile radius of Los Angeles. Its styles are, according to the company, "iconic," "clean," "simple" and "timeless"; they are offered in a wide variety of colors, at "reasonable prices."
For years, this model worked.
However, style preferences among young consumers have changed, along with their spending patterns since the Great Recession. Today it's unclear whether or not American Apparel's model can continue to provide an advantage over competitors in the marketplace.
Legal issues notwithstanding, questions have arisen about whether or not American Apparel can survive, and whether it can do so if it continues to produce its garments in the US.
As someone who studies fashion retailers, American Apparel will need to either move production offshore or automate production – perhaps even use cutting-edge robotics – if it ever hopes to prosper again.
Cutthroat competition
American Apparel is unique for two main reasons: since its inception in 1989, it has been positioned as an environmentally and socially responsible operation. It's also a domestic producer – a rarity among major US clothing lines – that sells in both the wholesale and retail sectors.
Yet American Apparel faces intense competition in both its wholesale and retail operations. (According to its 2014 annual report, retail generates over two-thirds of net sales for American Apparel.)
The retail sector for clothing – particularly classic apparel items for young adults such as those sold by American Apparel – is very crowded, with competitors like Gap and Old Navy, J Crew, Urban Outfitters and Uniqlo. Economists might even say that perfect competition exists; because the products offered are so similar, you could argue competition is based solely on price.
Yet branded retailers hope to avoid competing on price by creating a unique brand image, one that creates the impression that the products are different in a way that is meaningful to different groups of customers who are willing to pay for that unique difference. For example, a brand may entice shoppers who aspire to a luxurious lifestyle.
In the case of American Apparel, they try to attract they type of hipster who might be interested in creating a unique look by buying vintage clothing at secondhand stores.
Through creating a difference in the minds of shoppers, imperfect competition is actually ruling the market in this sector. And this moves competition away from price.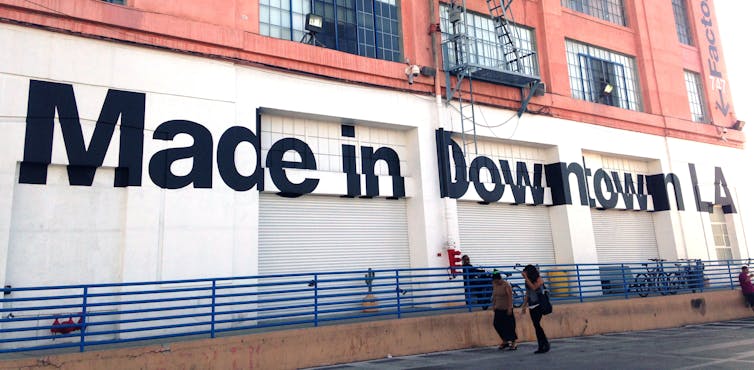 The recent poor financial results of numerous retailers in the sector suggest, however, that the brand image of these iconic youth-focused apparel firms is no longer powerful enough to convince young shoppers to pay premium prices for these products.
Rather than simply rely on its brand, American Apparel will need to carefully assess its products relative to competing retailers, so that the company can produce garments that are unique in a way that customers will truly value. This is absolutely essential because American Apparel's price is higher than its retail competitors. Fit, fiber content, style, color and product quality are known to be important to consumers. And there is also a segment of shoppers that values country of production.
High labor costs
Meanwhile, the wholesale situation – the arm of American Apparel that produces goods to sell to retailers – is quite different. Here, American Apparel is in competition with a few very large corporations: Gildan Activewear, HanesBrands, Russell Athletic and Fruit of the Loom.
All of these corporations produce offshore and have very small retail footprints, so American Apparel is facing something akin to an oligopoly: the large firms have the financial wherewithal to compete on price to drive out smaller competitors.
One of the unique and popular aspects of American Apparel's basic merchandise selection is that the company's color variety is very large, with a mix of both basic and trendy, fashion colors. This mix puts American Apparel into direct competition with the traditional knitwear producers who have much lower labor costs, because they produce offshore. But American Apparel pays labor costs of US$12 to $14 per hour in Los Angeles, compared to companies that pay $2 in Vietnam, about $2.75 in Thailand and over $3 in China.
A misaligned ad strategy
Similar to its competitors in both the wholesale and retail sectors, American Apparel sells apparel for men, women and children, which implies that it's a family brand.
However, the company describes its advertising as provocative, perhaps as a way to differentiate itself. Some have described the company's advertising as soft porn, due to the use of nudity and overly suggestive poses of the featured models.
But why would a company that uses provocative advertising sell products for children?
The promotional strategy seems misaligned with the target customer. So it will be important for American Apparel to assess the product lines offered relative to the brand image of the company.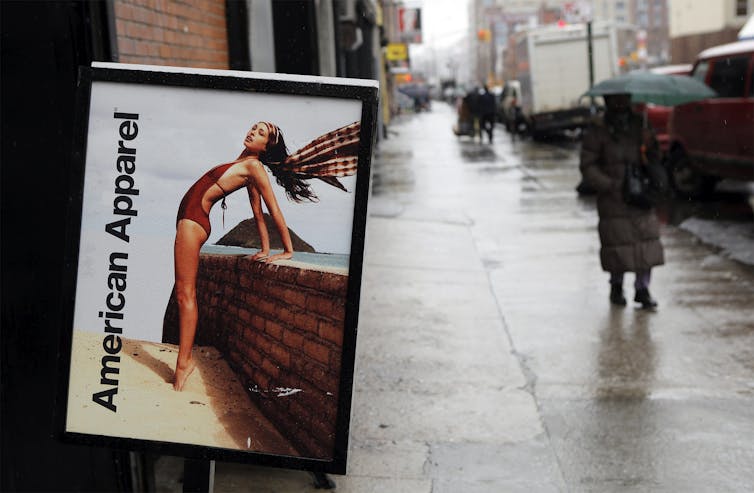 The risks of fast fashion
The company notes in the 2014 annual report that while they will attempt to streamline the number of styles offered in order to ensure they are able to stock basic items, they will also add new, fashionable items to respond quickly to changes in fashion.
This move needs to be executed extremely carefully; it puts them into more direct competition with the fast fashion retailers, such as H&M and Forever 21 that are known for their fashionable items and low prices.
Will the new styles be sufficiently different from competitors to justify the higher prices, necessitated by domestic production? Also, the addition of more styles (and multiple colors in the usual mix of sizes) is expensive to maintain, while increasing the risk that popular items will go out of stock. Both of these issues tend to decrease margins.
So what can be done?
In the end, "the made-in-America" aspect – so central to the brand's identity – is a critical factor that must be reconsidered. Based on its founding principles of social and environmental responsibility, the company employs domestic workers for the manual production of garments. It makes all its goods from one location, which also reduces the company's environmental footprint.
However, labor is the highest cost component in the production of a garment. As the US economy approaches full employment, domestic labor costs will only increase, making this style of production untenable.
Should American Apparel go offshore? Or could it mechanize its production?
Fabric is not stiff enough to run through machinery without assistance from human fingers, so apparel production continues to be labor intensive. However, new technology could offer a solution. Robotics with complex sensors are being used to create "sew-bots" that will decrease the need for manual labor.
One disadvantage of this new technology is that it will reduce the number of sewing jobs. However, the technology will increase the need for workers with more advanced technical skills – employees who can program and maintain the machinery. Perhaps partnering with technology entrepreneurs to automate apparel production is the key to American Apparel's longevity in the marketplace.
Because if production moves offshore, would the name American Apparel even make sense for the brand?