Did watching the Olympics inspire you to get out and play sport? Perhaps the gold-medal-winning effort of our men's K4 kayaking team inspired you to take to the water. Or maybe Anna Meares' gold in the cycling sprint inspired you to head to your local veldrome.
If so, you might have been experiencing the "trickle-down effect". This phrase has been used for roughly 40 years and refers to an increase in sports participation at a grass-roots level following a major sporting event. It's a term that existed long before the fancier, all-encompassing term "event legacy" became de rigueur.
Even in the 1970s, the first chair of the Australian Insitute of Sport John Bloomfield was suggesting the trickle-down effect doesn't work, and that physically gifted athletes may actually discourage us average participants.
Today, the trickle-down effect serves as a wildly inaccurate justification for the funding of elite sport, with Federal Minister for Sport Kate Lundy recently stating:
"Olympic sport inspires people to get involved at a grassroots level – driving increased participation in community sport".
No minister.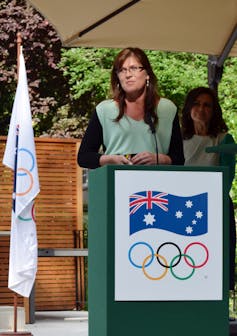 Sure, Professors Tony Veal, Kristine Toohey and Stephen Frawley found some signs of increased grassroots sport participation after the Sydney 2000 Olympics, the 2003 Rugby World Cup and the 2006 Melbourne Commonwealth Games. But, crucially, they couldn't attribute the participation increases to the events in question.
So, if we can't use major sporting events held in our own backyard to motivate the masses to get moving, what hope do we have when the event's held in old Blighty?
It's also overly simplistic to consider the Olympics as a mass media campaign for physical activity. There is a whole area of research examining the complex range of variables that are required to convert the viewing of sport into the doing of sport.
There are two reasons why I find the term "trickle-down effect" disappointing. First, a trickle is a passive, osmotic process. We need to be active in leveraging sports events, to use them as a catalyst and drive the increase in participation.
Second, a trickle is a trifling and unimportant quantity – to justify this expensive inspiration, we need a flood of participation, not an intermittent drip.
But it's not all bad.
Some research by British professor of sport in society Mike Weed, suggests elite success in sporting events may have some effect on those already engaged or experienced in sport, but little or no impact on those who rarely or never participate.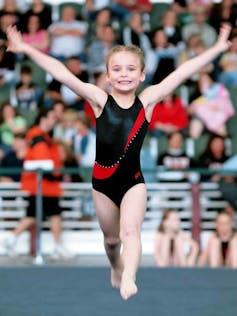 Sporting bodies leverage this opportunity and encourage interested parties to participate. For many sports this is the only time they feature in mainstream media. National sport organisations need to prepare their clubs to promote themselves locally and make their sport accessible to aspiring Olympians.
Sporting organisations need to consider their potential customers. What are the barriers preventing them moving from indirect consumer to a consumer? How can we move light consumers into medium or heavy consumption?
The Olympics has provided an awareness of sport but sports now need to promote themselves and their products to prompt us into action.
If your child has been running around all week twirling ribbons, and the local gymnastics club offered introductory packages right now, chances are you'd be more likely to sign up.
Weed's work shows that lapsed participants are especially influenced by major events. So now's a great time for sporting to invite lapsed members to make an Olympics-influenced comeback.
For a trickle effect to work, we need sporting organisations at all levels to provide the plumbing that will divert potential participants into the catchment.
Further reading: