This weekend is predicted to be the coldest of the year and perhaps the coldest we have had in Australia for a few.
Much of central and eastern Australia is bracing itself for temperatures 3-7C below average, with the four-day cold spell likely to bring rain, hail, cold winds and frosts across the country.
Victoria, Tasmania and New South Wales are expected to see the majority of the rainfall and minimum temperatures below zero for large parts of south eastern Australia.
This is great news for our ski resorts, where a much needed dump will establish their snow base. The Bureau of Meteorology is expecting large amounts of snow to fall across Victoria and New South Wales this weekend, with freezing levels dropping to as low as 700m by Sunday.
Predictions from Mountain Watch are expecting a total of 70 cm by Tuesday and Jane's Weather is even suggesting we could get as much as 120 cm by Friday next week.
But it has otherwise been a slow start to the snow season, and my research shows that this is a sign of things to come.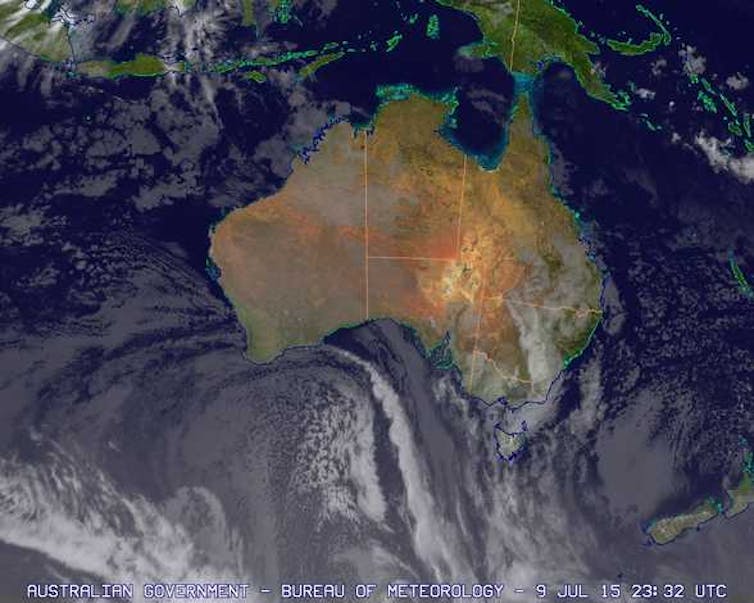 A slow beginning
July 1 this year passed by with New South Wales' Spencers Creek snow depth observations recording just 1 cm of snow. The last time we had so little at this station, which sits at 1830 m, was 0 cm in 1957, as you can see in the chart below. Victorian resorts have had a similar fate this year, relying almost entirely on snow-making to open just a few runs.
The El Niño we are experiencing this year has blocked most of the weaker precipitation fronts reaching the Alps so far. This reminds us of what we experienced in 1997, where only 2 cm of snow remained at the beginning of July at Mount Hotham and Falls Creek after early and heavy snowfalls were received in June.
Even 2006, which was certainly the worst snow season the Australian resorts had seen in the last 30 years, had 26 cm by July at Spencers Creek.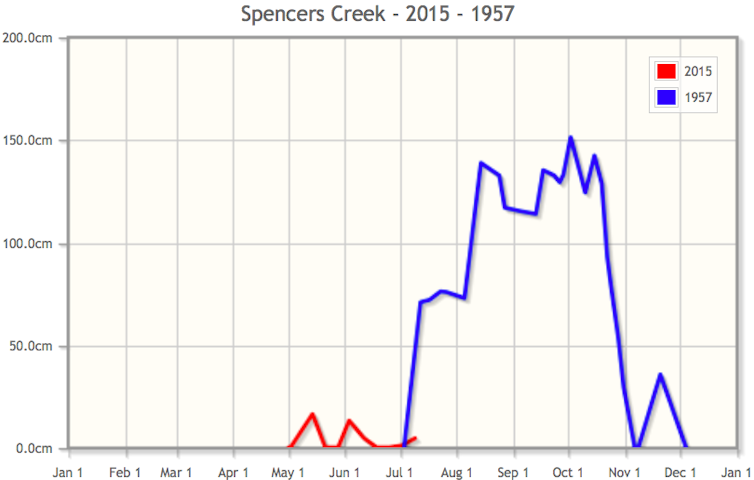 So what's going on with Australian ski seasons?
Research published at the end of last year shows that this could be the new normal for our ski resorts. With climate change causing warmer temperatures across Australia, it is making it harder for snow to fall. El Niño years, like this one, in which high pressure systems dominate our region, make it even harder.
This is especially true for light snowfalls of up to 10 cm, which have experienced a decline in frequency of about five days per decade since 1988. On the other hand, heavy snowfall events that occur in cold snaps like what we are expected to see this weekend have shown no change in frequency.
This change in snowfall patterns means our resorts are going to become ever more reliant on these extreme weather events. Interestingly, some studies are suggesting that we may see an increase in heavy precipitation events across Australia. But whether this translates into snowfalls remains to be seen.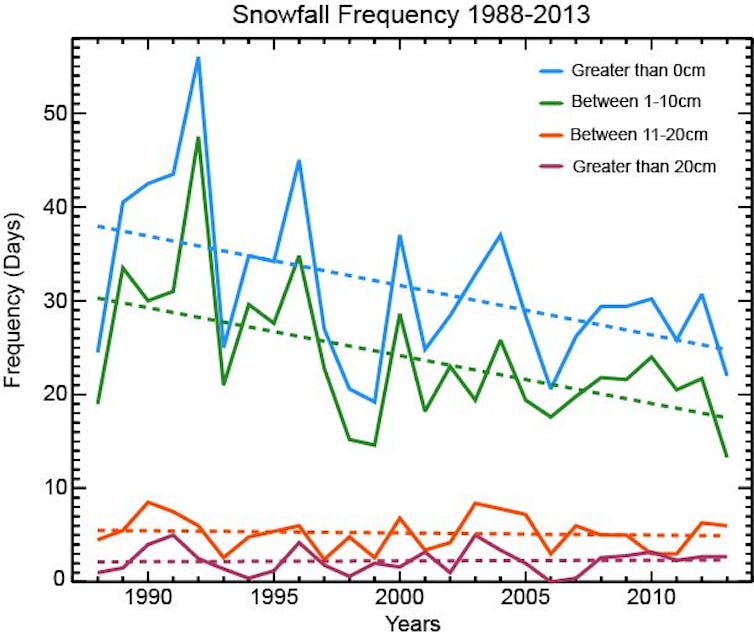 Snow making to the rescue
Like this year, gradual build up of snow depths will become less likely, and fewer light snowfall events throughout the season will make it harder to retain snow already on the ground.
Our resorts are already investing huge amounts of money and resources into snow-making in an effort to provide these top-ups and to maintain good skiing or snowboarding.
Research from 2008 showed that, with a low impact climate change scenario, an increase in snow-making capacity of 11-27% will be required to provide enough snow for skiing and snowboarding by 2020. Under a high impact scenario, snow making efforts would need to increase by 71-200%.
So this weekend, rug up in your winter woollies, and if you are hitting the slopes to make the most of this cold snap, have a run for me!