Acknowledging Australia's traditional owners of country and paying respect to Indigenous elders past and present has become a normal part of ceremonies held across the nation. But in the current New South Wales election, one non-Indigenous political leader has just raised the bar higher for other politicians.
NSW Deputy Premier Troy Grant launched the Nationals' state election campaign in Dubbo by speaking Wiradjuri, the region's traditional language.
Goolburra Norrambang-ga, Yoowindoo Troy Grant leader of the Nationals, Nardoo Barney go gulburra Wiradjuri mayin Gulung, Norrambang-ga Neenah girra Doorinya gay-Ida.
Indigenous politicians have been using their languages in public for a long time, particularly Northern Territory politicians such as Alison Anderson (Luritja), Marion Scrymgour (Tiwi) and Malarntirri McCarthy (Yanyuwa).
Yet it is still rare to hear a non-Indigenous politician publicly speak an Australian Indigenous language. When they do, it tends to be as part of special events, such as Gold Coast Mayor Tom Tate's call for residents to say g'day in Yugambeh during last year's NAIDOC Week, rather than in day-to-day politics.
At a time when so many Indigenous communities and languages are under threat across Australia, there is a small but important story of hope to be told about the growing embrace of Indigenous languages in NSW politics, schools, universities and TAFEs.
More than just symbolism
Grant's use of Wiradjuri is anything but empty symbolism. A 22-year veteran with NSW Police, Grant learnt Wiradjuri as a young constable working in the Dubbo region. He saw learning Wiradjuri as a way of showing respect for the local community and building bridges between Indigenous and non-Indigenous people.
The weekend campaign launch was not the first time the Dubbo MP has spoken Wiradjuri in his role as a state political leader.
Last year, after seeking approval from the community's Indigenous elders and the only Indigenous member of NSW's parliament, Labor's Linda Burnie, Grant spoke partly in Wiradjuri about his government's work to preserve Indigenous culture. Tellingly, it was the first time an Aboriginal language had been spoken in the NSW Parliament's 190-year history. As Grant said of the electorate he represents:
This has been the home of the Wiradjuri nation for more than 40,000 years. In any culture, language forms the foundation of a community. It is how we communicate and how our history is shaped, with stories told and customs and knowledge passed from generation to generation. Language is the way in which our communities evolve.
Grant is not the only non-Indigenous politician who has recognised the importance of languages in meeting Indigenous Australians on their own linguistic turf.
Dr Sharman Stone is the Liberal Member for Murray, an electorate with a large Indigenous constituency, and was deputy chair of a 2012 parliamentary inquiry into language learning in Indigenous communities. Last year, Stone launched the Living Archive of Aboriginal Languages, an important repository of education resources produced by the bilingual programs in Northern Territory schools.
It is significant that Indigenous languages are finding champions among some conservative politicians, rather than only on the left of politics.
Like Grant, Stone has a great deal of experience working with Indigenous people in regional areas. Before entering parliament, she worked as a sociologist with Indigenous people in prisons and education units. Grant, Stone and many others who have extensive experience with Indigenous people, understand the value of languages both to their speakers and custodians.
For non-Indigenous Australians, making the effort to learn the traditional language spoken in their local area shows respect and a willingness to understand another point of view.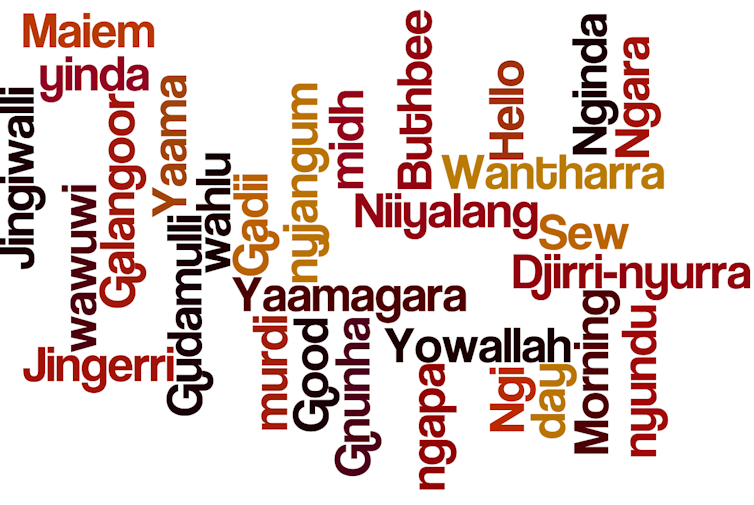 A long history of sharing languages
William Dawes, immortalised by Kate Grenville in her book, The Lieutenant, was the first known non-Indigenous person to learn an Australian language. He was an astronomer with the First Fleet, sent to Australia to document a comet expected to arrive in the Southern Hemisphere in 1788.
A young woman called Patyegarang taught Dawes the Sydney language. He dutifully recorded this in notebooks that amazingly still survive. For example, Patyegarang taught Dawes putuwá, meaning "To warm one's hand by the fire & then to squeeze gently the fingers of another person".
Learning the Sydney language made a difference to how Dawes viewed the colonial project. He is the first European recorded as defending Indigenous rights when he refused to join a punitive expedition against Aborigines ordered by Governor Arthur Phillip in December 1790.
Wiradjuri country, where Grant delivered his speech, is the site of another example of the power of learning Australian languages, as told in the landmark SBS series, First Australians.
William Suttor established a station called Brucedale in the early 1800s on Wiradjuri country west of the Blue Mountains. Unusually, he also learnt Wiradjuri.
In the land grab of the time, other white settlers in the area killed many Wiradjuri people, including the family of Windradayne, a prominent Wiradjuri leader called "Saturday" by the early settlers. Enraged, a band of Wiradjuri men led by Windradayne went from station to station, killing white settlers.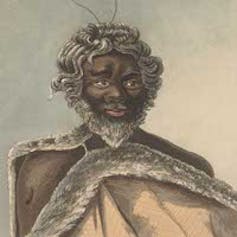 Yet at Brucedale, Suttor spoke to Windradayne in his own language, distancing himself from the actions of the other farmers. As a result, the lives of Suttor and his family were spared.
Sadly, the example set by Dawes and Suttor did not become the standard for relating to Indigenous peoples in Australia. Instead Indigenous people were expected to learn English and often forced not to speak their own languages.
In the early Sydney colony, local Aboriginal people such as Bennelong were captured and isolated with the purpose of teaching them English.
We can only imagine how different Australia might be today had Dawes and Suttor not been the exception but the rule. Arguably we would have seen far less denigration of Indigenous ways of life and belief systems if a greater effort had gone into communicating with Indigenous people in their own languages, rather than insisting on English monolingualism. We carry over this monolingual mindset to the present day.
Indigenous languages under threat
Across Australia, just 40 of the original 250 Indigenous languages once spoken remain. Of those, only 18 are still learnt by children.
Many of those surviving languages and cultures are under threat, often affected by short-sighted cost-cutting policy.
The Western Australian government, backed by the prime minister, is proposing to close up to 150 remote Indigenous communities. That would do untold damage to the ability of Indigenous people to maintain their languages and cultures.
We already know that regional towns and super-sized Indigenous communities, which consist of multiple language groups, are the worst contexts for keeping languages and cultures strong. Traditional languages typically stop being spoken as more people shift to speaking Kriol and English.
Decisions to close Indigenous communities in WA follow even more direct assaults on Indigenous languages and cultures, particularly in 2008 when the Northern Territory government closed bilingual or "two-way" programs in schools in remote communities. This severed one of the remaining funded policy lifelines for languages. Last year's federal budget cut funding for the Indigenous Languages Support programme.
Bilingual programs provided an important context for the use of Australian languages. They helped Indigenous children transition from speaking their mother tongue into English. When implemented well, the bilingual programs provided the best outcomes for students in both their first languages and English.
Language revival in NSW
Fortunately, not every government is going down that path of undermining Indigenous languages. In fact, the NSW Nationals leader's efforts to speak Wiradjuri reflect a growing trend in NSW, backed by the state government as well as leading universities and TAFEs.
From primary school to university, it is now possible to learn a NSW Aboriginal language. And that is a small step in the right direction, especially when NSW is home to more Indigenous Australians than any other state or territory.
Gamilaraay is taught as a subject at Sydney University. Certificate-level courses in Gumbaynggirr, Yaygirr and Gathang are offered through TAFE on the NSW Central Coast.
Indigenous and non-Indigenous primary school students in many NSW towns are also learning some of these languages as a part of their curriculum.
It can only be hoped that the increased interest in learning traditional Australian languages, with NSW currently leading the way, will result in a greater representation of Indigenous perspectives not just in Australian politics, but in day-to-day Australian life.
---
* You can learn to say g'day in an Aboriginal or Torres Strait Islander language, view an interactive map of Indigenous Australian languages, read about the Living Archive of Aboriginal Languages, and learn more at Our Languages. You can also read more coverage of the 2015 NSW election.