Recent months have seen unprecedented social protest in Belarus. According to Human Rights Watch, citizen mobilisation has also resulted in mass and arbitrary arrests of demonstrators, human rights activists and journalists in this authoritarian nation.
On orders of President Aleksandr Lukashenko, who has ruled the country since 1994, some 1,000 people were detained, jailed or forced to pay hefty fines from February through the big March 25 Freedom Day protest commemorating the republic's founding in 1918.
Notably, protests occurred not only in Minsk and regional capitals but also in smaller towns throughout Belarus for the first time. A proposition for a new tax targeting part-time workers catalysed existing discontent with the country's economic situation.
Lukashenko and Russian President Vladimir Putin, who have had several disputes in the past including one about their shared border, reconciled last week over the St Petersburg metro bombing.
Their discussions might ease some of the economic tensions between the two countries. Since at least December 2014, Belarus has been struggling with an economic crisis thanks to the plummet in oil prices and severe market contraction in neighbouring Russia.
But will that help the Belarusian people, who live under one of Eastern Europe's last openly undemocratic regimes?
An illogical tax on 'social parasites'
The origin of the protests can be traced back to April 2015 when the Belarusian government introduced a tax on so-called "social parasites". When it was implemented in late 2016, the Belarusian authorities claimed that the tax would allow them to tackle tax evasion. They stressed the fact that many Belarusians who work abroad, including in Russia, do not pay domestic taxes.
According to Belarusian official data, approximately 400,000 residents do not work but are not registered as unemployed and do not pay taxes. The government has argued that such people enjoy all the advantages of Belarus's "socially-oriented" state, which offers free medicine, education and other social services, but are imposing the financial burden of the government's largess on other citizens.
Data from non-state resources, including the International Labour Organization, paints a different picture. Survey-based figures of real unemployment are several times higher than the officially reported 1% unemployment rate. What's more, Belarusian state enterprises practice hidden unemployment schemes in which employees work from several days to several hours a week only.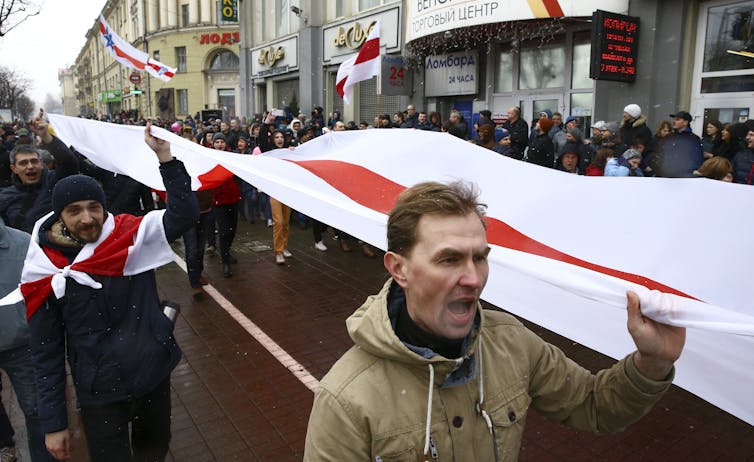 A shrinking economy
Between July and December 2014, the global price of oil fell from $US107 per barrel to $US50 per barrel. The resulting economic problems of Russia, a major oil producer, were worsened by sanctions introduced March 2014 by the European Union and the United States in response to its annexation of the Crimean peninsula and war in Eastern Ukraine.
In Belarus, where the economy is closely linked to the Russian market, this difficult economic situation was aggravated by an energy conflict with the Kremlin. In July 2016, Russia reduced delivery of crude oil to Belarus by 38%, demanding the payment of about $US200 million in gas debts. According to government sources, this Russian decision cost Belarus up to 3% of its 2016 GDP.
Unstable relations with Russia compelled Belarusian authorities to seek financial assistance from international lenders. In 2014, they released political prisoners and started talks with the International Monetary Fund (IMF), which was demanding substantial economic reforms.
But reforms to liberalise Belarus' economy and open up its market would have changed the authoritarian country's social and economic foundation, threatening the very pillars of the government's stability.
Unable to address all the IMF's demands, Lukashenko was forced to take several unpopular measures. The government increased the age of retirement and reduced government benefits. It also raised taxes, which many citizens resented as a transfer of the state's burden onto the population.
A fearful regime
The resulting instability has got Belarus' government nervous. Protesters taking to the streets for economic reasons is one thing, but the political opposition joining in is quite another.
As the protests gained momentum on social media throughout February and March this year, authorities began their crackdown, combining soft and hard measures to suppress dissent.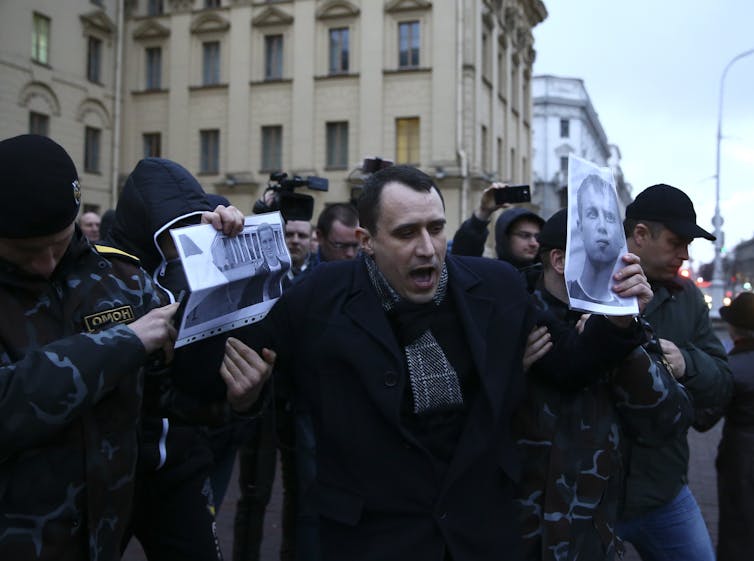 To ease discontent, they suspended the deadline to pay the "parasite tax" and announced an intention to slightly change the law itself. Then, on March 9 President Lukashenko also announced a plan to use coercive measures against initiators of the protests.
Operating with full impunity (in Belarus, rule of law does not exist), authorities began to detain journalists and bloggers around the country, and question Belarusian opposition leaders.
The government also launched a media campaign using propaganda movies on primetime television. This is still going on.
Today, numerous Belarusian protesters remain in jail for alleged misdemeanours such as resisting arrest and hooliganism, or participating in unsanctioned protests. Many have seen their sentences extended with new accusations.
The Kremlin is known to support authoritarian crackdowns in post-Soviet neighbours in exchange for their continued loyalty to Russia. That may be good for Lukashenko but reconciliation with Putin is very unlikely to help Belarusian citizens.