The lower house of Brazil's National Congress has voted overwhelmingly to impeach President Dilma Rousseff for allegedly covering up the scale of the country's budget deficit, sending the case to the upper house. As the vote was taken, anti-government demonstrations on the Avenida Paulista and outside the congress held aloft a giant inflatable rubber duck, emblazoned with the message: "I'm not going to pay the duck" – meaning paying for something when you shouldn't have to.
The duck, which has appeared at every pro-impeachment rally, has not only come to symbolise the movement against Rousseff's ruling Workers' Party (PT), but also wider discontent with government policies. In response, one particularly telling pro-government cartoon depicted the opposition as a "Trojan duck", hiding years of uncertainty and a painful austerity agenda behind its innocent appearance.
However, the colour and noise at both pro and anti-government protests masks a lack of consideration for the longer-term political implications of Rousseff's impeachment, a process dominated by short-termism, personal political leverage and political gain. After the government's failed last-minute attempt to block the process in the Supreme Court, the Brazilian Congress voted in favour of impeachment on April 17 after days of heated debates.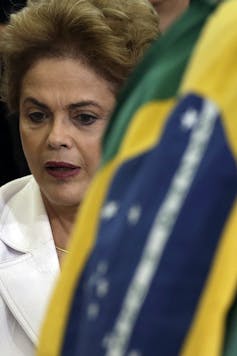 The extent to which the vote will resolve the political crisis is highly questionable, while it also reveals the fundamental divisions and deep-seated problems of Brazil's fragile democracy. The country has become further divided, as symbolised by the "wall of impeachment" erected in front of the Brazilian Congress to separate pro and anti-government protesters. Hundreds of thousands of Brazilians took to the streets ahead of the vote but this is not a straightforward story of a virtuous political class attempting to remove an unpopular president given a public outcry.
Although Rousseff's approval rating increased from 10% to 13% in early April (and from 29% to 37% if we include neutral opinions), these much-cited figures hide a high level of public dissatisfaction with Brazilian politicians and politics. Almost a quarter of Brazilian demonstrators cited "politicians in general" as the object of their protests, whether they were in favour of the government or not.
It has become clear that Brazilians are rejecting not only Rousseff, but most other potential presidents too. And that makes for a deeply uncertain political future.
The mood? Throw them all out
Even before Vice-President Michel Temer jumped the gun and leaked his presidential acceptance speech ahead of the impeachment vote, surveys found that only 16% of Brazilians wanted to see him govern the country – not much higher than Dilma Rousseff's still-catastrophic ratings.
Tellingly, almost two-thirds of Brazilians now believe that Temer should also be impeached, and 78% agree that the speaker of Congress, Eduardo Cunha, should leave office as a result of corruption allegations. That much was on display as the impeachment vote started: anti-impeachment deputies unveiled a "Fora Cunha" (Out with Cunha) banner, and others explained their support for a "no" vote by pointing to Cunha, arguing that the impeachment vote was being presided over by another corrupt figure.
All the while, the separate corruption investigations around the state oil company Petrobras have been rumbling along – and while they have yet to touch Rousseff herself, they have engulfed a slew of senior figures already. The impeachment debate has revealed just how many politicians are implicated in that particular scandal and more besides: no fewer than 35 out of the 38 congressional deputies who voted in favour of starting the impeachment process in the first place are under investigation for corruption.
Opinion polls show that Brazilians have not only become increasingly concerned about corruption but are also losing trust in democratic institutions: confidence in the presidency has dropped from 69% in 2010 to 22% in 2015, but the least trusted are political parties at 17%. Conversely, the Brazilian preference for democracy has been growing steadily from 35% in 2003 to 54% in 2015, which is similar to the Latin American average. These figures suggest that the typical Brazilian supports democracy but is highly sceptical about the democratic credentials of the country's politicians.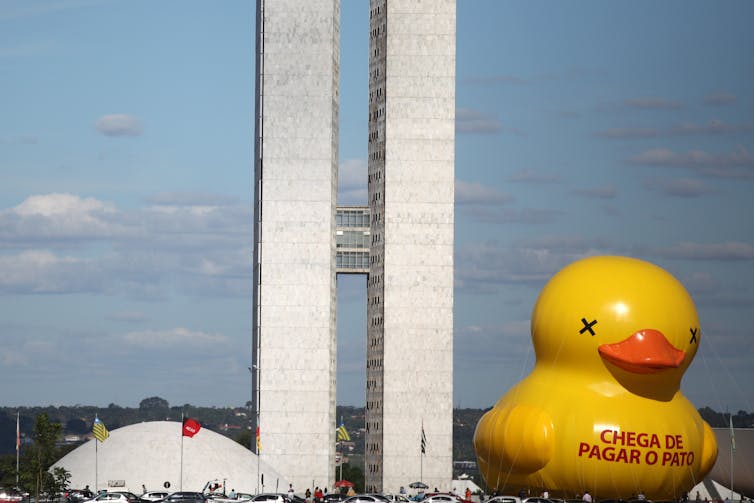 This ambiguity is also apparent in public opinion about former president Luiz Inácio Lula da Silva, the likely frontrunner in the next presidential elections.
Lula is simultaneously the most hated and most popular political figure in Brazil today. In early April 2016, 40% of Brazilians thought that Lula was the best president Brazil had ever had, with Fernando Henrique Cardoso (1995-2002) a distant second. However, another opinion poll showed that 55% of those surveyed said that they would never vote for Lula, but also rejecting his main competitors with just as much disdain.
That there is a strong base of support for Lula, who's clearly positioning himself for another presidential run, might be surprising in light of the corruption scandals, particularly to those waving inflatable Lula dolls in a prison outfit at public demonstrations. But his popularity indicates that many Brazilians have benefited from his government's social policies, which lifted millions out of poverty. That's also borne out by a regional divide in his support: disapproval rates are much lower in the north and north-east, where incomes are generally lower.
But even if he could win an election, Lula's chances of getting Brazilian politics under control are very slim indeed. While the decisive congressional vote to impeach Rousseff smacks of consensus and discipline, the country's political culture is becoming ever more fractured and turbulent.
Brazil is teetering on the precipice of constitutional chaos, and all the while, the public is in full revolt against politicians' ingrained corruption and venality. But even the protest movements themselves are fractured and contradictory, and no clear answers to their calls for political reform are forthcoming. Whatever the immediate future holds for all the lead characters, Brazilian politics will be messy and unpredictable for a long time yet.