Australia, like many countries, is grappling with an energy market in transition. It's a politically fraught topic, but two major policy developments create hope for a better approach.
Prime Minister Malcolm Turnbull announced last week that he will restrict gas exports and reserve supplies for Australians. This comes on the heels of an ambitious plan to increase hydroelectricity capacity in Tasmania.
Following unproductive talks with gas producers to try to ensure a secure domestic supply, the government has said it will force companies to reserve gas for the local market if a shortage is forecast. This is designed to reduce domestic retail prices for gas and ensure energy security.
Just one week before that, Turnbull presented proposals to invest in pumped hydroelectricity in Tasmania, by redeveloping the old Tarraleah scheme, enhancing the Gordon Power Station and exploring several new schemes. This follows the announcement of a A$2 billion expansion of the Snowy Hydro scheme and a plan to build a pumped hydro plant at Spencer Gulf in South Australia.
Both announcements are a potent reminder that the energy security challenge exists on different scales. The gas plan highlights short-term energy security concerns, with the ability to respond quickly to sudden changes in supply and demand.
On the other hand, the hydro plan zeroes in on the challenge of long-term energy security. Tasmanian Premier Will Hodgman is optimistic that, if approved, the plans would set Tasmania up "for the next 100 years"; Turnbull said it would make the state "the renewable energy battery of the nation".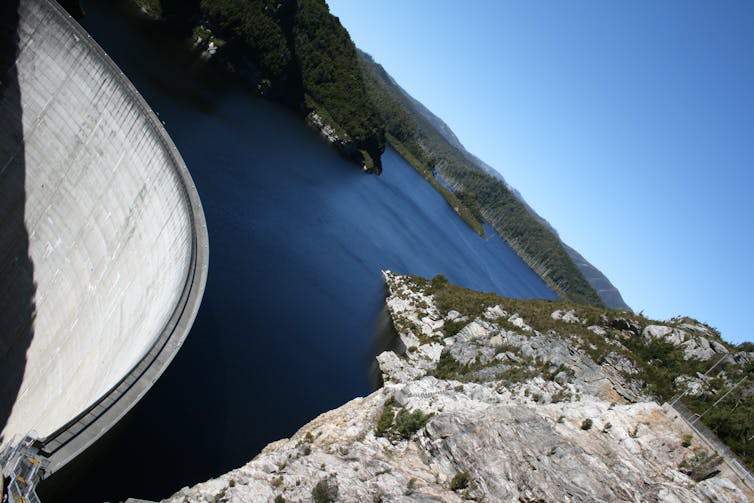 Will these plans work?
Investment in long-term development is essential, even when it's difficult to assess future returns. A feasibility study is evaluating the Tasmanian plans, but it's clear that with better connection to the mainland, more hydro would boost Australia's capacity for energy storage. It could also ease export limitations on Australian gas companies.
Of course, it is also tricky to predict the success of short-term initiatives. Economists are split on whether gas export restrictions will lessen concerns about an east coast supply crisis.
Regardless of whether the restrictions work exactly as intended, the government has signalled that it will be a temporary measure. Australia needs sustained policy follow-through.
The only long-term solution is to increase national output, starting with Tasmanian hydro and other cheap, cleaner energy installations.
The Clean Energy Council has said that increasing Tasmanian hydro will be part of the solution to high gas prices:
Renewable energy is now the lowest-cost form of energy it is possible to build in Australia today. A balanced approach, incorporating hydro, renewable energy such as solar and wind and other forms of grid-scale storage, makes a lot of sense.
Consumers on Australia's east coast could have their energy cheap and clean. Once built, hydro power has attractively low operating costs and, with better regional interconnection, the increased capacity for storage could make for a smarter, more resilient Australian grid. The low greenhouse gas emissions from hydropower are added value.
Australia has decades of hydro power experience under its belt, with 40% of its renewable electricity now generated by hydro. Hydro power contributes about 85% of renewable electricity worldwide. The question, therefore, is not "will it work?", but "how quickly can we make it happen?"
The plans for gas export restrictions will first undergo consultations, with Turnbull expecting them to take effect as early as July 1. Plans for Tasmanian hydro will likely take longer, as funding has been secured only for the feasibility studies at this stage.
If Turnbull's plans to restrict gas exports succeed and east coast energy security concerns continue, increasing Tasmanian hydro and other new energy installations could lead to a reduction in gas export restrictions and a gradually more self-reliant Australian market.