With a high fatality rate and a terminal phase that causes bleeding and haemorrhagic fever, the Ebola virus has always attracted grisly fascination, yet funding and action against it have never been particularly high. The current outbreak in West Africa is unprecedented – it has now killed more than 1,500 people – and it appears to have stimulated a chain reaction, from treatment using experimental drugs and fast-tracking human trials, to mapping the genomes of the virus in order to gain better understanding of the species involved.
But what has prevented this outbreak from being easily contained is the lack of public health infrastructure in the region.
Preparedness
The current outbreak in West Africa should stimulate a complete shift in public health policy. If future occurrences of this and other emerging diseases are to be prevented or their impact minimised, we need to learn a great lesson now. An effective treatment for Ebola would be good, a vaccine to prevent the disease even better, but the best thing that could come out of this is a more organised and trusted public health system.
First and foremost, none of the developing countries that have been hit, including Liberia, and Sierra Leone, were prepared nor had the capacity to manage the outbreak. For this you need trained personnel and a good public health infrastructure. For example, it was only after the outbreak that many hospitals saw the need to create quarantine units or holding centres, despite Ebola being a real health risk. Getting people to come forward to be immediately isolated has been a problem.
Communication
The publicity given to the outbreak has also been unprecedented – thanks to the 24/7 news cycle, the internet and affordable mobile phones. Good communication is crucial, but it's clear that media can be used to spread bad as well as good messages.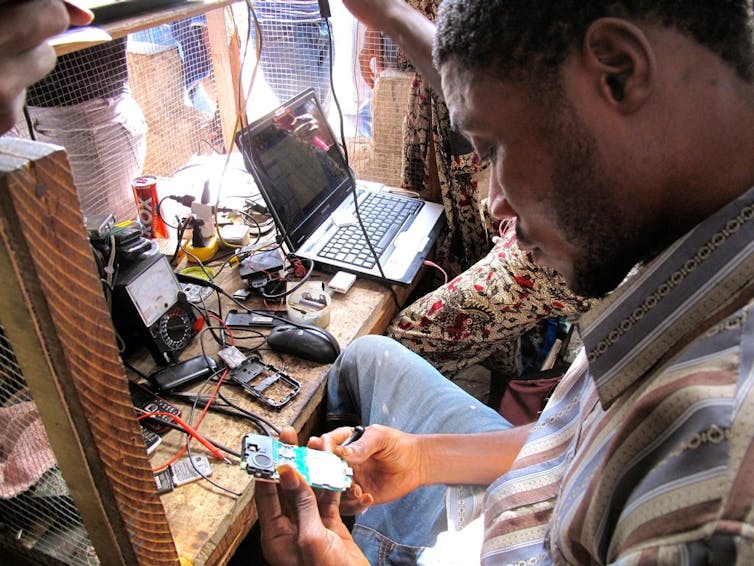 In Nigeria, which thankfully has not seen a full-blown outbreak, panic as well as the rumour that drinking or bathing in salt water can prevent Ebola infection has led to at least two deaths. In Liberia, where a national curfew was set up, violent clashes took place in the West Point slum area of Monrovia after a quarantine was ordered. While tension is perhaps inevitable, the situation could have been managed better.
Without being able to drive home alternative messages to build trust, counter the stigma of the disease and tell people what symptoms to look out for and what to do, then there will be a problem.
Mobile phones are now affordable for many in African countries and are an asset for disseminating useful health education, particularly during emergencies. However, the information must come from trained public health officials with an appropriate background in risk communication – rather than those only interested in sensational news broadcast. These skills could better assist politicians, the press and government officials in communicating appropriately.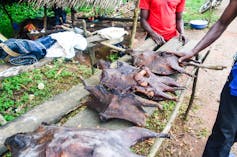 There are also cultural issues around the eating of game meat (bush meat), a delicacy in most West African cultures and the likely origin of the Ebola virus. Ebola virus, like plague, rabies, psittacosis, Lyme disease and others, are zoonotic diseases or infections transmitted between vertebrate animals and humans.
It should follow, then, that avoiding or protecting the species that harbour them would be one plausible approach for preventing future outbreak. This would mean beginning a process of reconciling the protection of the species for biodiversity with that of zoonotic disease prevention. In other words, some wildlife species known to harbour pathogens that are transmitted to humans such as monkeys, bats, chimpanzees, should be regulated.
Firmer commitments
There is the need for national governments in Africa to start or improve their public health infrastructure and health staffing to address future outbreaks of infectious diseases which are inevitable – particularly in view of climate change effects and the resulting shift in disease spread.
Despite a commitment in the Abuja Declaration to allocate at least 15% annual budgets to health care by 2015, only six countries in Africa – including Liberia – have met this goal. According to World Health Organisation figures about a quarter of African Union member states were spending less on health now that they were in 2001. Now is the perfect time to push for countries to make good on their promises. And it will also impact other big problems such as HIV/AIDS, tuberculosis and malaria.
Public health is all about preventing diseases before they happen and in poorer countries, the need is even greater. Moving forward, individual African nations and in collaboration with the African Union, should formulate public health policies and statutes for training, research and developing infrastructure in line with what obtains in more technologically advanced nations.
This must come in addition to the clinical research around the Ebola virus itself. By so doing, the WHO and Centers of Disease Control in the US and the respective ministries or departments of health in West Africa can share data and best management practices for addressing these emergencies in the future.
There are other issues such as the enormous economic losses and ratings agency Moody's has already warned of the potential impact of the virus on the region. So when it comes to costs, it is better for African counties to avoid being penny wise and pound foolish by investing more in preventive rather curative measures that may or may not exist in the future.