Over the last two decades independent producers have made important contributions to the "pornosphere". Enabled by increasingly affordable and accessible technology, alternative, indie, feminist, queer, ethical, amateur, user-generated and "post" porn have arguably "democratised" pornography.
These genres blend performance art, experimental film, diverse bodies and women's pleasures with a focus on the process, not just the final product.
This week, to coinicide with International Women's Day, tube site YouPorn launched a "female director series", asking female directors to share their work - for no remuneration but for mass exposure.
Tube sites provide free video streaming similar to YouTube and include user-generated material. But they also buy archival content from defunct websites and often pirate content from competitors.
YouPorn is owned by Canadian company MindGeek, which reportedly owns eight of the top ten tube sites including Pornhub and Redtube.
Is its offer on International Women's Day an altruistic measure? Or, given that small producers are being asked to provide free content that will generate advertising revenue, is an international corporation seeking to profit from women's labour?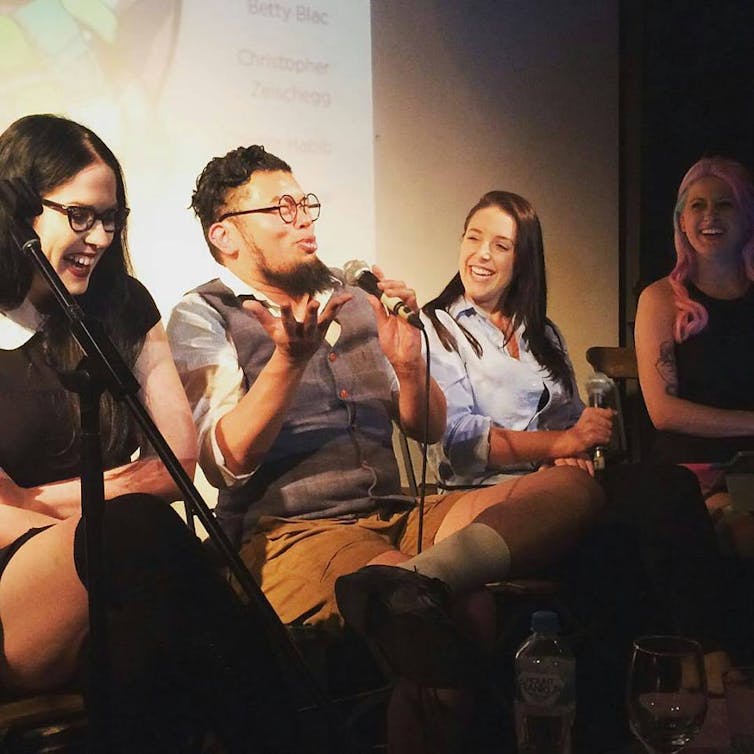 Porn monopolies
MindGeek is defending a piracy lawsuit for allegedly hosting and charging for access to pirated videos on Pornhub Premium. Adult star Stoya has claimed MindGeek is devaluing companies through piracy. And some have suggested MindGeek is fast becoming a "single, monopolistic owner" of porn production and distribution.
Offering female-friendly content may improve a corporation's image, but a more meaningful step would be to focus on ethical labour practices in the porn industry.
Performers are urging consumers to "pay for your porn" and "vote with your wallet" as a form of ethical porn consumption.
Sex workers have spearheaded a movement for fair working conditions and adequate payment and control over how and where their scenes are distributed. A desire to capitalise on women's creative labour is very different to a genuine commitment to sex worker rights.
Indeed feminist porn pioneer Candida Royalle has insisted that women must "take control of the reins of production" to ensure our voice is heard.
A decade of the Feminist Porn Awards and Berlin Porn Film Festival (where 50 per cent of directors are women) have nourished a growing community of porn-makers invested in political change.
But although women now have greater access to the means of production, we cannot say the same for the means of distribution. As long as male-dominated corporations own and control the infrastructure, men predominantly make the money and female producers are encouraged to work for free.
When you can't sell sex
Meanwhile, independent producers face barriers that they say make the sale of porn virtually unviable. These include refusals from banks in processing adult payments, administrative and financial costs in securing billing from Australia, and higher fees due to the assumed risk of adult websites.
Platforms such as Vimeo, Paypal and Amazon have all refused adult content.
As academic Georgina Voss has argued, working in porn is a kind of "stigmatised labour". Combined with criminal laws in Australia that prohibit advertising of X18+ material, it is increasingly difficult and expensive to actually sell pornography.
The increasing access to free online pornography, available without credit card, age verification or email log in, is currently the subject of an Australian Senate Inquiry, following an inquiry into revenge porn, the non-consensual sharing of explicit images.
Crowdfunding and consumer entitlement
Porn's move towards free content in return for patronage or advertising is similar to the trend in other creative industries. Porn has moved from subscription sites to video-on-demand, and now towards crowdfunding.
In some cases, giving away free content has been a political protest to circumvent criminal laws. And some feminist producers have offered sliding scales and discounts for women, while featuring free sections on their websites.
But pornography is different to other creative industries because ongoing stigma brings additional risks. The reuse of old content on tube sites can have consequences for retired performers, leading to their being discriminated against when finding work or even in child custody battles.
Ethical porn producers are guided by performers as to whether their image is to remain behind a paywall or can be used in marketing. Contracting with tube sites risks performers losing control of the product, which may be featured next to misogynist, racist or transphobic taglines. Ethical porn is not only about production – it is about marketing, distribution and consumption.
Requests to provide free content to satisfy consumers ignore the skilled yet precarious labour of sex work and the capital involved in producing porn – from location, wardrobe, talent, camera equipment and editing software.
Solo producers who shoot and star in their own content operate with no/low budget, shoot sporadically and may supplement porn with other work to earn a living.
The University of California's Heather Berg argues this is part of a larger trend under late capitalism: work/life is blurred, performers are encouraged to take on their professional identities 24/7, and workers are expected to perform for love, not for money.
Still, there are avenues to support your local pornographers. In Australia, porn is characterised by performer-producers, solo operators, small partnerships and "cottage industries".
On International Women's Day, we don't need token gestures that mask inequalities and offer no material benefits.
We need decriminalisation of the production, screening, advertising and sale of pornography and protections enabling performers to access industrial rights mechanisms and health and safety standards.
This way we can nurture a thriving, democratic and fair industry of independent artists.