Britain now has a record number of female MPs, more women are on company boards, and work is being done to encourage more women to take up science.
Yet women still aren't equal to men. And if we think in terms of intersectional feminism – the connections between different multi-layered facets of oppression such as gender, race, class, sexual orientation, ethnicity, ability or age – the invisibility of some groups of women is even more striking.
Some may well say that this inequality is to be more expected in traditional male domains, and that in areas like arts and culture, women are actually far more visible than men. For example, they might argue that a glance at what is available in libraries or bookshops shows that more women writers are being published today, both in the UK and worldwide.
Indeed, in 2015, the BBC surveyed international critics to find the greatest British novels. Their results showed women authors accounted for half of the top 20 titles chosen. However, the same piece also emphasised how these results "stand in stark contrast to most such polls over the past decade".
Look further into the number of reviews of women writers' work published in literary magazines, and into the amount of writing prizes awarded to women, however, and a dramatic gender imbalance emerges.
Different gender-specific initiatives attempt to address this problem, such as the Baileys Women's Prize for Fiction and organisations like VIDA, working to highlight the gender imbalance in publishing. But there's still a great wealth of literature out there that is still consistently being overlooked: that of non-English women writers.
Missing translations
So what's the problem? To begin with, very few books are being translated into English from other languages. In Britain, translated literature makes up only 3.5% of the market, but 7% of book sales.
To challenge this, ongoing work carried about by English PEN – more specifically PEN Translate, a network promoting translations into English of outstanding works in foreign languages – and other organisations such as Literary across Frontiers – a platform for literary exchange, translation and policy debate based in Wales, aimed at developing intercultural dialogue through translation – is undoubtedly crucial. However, still more must be done.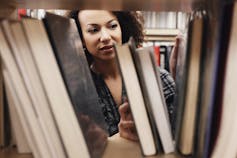 The thing is, within that small number of translated works, women writer's books are consistently undervalued. But women read and women write. Even if it has been traditionally difficult for women writers to have their works published – with many resorting to male pen names to combat sexism – and even if the current publishing market still shows a clear gender bias, globally more fiction than ever before is being authored by women.
Yet, even those women authors who make the cut and become renowned writers in their home countries are not being translated for an English-speaking audience. There is a clear tendency to translate fewer women authors than men authors. Generalist publishers have been found to have obvious gender-biased attitudes when selecting titles for translation, and the work of women writers is far less often chosen for inclusion in translation anthologies, as shown in recent examples from Galician literature.
The tendency is even worse if we think about outstanding women authors from postcolonial, peripheral and non-hegemonic contexts. There are so many examples of Polish, Italian, Latin American, Czech, Arab, Balkan and Japanese women writers that aren't translated into English.
Portuguese is one of the most widely spoken languages worldwide and yet there are barely any translations of women authored-literature into English. And that accounts for not only those coming from Portugal or Brazil, but also Angola, Cape Verde, Mozambique, Guinea Bissau or East Timor.
The fact that these women are being silenced in translation is not something trivial: in the age of transnational feminism, in which we want to promote truly cross-cultural understandings, we should be facilitating dialogues among women across the globe. And translation can certainly help us do that.
In an ideal world, women's presence in literature and translation should not have to be ensured by gender-specific prizes, anthologies and supplements. Instead, their work should be placed in generalist and genderless ways alongside men's. But in our still patriarchal world – in which, for example, the Independent Foreign Fiction Prize has been awarded twice out of 21 times to women writers – corrective and positive action measures are indeed very much a necessity.
Supporting the translation of female writers, literary network The English Pen has recently announced a record number of women authors and translators won its annual translation awards. More than half of the 18 award winners were women, with books translated from 14 languages and 16 countries among those honoured. This is indeed a move in the right direction. As was this year's Warwick Prize for Women in Translation, launched on International Women's Day to promote foreign writers in English translation.
The future of feminism is in the transnational, and transnational links can only be made through translation. Women writers the world over should be given a voice, no matter what language they speak and what cultural background they come from. Surely, we all can benefit from this: to carry on denying British readers access to great literature simply because it is authored by women is beyond belief.