Crack open the champagne. The return of Australian satirical drama to ABC television is cause for celebration. Utopia, an eight-part series that launched last week, is the real deal. It offers a high-energy lampooning of nation-building projects and the bureaucrats who run them.
It is six years since Rob Sitch, Lachy Hulme, David James and Merrick Watts appeared together on the ABC, starring in that droll satire of parliamentary powerbrokers in Canberra, perfectly titled The Hollowmen.
Utopia is not scathing political satire. It's light – but sharp and witty. The script is tight and the pace of action is rapid, with a variety of jokes threaded through an episode. Quick-changing scenes produce a comedy of errors in all parts of the fictional Nation Building Authority – with everyone embattled under the crushing weight of corporate rhetoric.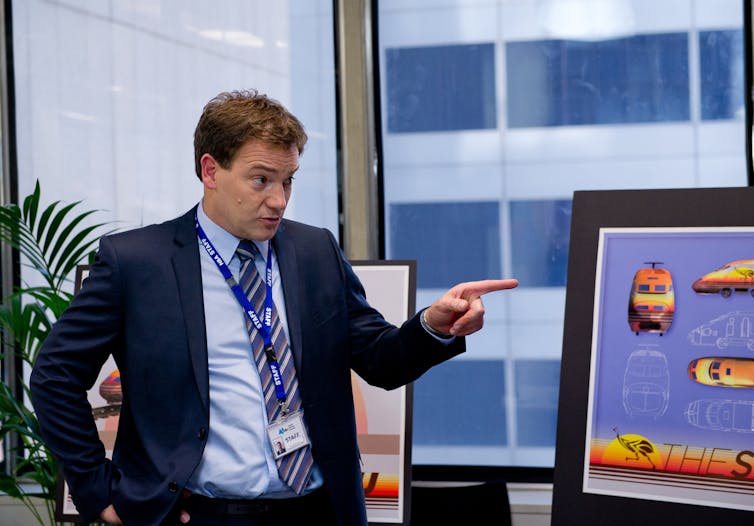 Earlier this year, Sitch and the Working Dog team of writers put their energies into a disappointing, anachronistic stage show The Speechmaker at the Melbourne Theatre Company (it cannot be called a play because it really wasn't one). The targets of the satire were the antics and the speechmaking efforts of an American president and his image-makers, who are stuck aboard a jet.
It was an extended piece of sketch comedy, which seemed to tax a large cast of fine actors. It had little to say and relied on a manic physical style of comedy for laughs, a repetitive script and a barely believable scenario.
The first two episodes of Utopia remind us of the writing talents of those Working Dog scribblers: Sitch, Santo Cilauro and Tom Gleisner. Even more tantalising, the series offers a treat in the form of a cast of exceptional actors alongside Sitch in the lead role.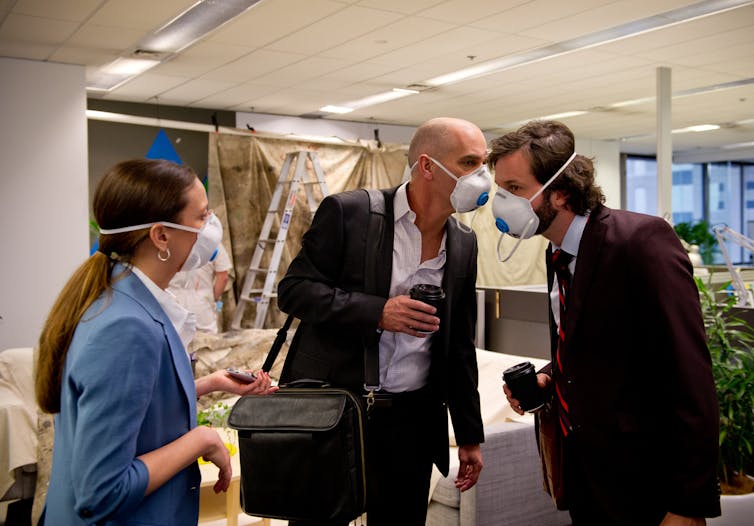 Utopia is especially timely because so little "nation building" is actually happening.
Australians seem more divided than ever over the current government's budget in which public health and public education in universities are under threat, renewable energy projects are downgraded, and the support for infrastructure seems to be directed towards roads and mines. Private interests, corporate gain, public squalor. Where are the public infrastructure projects?
Minister for Communications Malcolm Turnbull is charged with completing the national broadband infrastructure, a nation-building project if ever there was one – and yet he is out in the cold. We learnt only last week that Turnbull (described as the member for Leafy Suburbs and Post-Copernican ideas by Clarke and Dawe) has been sidelined and is forced to read about new policies in his portfolio in the newspaper.
Utopia is topical and delightful. The opening sequence treats us to grabs from various politicians announcing their infrastructure credentials against a tableau of drawings, plans and blueprints as Dean Martin croons. Tony Abbott declares loudly: "I want to be known as the infrastructure Prime Minister."
Utopia's humour is recognisable to anyone who works in an office – it is both topical and generic. This Nation Building Authority (NBA) with its garish, copyright-infringing new logo and bullying marketing people could be any government organisation with a big budget and high-profile activity.
In episode two, which screened last night, the harried Nat (Celia Pacquola) highlights the second airport for Sydney (in reality, a running sore) as one of the major projects for the NBA. It will be interesting to see if this one comes under further satirical scrutiny in the series. Tony reluctantly agrees to appear on camera to announce the aims of the nation-building leviathan for the new sonically-branded website.
At times the sketch-like scenes are hilarious: in the first episode we had Tony setting off the fire alarm and locking out a delegation of visiting Chinese businessmen, and then performing a dance of low bows followed by a series of translated excuses for the unprofessional behaviour of the hosts.
Utopia is also poignant at times. The gormless Hugh (Luke McGregor) suffers many indignities because of his honest approach to work and his failure to understand the realpolitik of the office.
So, it is a welcome pleasure to see Sitch and his writing partners back with a new comedy series on television, puncturing the absurdity and grandiosity of Australian nation-building excesses.
Utopia is screening on ABC1, Wednesday nights at 8.30pm. Play catch-up on ABC iview.