Sixty years ago, before the legendary Pelé became a household name, the teenage Brazilian prodigy was preparing to take part in his first World Cup in Sweden. He was 17. The 1958 World Cup finals were only the sixth time the tournament had been held – and, unbelievable to think now, Brazil yet to lift the Jules Rimet trophy that they were to make their own.
Pelé was about to change all that. The Canarinho wonderkid, – Edson Arantes do Nascimento, to give him his full name – scored six goals during the tournament, including a hat-trick in the semi-final and two goals in the final against host nation Sweden. His storming performance, combined with the skill and flair of his team mates, was to set his country on the path to global footballing dominance.
But the 1958 finals are memorable for much more than their Brazilian milestones.
That year is still the only time England, Northern Ireland, Scotland and Wales have all competed together on the world stage. And the finals were, and still are, a record-breaking tournament for goal scoring. The prolific French forward, Just Fontaine, was unstoppable, setting a tally of 13 goals in six games – a total which has not been broken to this day.
Off the field, in a remarkable contrast to modern football, a huge brawl involving Welsh players at a hotel on the outskirts of Stockholm remained unreported – unthinkable these days. In his 1998 book, When Pelé Broke Our Hearts: Wales and the 1958 World Cup, sports writer Mario Risoli described in graphic detail a fight that took place at the Copacabana Club at the Grand Hotel, in Saltsjöbaden, shortly after Wales' exit from the competition. Nobody was arrested, and Risoli notes that "the selectors did manage to prevent the Copacabana Club fiasco leaking out". What price such a successful cover-up today?
Golden age, for some
For these reasons – and for those of a certain vintage – the 1958 World Cup, held between June 8 and June 29, belongs to a golden age of international football.
In 1958, England's finest hour, a single World Cup title, was still eight years away. In Sweden the side achieved results which will be a little more recognisable to today's fans as they puffed their way through the group stages. The team drew all three group games, against Brazil, Austria and the Soviet Union and were eliminated in a play-off match by the latter. Meanwhile Scotland drew with Yugoslavia but lost to both Paraguay and France and were duly eliminated.
Wales' manager, Jimmy Murphy, was also Matt Busby's assistant at Manchester United – but had escaped the horror of the Munich air crash earlier that year because he had been on international duty at the time. With Busby seriously ill in hospital and many of his leading players dead, it was left to Murphy to try to pick up the pieces at Old Trafford while simultaneously guiding his Welsh team to the World Cup finals.
In a harbinger of Euro 2016, it was left to Wales and Northern Ireland to progress to the next stage. Northern Ireland had beaten Czechoslovakia, drawn with West Germany and lost to Argentina. In the quarter finals, they were beaten 0-4 by France for whom Fontaine scored twice. Northern Ireland's star performers had been Peter McParland, who scored five goals in four games, and Manchester United's goalkeeper Harry Gregg – a survivor of the Munich air crash – who was the only UK player [selected by journalists] in the team of the tournament.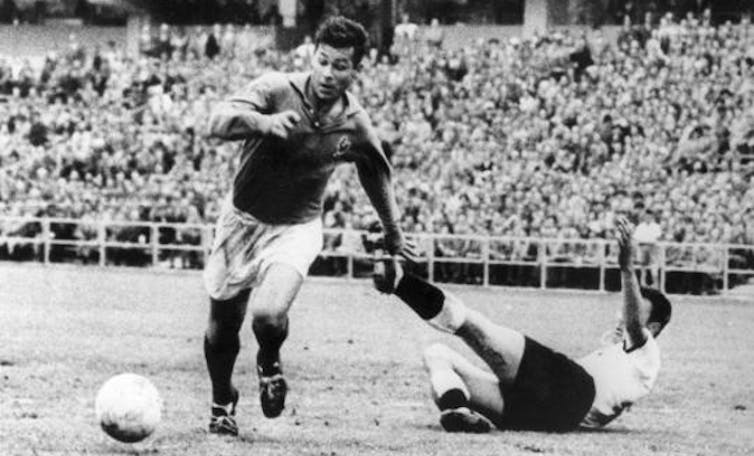 The Welsh team was made up of many of the country's greatest ever players, including Ivor Allchurch, Terry Medwin, Cliff Jones, Jack Kelsey and the Charles brothers, Mel and John. Like England, Wales drew all their group games – against Hungary, Mexico and Sweden – but, unlike England, they won their play-off match with Hungary. In their quarter-final game, they were beaten by a single goal scored in the 73rd minute by Pelé.
One should not forget the contribution made by the hosts Sweden. They came into the competition with a very experienced group of players, several of whom had played for many years in Italy's Serie A in an era when it was much less common for players to move between different countries' football leagues. These included Gunnar Gren, who played in Italy from 1949 to 1956, Nils Liedholm (1949-61), Gunnar Nordahl (1949-58) and Kurt Hamrin (1956-1971).
So the team's progress to the final was not entirely unexpected. Despite drawing with Wales, they advanced to the quarter finals with victories against both Mexico and Hungary. The next opponents were the Soviet Union whom they beat by two goals to one.
In a potentially very difficult semi-final match against World Cup holders West Germany, Sweden won 3-1 and so to June 29 when they met Brazil at Råsunda Stadium in Solna, on the northern outskirts of Stockholm.
Brazil triumphant
On the day, the Swedes were no match for their opponents. Brazil won 5-2 with goals from Vavá (2), Pelé (2) and future Brazilian team manager Mario Zagallo. Pelé was selected by the football writers in their team of the tournament along with team mates Garrincha, Didi and the full backs, Djalma and Nilton Santos (no relation). Orvar Bergmark, who played right back for Sweden in the final, later commented: "At that time, it would have been better to sit in the stand and enjoy all their skills instead of being exposed to them."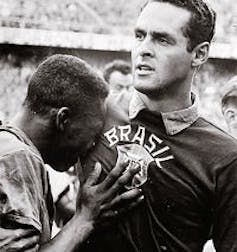 Finally, with relatively well-founded fears that that racism will rear its ugly head during the 2018 World Cup finals in Russia, it is worth remarking on the enthusiastic response given by the Swedish fans to the Brazilian players. Like Bergmark, they clearly appreciated the skills of their team's opponents. Of course, social democracy was in its pomp in Sweden at that time and Swedes were eager to demonstrate their internationalism.
But whatever the explanation, is it just possible that a Russian crowd will behave in the same way as those fans at Råsunda towards a victorious team with a large percentage of black players such as Brazil, once again, France – or even England? One can but hope.
---
More evidence-based articles about football and the World Cup: