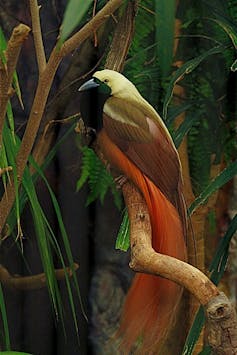 Cornell University has released online the world's largest ever digital collection of animal and bird calls, an enormous archive of recordings dating back to 1929.
The online Macaulay Library archive at the Cornell Lab of Ornithology comprises nearly 150,000 digital audio recordings of about 9,000 species.
It took 12 years for archivists to digitise the analog audio recordings, which include sounds of walruses, whales, birds, primates, frogs and other animals recorded in the wild.
"In terms of speed and the breadth of material now accessible to anyone in the world, this is really revolutionary," Greg Budney, curator of the Macaulay Library said in a statement released by the university.
The sounds may be used by teachers, researchers, film makers and conservationists.
Among the archive recordings highlighted by the university are (click on link to hear audio):
The university has also called on members of the public to contribute to the archive and keep an ear out for the sounds of rare creatures on their most-wanted list.
Dr Glen Chilton from James Cook University's School of Marine and Tropical Biology said that "the user-friendly resource will be of great value to bird enthusiasts trying to come to terms with the subtleties and complexities of bird songs and calls."
"Many researchers working on the vocal behaviours of birds, me included, have filing cabinets full of reel-to-reel and cassette tapes containing recordings of birds made over many decades. They represent a precious and hard-won resource. And yet audio tapes degrade and technologies change over time, meaning that valuable data can be lost to future generations of researchers," he said.
"The value of the Cornell University project is two-fold. First, important recordings are less likely to be lost when archived in this way. Second, those moments in the lives of birds are being made fully accessible to those interested in the natural world."
The opportunities provided by this archive could be incorporated into university undergraduate ornithology courses, but also into grade school learning sessions, said Dr Chilton.
"However, it is important to recognise that no archive can replace ornithologists in the field, generating new recordings of bird songs and calls. An enthusiastic graduate student with a microphone, recording apparatus and a question to be answered is irreplaceable in moving the discipline of avian communication forward," he said.
"For the serious researcher, this archive can serve as a starting point, leading to more time in the field."