As intense negotiations between Moscow and Washington draw to a close, the Chinese Government will be heaving a sigh of relief that diplomacy seems to have triumphed over the use of force in Syria.
China's pleas to the international community to solve the crisis through dialogue were all about the leadership's obsession with maintaining economic growth. It was about stabilising export markets and keeping the lid on consumer prices, rather than an ideological commitment to the sanctity of international consensus or a belief in the efficiency of the UN Security Council.
On the sidelines of the G20 summit in St Petersburg, China's deputy finance minister contended that a US$10 increase in the price of crude oil could trim 0.25% off global growth.
As China's new leadership consolidates its grasp on power and grapples plateauing industrial output and single digit GDP numbers as the new norm, an international conflict would seriously undermine the fundamentals of the Chinese economy and dent the Communist Party's credibility.
New Silk Road
The Middle East's position as China's bridge between Asia and Europe is a critical part of the Chinese government's pitch to embed a "New Silk Road" as a centrepiece of its economic policy.
From building a new rail link that will connect central China's emerging logistics and manufacturing hub of Chengdu to Germany, to building the Shanghai Cooperation Organisation as an enabler of regional currency convertibility and transport agreements to bolster regional trade, Central Asia and the Greater Middle East are emerging as key pillars of Chinese foreign policy.
Xi Jinping's foray into this fascinating area of foreign policy is just as much about appealing to a domestic political audience as it is about building China's global influence and countering US hegemonic power.
The "New Silk Road" is a direct ideological appeal to the heart of the Chinese people and harks back to a golden age of imperial Chinese civilisation, evoking powerful imagery of China as an enabler of world trade.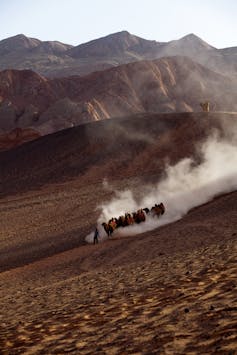 This is a deliberate policy designed to generate wealth in China's central and western provincial hinterland, which has lagged significantly behind the post-Mao development of China's eastern seaboard.
A big part of this is driven by political and economic self-interest imperatives. Generating wealth in East Turkestan (also known as China's Xinjiang Province) is seen as an essential component to quelling ethnic discontent and a not always peaceful movement led by Uyghur independence activists.
None of the recent ideology has occurred in a state of splendid isolation.
Over the past decade, China has accumulated significant runs on the board and the emergence of Xi Jinping's ideological window dressing is occurring against the backdrop of significant Chinese investment in energy assets and economic activity in the region.
Breaking oil dependency
China's ideological appeal is firmly about unshackling Beijing from oil dependency in the Middle East and diversifying its investment footprint into the wider region.
The Middle East accounts for more than 60% of China's oil imports and is a vital cog in the wheel of the Middle Kingdom's growing appetite for crude oil. In 2011, China imported almost three million barrels of oil per day from the region. By next month, China is forecast to exceed the US in net oil imports.
While sanctions have made acquiring equipment to service assets in Iran problematic, state-owned giants such as Sinopec and China National Petroleum Corporation (CNPC) were quick to invest in premium Iraqi oil assets in the aftermath of the collapse of the Baathist regime and the US-led invasion.
It should be pointed out that China's investment in the Middle East is starting from a small base – Chinese investment accounts for less than 2% of total foreign direct investment (FDI) in the region.
Yet this has been growing. In 2012, China invested US$8.2 billion in the UAE, US$12.9 billion into Saudi Arabia, US$120 billion worth of hydrocarbon contracts in Iran, supervises at least $4 billion worth of oil assets in Iraq, and has signed an ambitious new trade and investment partnership to bolster transactions with Egypt.
This investment and ideology has been accompanied by an increased willingness by Beijing to play an active role in the region, including a sense of political will to invest in the Middle East peace process.
World role
The West has been urging China for years that its new-found economic and political power needs to be matched by a willingness to behave as a responsible international stakeholder.
Few could have imagined the powerful optics accompanying Xi Jinping's foray into the Middle East peace process in May this year. Beijing hosted Palestinian President Abbas and Israeli Prime Minister Netanyahu within a day of each other.
The symbolism of these immaculately timed visits was accompanied by the release of Xi's so-called "four point" Middle East peace plan involving a road-map to an independent Palestinian state, stopping settlements, lifting the blockade of the Gaza Strip and securing the release of political prisoners.
Coupled with China's evolving economic interests in the region, its growing soft power diplomacy and its new sense of confidence assuming a voice on regional affairs, it seems the "New Silk Road" is here to stay and will become a normal part of life in the evolving dynamics of the Asian Century.