In the pre-internet, pre-"Cool Japan" era, Yoko Ono was arguably the most famous Japanese person outside of Japan – and she's about to get more famous in Australia. Ono's life and work is the subject of a major retrospective that opens at Sydney's Museum of Contemporary Art (MCA) today.
Refined but aggressive, simplistic yet startling, Yoko Ono is the Japanese artist, musician and peace activist who found worldwide fame in the 1960s and 1970s through her relationship with John Lennon. Despite her significant body of work, some of which is on display at the MCA in Sydney, she is best (or perhaps worst) known as the woman who broke up the Beatles.
Vestiges of Ono's overseas fame are still seen when the Japanese press writes her name in syllabic script as オノ・ヨーコ – as if her name is that of a foreign person and not the one her parents used to register her birth in Tokyo in 1933 (小野 洋子).
A contradictory public image
Born into an elite family during the war years, Ono experienced social privilege as well as poverty during her childhood in Tokyo. The contrast between her early years as a classmate of aristocrats at Gakushuin Academy and a war refugee in the 1940s may have created the many contradictory aspects of her public image.
Not everyone sees her art as complex, but all admit that her personality and her politics are. Yoko Ono's life follows a narrative of great peaks and valleys.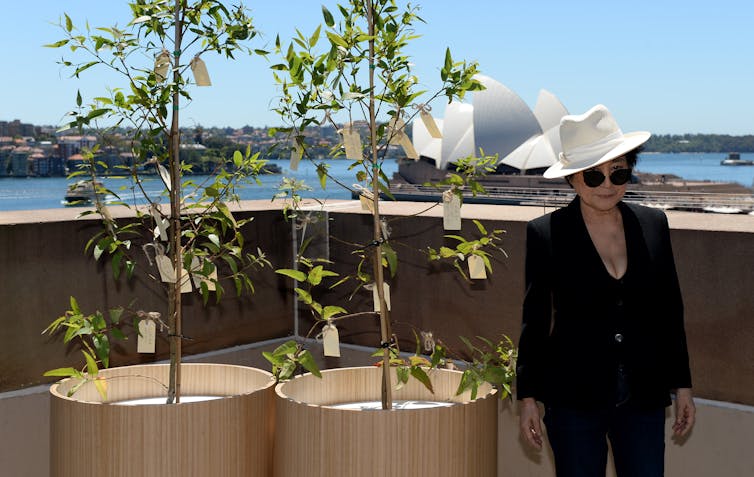 As mentioned already, she came from privilege yet experienced great hardship as a child; as an adult, she married Beatle John Lennon, one of the most famous men in the world, was despised for her relationship with him, and then lost him in horrific circumstances.
At the start of her relationship with Lennon, much of the criticism levelled against Ono was racially motivated. But the colour of her skin was not the only mitigating factor. She did not conform to stereotypes of Japanese femininity in her behaviour or appearance.
Her multiple marriages (she was married to Japanese composer Toshi Ichiyanagi and American jazz musician Anthony Cox before Lennon), her screeching voice and fuzzy, unfashionable hairstyle didn't fit with the modest manner and the gracious and harmonious tones with which well-bred Japanese women were supposed to speak.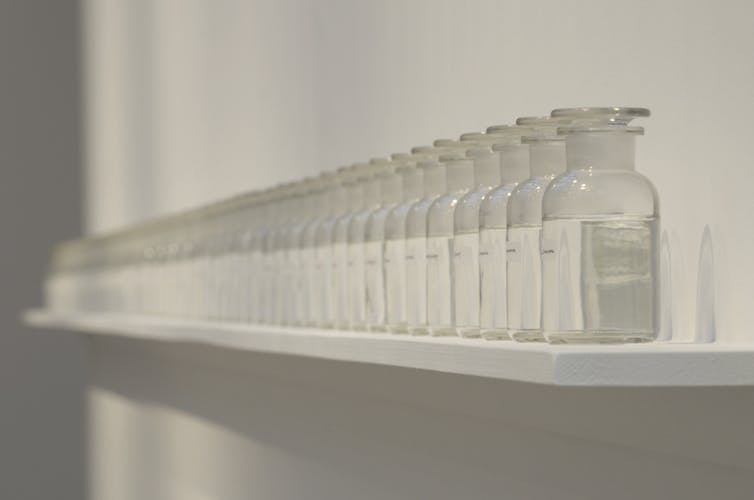 Traditional stereotypes die hard
Today, foreigners tend to conflate traditional and contemporary Japanese femininity into a mash-up of geisha girl cum kawaii anime heroine but they don't always know that women have always played pivotal roles in radical politics, since at least the Meiji era (1868-1912).
Long before John Lennon sang "I gotta ask you comrades and brothers/ how do you treat your own woman back home?" in his 1971 song Power to the People, Ono was challenging sexism around the world.
One notable example of her pre-Lennon work is Cut Piece, first staged in 1964, and performed around the world.
During this performance piece, audience members were instructed to cut off pieces of Ono's clothing with scissors. How far would the audience members go to provoke a response from the artist? Sitting in silence, motionless, Ono made a blunt statement about art and gender.
She, as a potentially naked female body, could only shock the audience as much as they desired, forcing them to acknowledge the active role audiences play in marginalising feminist art.
Lennon's collaborator
Her collaborative work with Lennon was also a roller-coaster of highs and lows in the public eye. While their "bed-ins" in Amsterdam and Montreal in 1969 created some ripples, the enduring status of songs such as Give Peace a Chance and Imagine shows their politics have now been integrated into mainstream popular culture.
Unlike the bed-in theme Give Peace a Chance, and the seasonal Happy Xmas (War is Over), songs such as 1971's Don't Worry Kyoko (Mummy's Only Looking For Her Hand in the Snow), were met with critical derision.
Even the most liberal Western audiences only wanted to see Yoko at John's side rather than hear her voice expressing a mother's agony over her daughter Kyoko's disappearance in a custody battle with Tony Cox.
Over the years, criticism of Ono waned, likely in sympathy as she transitioned into her public role as the world's most famous widow after John Lennon's tragic death in 1980.
War is over
Ono's work today focuses on preserving Lennon's legacy of peace. Recently, she has also been involved with environmental activism. Her sensitivity to nature as well as her ability to cross cultural borders is evident in the video trailer for her exhibition at the Museum of Contemporary Art.
The movie tag contains http://www.mca.com.au/exhibition/war-over-if-you-want-it-yoko-ono/, which is an unsupported URL, in the src attribute. Please try again with youtube or vimeo.
We see a eucalyptus tree against the Sydney Harbour, adorned with white paper tags that show handwritten messages about family, love, and politics.
Here, Ono integrates the Australian landscape with the Japanese spiritual practice of making wishes by writing a message on a piece of paper or wood and hanging it on a tree at a Shinto shrine or Buddhist temple (ema and tanzaku).
Her wish here, unchanged since the 1969 bed-in, remains the same: War is Over (If You Want It).
War is over! (If You Want It), a retrospective of the works of Yoko Ono, runs at Sydney's Museum of Contemporary Art from November 15 2013 to February 23, 2014.