When confronted with the relentless media coverage of the Calais migrant "crisis", it is easy to forget that some of those living in the camps around Calais are unaccompanied minors seeking asylum.
While the UK government says it welcomes genuine refugees as opposed to "economic migrants", the reality is that even those young people with strong asylum claims who eventually make it to the UK are faced with a climate of hostility and suspicion.
In the UK, there were 1,986 asylum applications from unaccompanied minors in the year ending March 2015, an increase of 46% from the previous year. Kent County Council reported that the number of young people in their care increased from 220 in March 2014 to 629 in late July 2015. In 2014, the largest number came from Eritrea, Albania, Afghanistan, Iran, Syria and Sudan.
The UK Home Office has issued detailed guidance instructing its caseworkers how to carefully assess the asylum claims of young people. Yet a number of reports have highlighted the significant failings in decision-making, in which young people from conflict-affected countries often have their claims dismissed.
Combined with the difficulty that young asylum seekers face in accessing good quality legal advice, this has created a lottery situation where some young people are recognised as refugees while others in very similar circumstances fall through the cracks, as our own work at the Kent Law Clinic has found.
Children at extra risk
When considering an asylum claim from a child or young person, decision makers must consider the risk they face in their country of origin as children. The UN High Commissioner for Refugees (UNHCR) recognises that children are particularly vulnerable and may face child-specific forms of persecution, such as forced recruitment to armed groups, domestic violence and other forms of exploitation.
Yet all too often in the UK, a young person's claim for international protection is rejected, and they are instead granted temporary leave to remain until the age of 18 (effectively an extended stay of removal). Refusal letters that I and my colleagues have seen assert that since they will not be removed before they turn 18, they will not face the risks associated with their youth.
This results in uncertainty and the lack of a durable solution. Children are unable to fully integrate or plan for the future beyond the age of 18 given the knowledge that at that age they may face removal to a country still deep in conflict. Another concern raised by what we have seen is that many with viable claims for asylum have not been appropriately advised to appeal the refusal of international protection and instead accept this temporary form of leave.
The case of Eritrea
Recent changes in the Home Office's policy position on asylum claims from certain countries seem to be directed at reducing the numbers of young refugees granted full refugee status – regardless of whether there has been any significant improvement in the human rights situation in their countries of origin.
By way of example, take Eritrea where a large number of young asylum seekers come from. A recent report from the UN Human Rights Commissioner's office has highlighted the reasons why refugees are fleeing their country. It describes a total absence of the rule of law with abuses including extrajudicial executions, torture, and indefinite national service and forced labour in inhumane conditions.
It is recognised in UK caselaw that those children approaching the draft age of 18 who have fled Eritrea illegally are at risk of persecution. Until recently this was accepted by the UK government.
Yet the Home Office now relies on a heavily criticised report by the Danish immigration authorities on Eritrea to depart from this position. This is in spite of criticism by a number of human rights organisations and even the UK's own Independent Advisory Group on Country Information, which found the government's recent assessment of conditions in Eritrea to be marred by serious methodological concerns.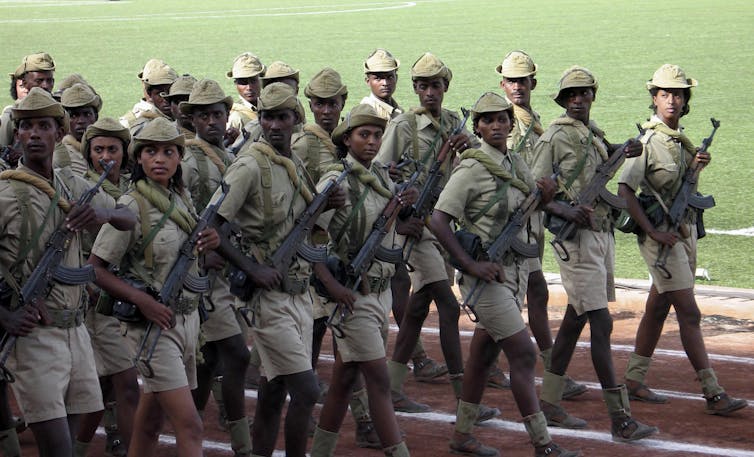 Told to go home and do national service
The consequences of this approach on the lives of young refugees is significant. A typical example, drawn from the experiences of young asylum seekers I have worked with, might be a 15-year-old Eritrean boy who arrives in the UK after making the harrowing journey across the Libyan desert (now a battle zone between rival militias where migrants are increasing vulnerable to kidnap and extortion). His illegal flight and asylum claim, like many others is based on the fear of being drawn into indefinite national service – akin to forced labour.
In many of these cases, asylum is then refused in the UK, even though the facts of the case are accepted by the Home Office. In some cases, the government has suggested that these young asylum seekers approach the Eritrean embassy in London and apologise for their illegal exit, pay a fine to the government and then return to complete their military service in conditions that would not breach their human rights. Such cases can go to appeal where the judges might take a more considered approach, but this often involves a lengthy wait and the stress of attending a court hearing.
It is difficult to imagine the UK government suggesting the same approach to those who had fled North Korea illegally. And yet in the case of Eritrea, the desire to stem the ever-increasing numbers of young refugees has led to an attempt to exonerate a regime which, as recently as June 2015, was described by the UN as perpetrating human rights violations that "may constitute crimes against humanity".
It is worth reflecting on the fact that the absolute numbers of asylum seekers arriving in the UK is still low by historical standards, and certainly when compared with that accepted by other EU countries. And yet there is a danger that the perception created by the current situation in Calais will further erode the desire of the UK to honour the principles of the 1951 Refugee Convention, even in cases involving children.
UPDATE: This piece initially attributed a report from the UN Office of the High Commissioner for Human Rights to the UN Office of the High Commissioner for Refugees. This has now been corrected.