Couples that I've spoken to who have been split apart by Britain's immigration system are facing a huge legal, financial and emotional burden that is putting real stress on their family lives.
Irene Clennell, a woman who has lived in the UK for nearly 30 years and is married to a British man, was deported to Singapore on February 26 after falling foul of strict income requirements for a spousal visa. Her case has caused widespread anger and a crowdfunding effort to pay for her appeal has raised over £24,000.
In July 2012, new entry requirements were introduced making it much harder for UK citizens and residents to get their partner from outside the European Economic Area (EEA) to join them in the UK. These included the raising of the minimum income requirement that the UK-based partner, also known as a sponsor, had to meet from £5,500 to £18,600 per year.
On February 22, after a number of families challenged this through the courts, the Supreme Court ruled that the minimum income requirement was not against the law. However, the court also found that neither the "best interests" of the child, nor alternative assets beyond the sponsoring partner's income, were being duly considered. From now on, this means that the Home Office will need to address the lack of protection currently given to children's welfare and may need to consider including third party sources of funding, such as financial assistance from relatives and savings, in addition to the sponsor's income.
The Home Office's own impact assessment projected the £18,600 minimum income requirement would impact between 13,600 and 17,800 people a year. But the number of those affected to date is unknown. Analysis in 2016 by the Joint Council for the Welfare of Immigrants indicated that 41% of the British population would not qualify under the new income requirement.
Although the ruling brings hope for families with children, many people have experienced considerable hardship as a result of the rules and are likely to continue to do so. In 2015, I interviewed people affected by the minimum income requirement as part of an ongoing study about the experiences of people in relationships with a partner living overseas. They explained how these rules had affected their emotional and financial well-being. One man observed that they were "being targeted for being working class or lower working class because if you are a millionaire another law applies."
Big financial burden
Ironically, despite being affected because of their low incomes, one consequence of the rules was to increase the financial burden placed on couples. Couples had to maintain two residences – one in the UK and one abroad – and UK partners spent significant sums on travel overseas to visit partners not allowed entry to the UK (although not all could afford to do this). There were also legal bills from applications to reunite with partners. Altogether the financial burden was considerable, as another interviewee explained:
We had had enough, enough of trying to do this, of lawyers charging us all the money we had. All the credit cards maxed out. There was just nothing we could … we were backed into a corner.
Everyone had suffered mental or physical health difficulties. Another man I interviewed, who has a serious long-term health conditions, reunited with this wife and step-children in her country of origin, Uganda. But he had been unable to access the medication he needed there affordably and had to return to the UK in poor health.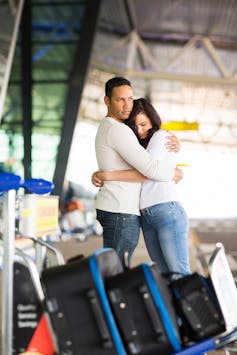 Others spoke of the mental health impact of being separated from their partners. One man said that mentally, he was a "broken man" and that he didn't see "where the future is leading me". One woman said that she had become "highly strung" as a result of the rules. "Any little thing makes me stressed, makes me panic, makes me overthink things."
Everyone I spoke to had used video-calling services to stay in contact. However, this was not a substitute for face-to-face contact and there were challenges in communicating this way. One man told me that Skype calls were not always of good quality and there could be concerns about discussing the finer points of something over a dodgy internet connection.
The Surinder Singh route
Faced with pressures of living apart, some families opted to reunite in another EU country before making an attempt to return to the UK at a later date through what's called the Surinder Singh route.
In the 1992 Surinder Singh case, the EU Court of Justice ruled that under EU law Singh – an Indian national – was entitled to live in the UK with his wife, a British national. This was because she had previously exercised her right to free movement by working in Germany with her husband. The court ruled that an EU citizen who has travelled to another member state to work and returns to their home country has the right to be accompanied by their partner and children, whatever their nationality.
One man I interviewed, who is self-employed, decided to reunite with his partner in Ireland in 2015, even though this lost him business clients. His wife was able to obtain a visa to join him there. They have to reside there for at least three months before they can come back to the UK.
Others I spoke to also followed the Singh route and moved to another EU country as a way for their partner to eventually join them in Britain. One person I followed up has since been able to move back to the UK with their partner. But it's not possible for everyone affected by the rules to follow this route, because they may not have the jobs, language skills and other resources that enable them to relocate to another EU member country. In light of the 2016 Brexit vote, this route to family reunification is now in jeopardy.
Transformations in labour markets and migration patterns, and complex residency and citizenship rules, mean families are increasingly being formed across nationality, immigration and citizenship boundaries. In both the UK and now in the US, immigration policies are leading to family separation. In order to protect people's rights to family life, immigration policies must take account of the needs of mixed status families.