Treasure belonging to the notorious pirate Captain Kidd has been found in Madagascar, according to the BBC and other news sources. So Captain Kidd – leading villain of many stories and films, such as Abbott and Costello Meet Captain Kidd – is back in the news. But Kidd actually had a real existence – and sailed the narrow line between legality and piracy in the golden age of piracy, a brief slice of time between about 1680 and 1720, before the oceans were closed by firm colonial rule.
The Isle of Saint Mary, where his "treasure" – a big silver bar – has been brought to shore, is a little island off the north-east coast of Madagascar, in the Indian Ocean. It was the nearest thing in historical reality to the "pirate isle" of many fictions, such as the pseudo-historical 18th-century pirate republic of Libertalia which in turn became the setting for the 1952 film Against All Flags, starring Errol Flynn and Maureen O'Hara.
Kidd sailed to Saint Mary's Isle in 1698 with a captured ship in tow and was promptly abandoned by most of his pirate crew, who complained he had not pirated enough loot. They mutinied and joined a more piratical captain, Captain Culliford, who was also at Saint Mary's Isle.
Kidd's story was that he opposed the local pirates and gallantly defended himself from them by "locking himself in his cabin", but his disloyal crew reported that he made a pact with Culliford, sealed with a rum cocktail (of lime and sugar):
And on the Quarter-deck they made some Bomboo, and drank together, and Captain Kidd said, Before I would do you any harm, I would have my Soul fry in Hell-fire.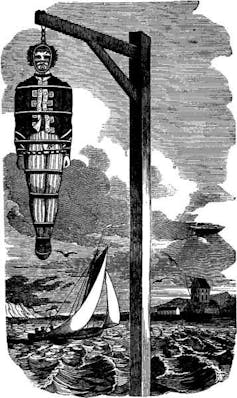 After a while Kidd's own leaking ship, the Adventure Galley, sank in the large harbour at Saint Mary's and he sailed away in his captured prize, for the Caribbean and for capture and trial at the Old Bailey in London.
Members of his crew testified (in return for their own freedom) that he had made a pact with the pirates at Saint Mary's. Kidd "took a cup of Bomboe, and swore to be true to them". Kidd denied this pact: "That is only what these witnesses say." He was found guilty of piracy and condemned to death.
Somewhat inebriated, at Execution Dock in Wapping, London, on May 23 1701, he was pushed off the scaffold, but the rope broke, not his neck, so he had to climb the ladder again for a second, successful hanging. He survived in fiction, however, living on forever in legend as an immortal citizen of Grub Street and Hollywood, not to mention Fleet Street.
Back at Saint Mary's the hull of his sunken ship was reported at the bottom of the harbour in 1699 and has long since rotted away.
But in fiction, pirates always have treasure which survives them. In the public imagination pirates seem to have been busier burying their treasure on land than in obtaining it at sea. In 1935 the discovery of a chest in a "pretty seaside town" was reported, a wooden chest inscribed "Capn Kidd his chest", with a "false bottom" which contained "a treasure chart of an island in a certain remote Far Eastern Sea" (unnamed, like the "pretty seaside town").
By the 19th century, pirates had become heroes for boys, who were eager readers and inheritors of imaginary pirate loot. When Tom Sawyer, the Black Avenger of the Spanish Main, suggests to his friend, Huck Finn the Red-Handed, that they search for buried pirate treasure, Huck is a sceptical spoilsport. Why didn't the pirates dig it up themselves, he asks, "and have a good time" instead of leaving it behind? Huck has a point, of course, and real pirates buried their treasure in drink and dissipation.
We would all be pleased to find some buried pirate treasure, although it's even more fictional than pirates such as Captain Hook and Johnny Depp. So, like Huck Finn, we may be sceptical about Kidd's connection to the silver bar just found at Saint Mary's Isle, but not about the continued newsworthiness of 300-year-old pirates.