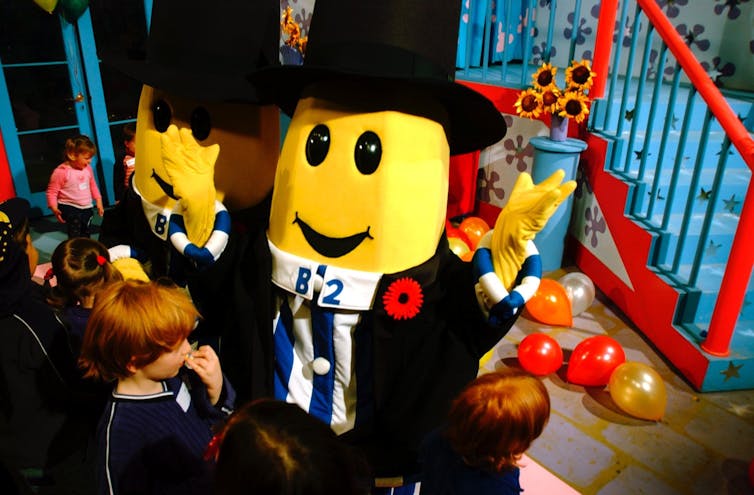 After Liberal Senator Cory Bernardi's recent statement that the ABC's funding should be cut and that the broadcaster should run paid advertisements, several "Save Our ABC" campaigns have swung into effect.
GetUp's online petition currently has over 150,000 signatures. The campaign image shows one of the Bananas in Pyjamas, among our biggest children's television exports, ominously trapped in a blender. What kind of difference would it make if the federal government hit "puree" with B2 inside?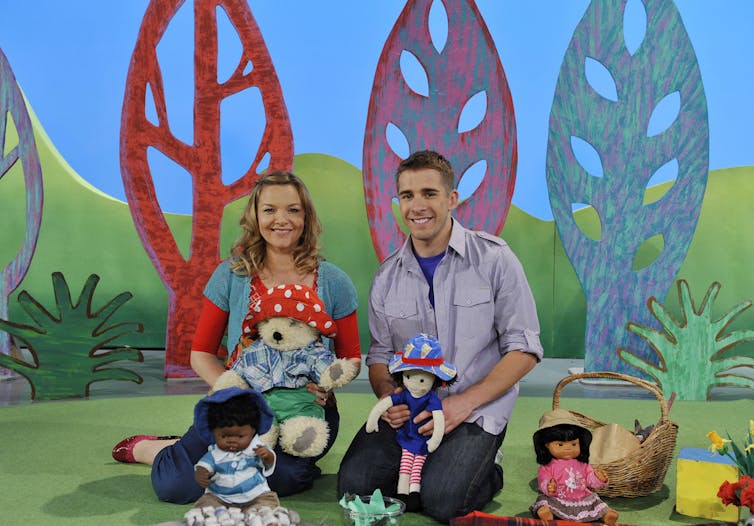 To understand how ABC television as we know it might change if forced to operate on a partially commercial basis, we can look the comparable example of the Canadian Broadcasting Corporation (CBC).
Australia, like Canada, has a relatively small domestic audience for its television productions. It also has ready access to an overwhelming amount of affordable and popular American content.
The CBC is required by the Canadian government to maintain its public-service focus by broadcasting uniquely Canadian content. In this way, it works similarly to the ABC, whose Charter stipulates that it should "contribute to a sense of national identity and inform and entertain, and reflect of the cultural diversity of, the Australian community".
Yet the CBC must also compete against commercial networks by airing advertising. Nevertheless, this commercial imperative comes into conflict with the CBC's public service aims.
The potential for advertising revenue is tied to high rating programs, most of which are imported from the United States and broadcast on the wholly commercial networks. A recent article about the CBC's loss of exclusive national hockey broadcasts argues that its hybrid model is now almost untenable without a high-rating program to anchor its lineup.
So why not dispense with the public service requirements for the ABC and CBC and allow them to compete without impediment with other commercial broadcasters? What benefit do we actually receive from the 10 cents per day that each Australian taxpayer contributes to ABC funding?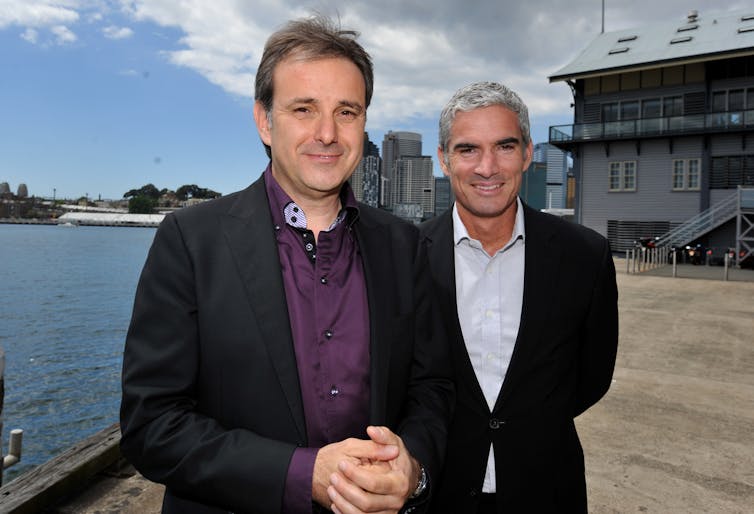 SBS, whose principal role is to provide multilingual and multicultural broadcasting, already follows the hybrid model after introducing television advertising in 2006.
The community group Save our SBS conducted a study of more than 2,000 viewers this year. It found 95.1% of respondents did not support the current frequency of advertisements, which include in-program commercial breaks. The majority felt that ads did not belong on SBS whatsoever.
But, more significant than people's dissatisfaction with the presence of ads was their sense that SBS was less faithful to its Charter and less relevant to Australian viewers since advertising began to be included during programs. These viewers bear out the idea that a hybrid model can only damage the unique benefits of national public broadcasters.
As we instinctively know from the prevalence of stories about cats trapped in trees and shonky car dealers on commercial news and current affairs programs, public broadcasters approach news and current affairs differently. This is confirmed by research that compares public service models, as in Denmark and Finland, with privately-owned networks, as in the United States.
This study, led by Professor James Curran at Goldsmiths, University of London, proposes that:
the public service model of broadcasting gives greater attention to public affairs and international news, and thereby fosters greater knowledge in these areas, than the market model.
It also finds that public broadcasters encourage more people to watch the news and help to narrow the gap between advantaged and disadvantaged members of the community.
Public broadcasters do not need to appeal to the widest possible audience and are able to provide more detailed coverage of international news and events. They are also able to take greater risks with the local drama and comedy that they commission without the need to ensure that the most desirable demographics for advertisers are being targeted.
Kath and Kim, for instance, first found a home on the ABC, and was only later contracted to Seven after it had become phenomenally successful in Australia and was sold to overseas markets. In the 1980s, the D-Generation, a group of university students, gained a following on the ABC that was then capitalised on by commercial networks.
A publicly-funded national broadcaster can discover, and invest in, new talent in ways that commercial networks cannot. It can also focus on Australian content that might never be able to rate as well as Two and a Half Men but which is quality entertainment that contributes to our national culture and allows our voices to be heard and stories to be told.
The ABC is also an excellent example of how a national broadcaster can cater to niche audiences in unique ways. Children's television is a particular strength of the ABC. Play School has been almost compulsory pre-school viewing since its debut in 1966. More recently, the children's channels ABC 4 Kids and ABC 3 have served as dedicated places for children's viewing free from a juggernaut of advertising.
The question we ought to ask is not whether we should continue to ensure full public funding for the ABC, but whether forcing a hybrid model would destroy all of the unique benefits that a public broadcaster provides. If the ABC is forced to mimic the model of a commercial TV channel, it is possible that it will become largely indistinguishable from them.