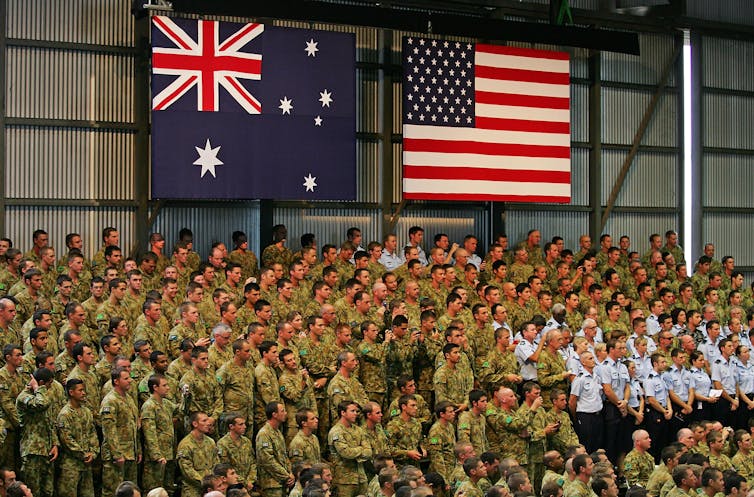 Having just moved to Australia from the U.S., I find myself in an unfamiliar position for the election season. For most of the past twenty years I was involved to one degree or another in Federal or local campaigns as a participant, but I now find myself watching the game from the bleachers.
My direct work in politics began in 1994, when I was vice president of the Boston University chapter of Students for Kennedy in the heavily Republican year in which the senior senator from Massachusetts spent most of the election behind Mitt Romney in the polls before a late surge. While I did get to hang out with a couple of Kennedys at campaign parties, most of the work involved voter registration tables, phone bank calls to less than appreciative voters, and waving signs on chilly freeway overpasses – retail politics, as they call it in New England. On election day, I was a poll checker at six in the morning to make sure that the voting machines were going to start with a clean count. The victory party on the night when Democrats otherwise lost control of Congress ended with Ted Kennedy celebrating while Tom Petty's "I Won't Back Down" blared over the hotel convention room loudspeakers.
Two years later, having spent much of the intervening time (and too much time away from my university studies) interning in the Boston office of the junior senator, John Kerry, I did similar work for his mostly uphill struggle against the then extremely popular Republican governor Bill Weld. As a College Democrats chapter president, I also coordinated busloads of fellow BU students going on bus trips up to New Hampshire for weekends of walking through the snow to hang signs on front door knobs urging voters to vote for Bill Clinton for re-election (even though he was unopposed in the primary) whilst sleeping at the YMCA at night. But it got me in to see Clinton kick off his re-election campaign in Manchester and I worked crowd control for Vice President Gore at a massive rally at Fanueil Hall in downtown Boston on the Friday before the election.
Ironically, moving to Washington D.C. for graduate studies in politics and to work on Capitol Hill meant far less involvement in active politics than I'd had as a student. I almost all night on election night 2000 watching the returns with my fellow staffers in the US Senate Democratic Leader's office, but it was not until 2005 that I next went door to door (related to an anti-gay marriage ballot measure in Virginia) and in 2006 I spent about eight hours on election day standing in freezing rain outside of a polling station in Fairfax, Virginia (suburban Washington) as a volunteer for the Jim Webb for Senate campaign. I was very proud that I presumably got one more vote for Webb when I implored an angry woman in a wheelchair not to drive away when there were no poll workers outside and I left my post and ran down to the church basement to bring one up to her. I was the poll checker at the end of the evening for that precinct, and after the voting was tabulated I drove over the hotel ballroom where Webb held an unexpected victory party in the election that gave Democrats control of Congress back. And once again, it ended with Tom Petty's "I Won't Back Down".
On election night 2010, I spent the evening in a radio booth as an analyst for a local affiliate of the American Broadcasting Company, but I held down the fort from 6pm until 1am as returns came in from around Colorado. (They bumped us off the air and the Colorado senate race was not decided until the middle of the next day in any event. By that time I had no voice left for lectures and a newfound respect for the broadcast journalists who talk for hours every day.) I was at a remove, but politics was happening around me in real time, with the local congressman and other officials squeezing in with us to give interviews.
Now the remove is far greater – a hemisphere and many time zones. But I have to say that the excitement of the game is just as strong from the top of the bleachers. The conventions were no less interesting as I read coverage on blogs. (No home television or internet yet.) Even the movers who dropped off all of my boxes this past Friday were asking my opinion about Obama vs. Romney. Obviously there is a great deal to the Conversation about the U.S. elections even amongst those who will never vote in them.
My armchair spectator advice from a former player is, as you follow the presidential and congressional races (and don't forget that there are also several races for governors and important referendums in some states), try to appreciate the energy of the legions of the university students and everyday folks who you will see outside of debates, volunteering to wave signs in the cold, or at the rallies on election night. Voting is not compulsory in America, and so much of the effort is spent just to get people to show up at the polls (particularly by Democrats whose base voters are less likely to turn out for socio-economic reasons.) There is a tremendous rush to being a player, even as a volunteer, in American elections, for participating in a way that few of your friends or family ever will, even among those of them who bother to vote.
But so far, I am finding American democracy to be an excellent spectator sport as well. In Washington DC there are a number of sports bars with satellite television beaming in soccer from around the world for the enjoyment of the population of embassy and high tech workers far from home. I am going to pull up a chair, cheer for my side, and enjoy the game.