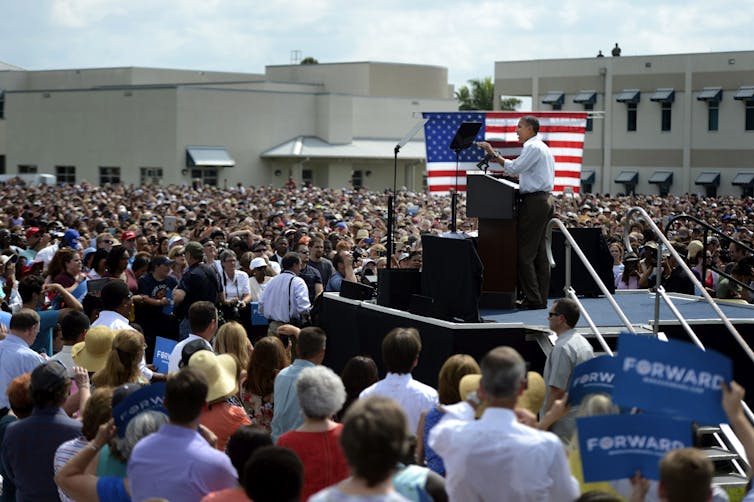 For Team Obama, change is in the air.
Not the hope-and-change fever of 2008. That, it's safe to say, won't be returning any time soon. But after a year in which Democrats could best be described as "grimly determined", in recent days that grimness has given way to gaiety. Overflowing rallies, big-name surrogates, impromptu bear hugs - Barack Obama's back, and so is his base.
Numbers help tell the story: though it's still early, both Gallup and Rasmussen polling firms report a more sizable convention bounce for President Obama than for his competitor Mitt Romney.
But more importantly, the atmospherics are beginning to shift. Following a buzz-generating convention in Charlotte, Barack Obama hustled down to Florida to rally voters in the nation's most hotly-contested swing state.
In Seminole, Florida, the sweltering heat did little to dint turnout for Saturday's Obama rally. Organizers planned for 15,000; security began turning away people when the venue reached capacity.
Enthusiasm is surging for surrogates, too. Today the campaign announced Bill Clinton, fresh from his celebrated stem-winder in Charlotte, would be appearing in Miami on Tuesday. At the Obama for America headquarters where tickets were being distributed, the crammed parking lot and sprawling line attested to the growing excitement surrounding the campaign.
Just as important as the burgeoning crowds are the shifting optics. The campaign-trail picture of the day was a snapshot of a registered Republican scooping up the president in an exuberant bear hug. It's the sort of image that lingers, not only because of the personal connection and unrestrained enthusiasm, but because it's nearly impossible to imagine Mitt Romney in the same situation.
Obama 2012 has been in dire need of this sort of vigour. Campaign donations, crowd sizes, turnout predictions – all have lagged well behind 2008. The campaign now must find a way to sustain this enthusiasm for the next eight weeks, so that the people showing up to rallies today show up to voting booths come November.