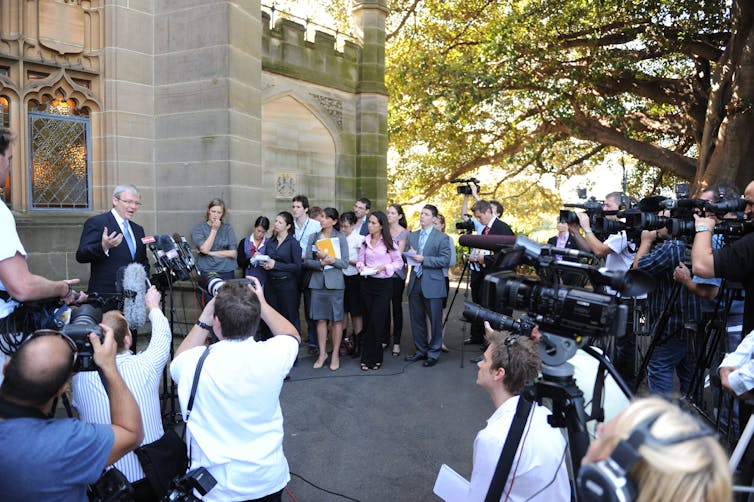 I have been meaning to write this post for a couple of days, but hesitated because the asylum seeker issue for once has been taken over by whether Rupert Murdoch likes Kevin Rudd or not.
Or, perhaps it is the lack of daylight between the two major parties' policies on the issue of asylum seeker or border protection policy that there is nothing to talk about?
In the past two weeks, a strange calm has descended in the political and media spheres. There is a consensus between Labor and Coalition policies – Australia cannot allow asylum seekers coming by boat to this country to settle here even if they are genuine refugees. If they do arrive in Australian waters by boats, they will be either be towed back to the transit country, or sent to a less developed neighbouring country for processing and/or settlement. The tough stand by both parties, more so by rejuvenated Kevin Rudd, seems to have worked in pushing the issue off the news agenda.
The talk of protecting our borders from asylum seekers, the illegal immigrants and the uninvited aliens has dissipated. Politicians have explained themselves. For more than a decade now, the news media have generally reported the hoopla with a straight bat of "he says…" and "she says…". It is a rare occurrence when journalists have taken the initiative to put facts on the table about how many asylum seekers come by boat and how many by air, and how many of them are found to be genuine refugees and how many are sent back. How many refugees are seeking asylum in the world, and how many are accepted by Australia?
Around July this year, when Kevin Rudd announced a dramatic shift in Labor policy, the news media did cover some facts and figures around the subject. Their effort was aided by 2011/12 statistics released by the Department of Immigration and Citizenship's Annual Report. The report said 13,759 visas were granted under Australia's Humanitarian Program (including onshore and offshore intake). Almost half of the 14,415 people who applied for a visa under the onshore component had arrived in Australia by boat (7,379), while 7,036 had arrived by plane. Most asylum visas went to – 4,766 (64.5%) people who arrived by boat, while 2,272 (nearly 32%) asylum visas were granted to people who arrived by plane.
According to the UN high commission for refugees, there are 30,083 refugees living in Australia. Australia takes just 3% (2012 figures) of the world's refugees. A News.com.au news report tried to bust 10 myths around asylum seekers arriving on boats in Australian waters. It says nearly half a million asylum claims were lodged in industrialised countries last year, the second highest number on record since 2003. Developing nations host 80% of the world's refugees, according to Secretary-General of the United Nations, Ban Ki-moon, says the report. It also notes that asylum seekers released into the Australian community receive about $220 a week from Centrelink, but they are not allowed to work in Australia.
But, these are unusual reports at a time when unusual policy stands are being announced by political parties. The news media often do not report these statistics, nor do they argue as vociferously as they report statements made by politicians. Statistics get buried on back pages, whereas pithy slogans become front-page headlines.
Each party has their policy and they argue for these policies to the best of their abilities or their leaders' abilities. But, it is the news media's role to keep politicians' honest; to ask questions when their arguments do not stack-up; investigate the truth; and seek and report facts. Isn't that the watch-dog role journalists are so proud of? Isn't that journalists' raison d'être? Where have the news media been in the past decade – when such a mass hysteria has been created around the topic of asylum seekers coming to Australia by boats?