The range on luxury e-tail powerhouse Net-A-Porter looks pretty simple. Sleek leather leggings, standard party frocks (sleeveless, nipped-in waists, full short skirts) and a range of printed t-shirts offering a more affordable alternative for fans.
It's when you view the products that things get a bit more intriguing: a collarless leather bomber jacket that "takes its cue from lead character Katniss Everdeen's tough-girl attitude".
The ubiquitous accessory of the moment, the ear-cuff, reimagined as a bow and arrow that clips onto the upper curve of the ear, a "nod to the protagonist's archery skills". Perhaps most funny of all are the jersey leggings, the twin of those worn by the series' tributes in the arena where they fight to the death, which gently promise to "put an athletic spin on your off-duty wardrobe".
The line in question is Capitol Couture by Trish Summerville, a limited edition collection designed by the costume designer of The Hunger Games: Catching Fire, the film adaptation of the second novel in Suzanne Collins' best-selling YA series.
A collaboration between Lionsgate and Net-A-Porter, Capitol Couture was launched in September and is currently available for purchase exclusively online.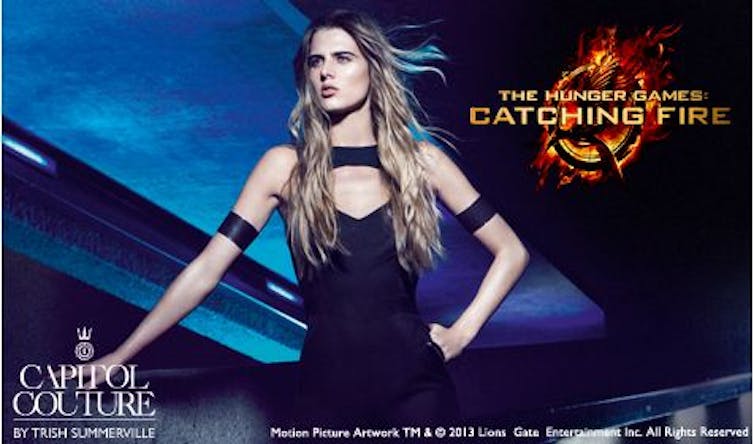 The launch of fashion lines in the wake of popular TV shows and films is nothing new. Recent collaborations include Opening Ceremony for Spring Breakers, featuring friendship bracelets and mesh backpacks just like those worn by the gun-toting, bikini-wearing anti-heroines of Harmony Korine's film, and Dragon Tattoo Collection, designed by Trish Summerville for Swedish giant H&M to tie in with David Fincher's The Girl With A Dragon Tattoo.
In fact, society women as early as the 1940s were getting their film tie-in kicks by wearing dresses printed with Disney characters such as Snow White, as fashion historian Peter McNeil recently explained in his excellent lecture series at the Art Gallery of NSW, Fashion Matters.
What strikes me as extraordinary about this particular collaboration is the role of fashion within the series. In the dystopian world of Panem, fashion is symbolic of the dissipation, vanity and superficiality of the Capitol, which draws all of its power and resources from the oppressed residents of the twelve surrounding Districts.
Collins' books describe the grotesque lengths that Capitol residents go to in order to look fashionable, including implanting gems in their skin and having plastic surgery to add whiskers or talons to their bodies.
This goes hand-in-hand with other extravagant behaviours of these characters that make them odd and despicable to Katniss, who - naturally - does not care for fashion and is more likely to spend her time hunting for food than drinking a liquid to make her vomit so she can keep feasting on it.
Fashion, while visually spectacular in the films, is not positioned as desirable in its own right. When Katniss is made over, it is a means to an end. As her stylist Cinna says, it's to "make an impression" to get the viewers of the Hunger Games onside, rather than a plot device to signal her metamorphosis into a desirable woman, as with, say, Audrey Hepburn's Sabrina returning from Paris in Givenchy couture.
Despite the label's name, the clothes of Capitol Couture are mostly modelled after Katniss Everdeen, rather than the fashion-obsessed characters from the Capitol. It is Katniss that readers align with and her likeness that consumers ostensibly want to dress into.
Yet isn't it odd to sell luxury clothes based on a character who hates luxury clothes? The cocktail dress she wears under duress is available for A$540 and the tracksuit she wears to hunt and be hunted yours for A$525.
I know that most people who buy clothes from the line will just want a piece of The Hunger Games for themselves, and that many will get the role of fashion in the series while not really caring about this disjuncture. It's not really a big deal – but as far as such collaborations go, this one strikes me as particularly ironic.
(For two other interesting reads on this topic, see Emily Asher-Perrin's Is The Capitol Couture Clothing Line Sending the Wrong Message to Hunger Games Fans? and Lucie Greene's The Hunger Games: Catching Fire fashion for the Financial Times.)