Interpretive signage may be a thing of the past in Adelaide thanks to a new interactive mobile app and website from History SA. Launched in early 2014, Adelaidia puts the history of Adelaide's CBD at the fingertips of anyone with a computer or a smart phone.
Adelaidia allows users to discover the history of people, places, events and organisations that have contributed to the story of Adelaide since European settlement. Users can access biographies uploaded by History SA and Adelaidia's content partners.
Adelaidia promotes the tangible heritage of Adelaide – that is, the things we can see and touch, such as buildings, places, objects, and so on. It also promotes the intangible heritage of the city – the things we cannot see or touch, such as cultural traditions, events and themes.
The real strength of Adelaidia is the interactive features that allow users to contribute their own personal stories and experiences. From a cultural heritage preservation and research point-of-view, recording the experiences of individuals and groups is imperative; these stories give places and objects meaning. Unfortunately, because the stories are typically "siloed memories" rather than public histories, they are among the first sources of historical information to disappear.
The basics
When accessing Adelaidia on both web and mobile platforms (and its South Australia-wide partner website, SA History Hub), users can choose a topic from the main menu: people, places, events, organisations. Selecting any one of these items will load a list of entries pertaining to the history of Adelaide. Each entry contains at least a biographical account and the option for users to view and upload media and personal stories relating to the entry.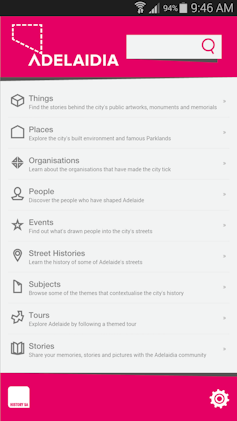 So far, not many users have contributed their oral histories – or in this case digital histories – to Adelaidia. As far as I can see from the "stories" option on the main menu, only two have been uploaded since the launch of the system.
The lack of willingness to engage, on the part of the residents of Adelaide, might be for any combination of reasons. Among them, these might include simply not knowing that the option is there, people thinking that their story might be too mundane to contribute, that it might be perceived as too difficult. Or, of course, they may legitimately have nothing to write.
One way for this issue to be rectified is for History SA to continue to upload its own content – and to form partnerships with additional content partners. That way, more entries will be submitted, including the noticeably absent Victoria Square and Adelaide Oval, allowing people to share their experiences about these places.
Camera and GPS integration with mobile app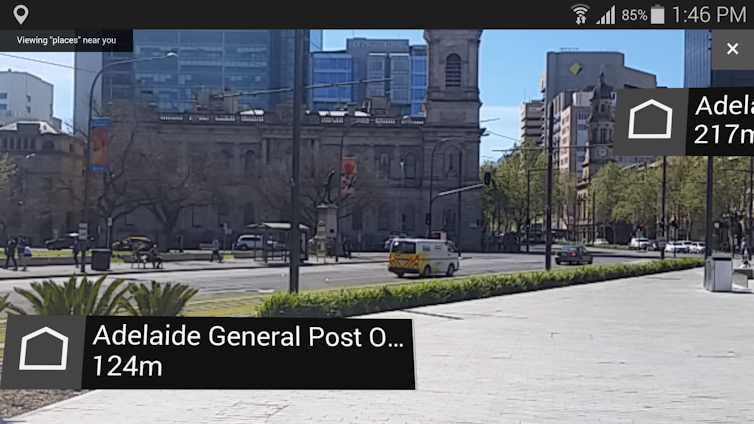 For the most part, the mobile app is a "lite" version of the Adelaidia website; it contains basically the same content in a more streamlined design suitable for a handheld device. The app makes use of the smart phone's in-built camera and GPS system for users to find out about places near to them and go on themed tours.
When activated, the augmented reality view displays the direction and distance of entries featured in Adelaidia, overlayed on real-time images captured by the phone's camera.
Similarly, the map view uses the device's GPS system to display a plan view of Adelaide's CBD with Adelaidia entries marked by grey pinpoints. Clicking on the pinpoints in both views will load the biographical information of that entry.
When I road-tested the augmented-reality feature, the system clearly struggled to work in the CBD, supposedly due to interference caused by lack of satellite reception. This meant that, until I used it in the open space of Victoria Square, the direction and distance markers for most entries were inaccurate. This is a small bug in otherwise great software, especially considering this is meant to be a fun extra. On the other hand, the map feature works perfectly.
One option for History SA to consider is to add a check-in feature that may boost the number of users who interact with the software. This could be done by adding the feature locally or by integrating a Swarm or Yelp check-in option.
The future
Adelaidia, along with the SA History Hub, brings interpretive signage into the 21st century. It has the potential to be a valuable, accessible resource to tourists, researchers and even those who are just looking for some entertainment.
History SA has made a revolutionary step in preserving and celebrating the cultural heritage of Adelaide. For this software to reach its full potential, it must continue promoting the valuable user contribution features and engage with more experts to contribute content – especially regarding Adelaide's Indigenous past. Following that, Adelaidia will mature from its infancy and help turn siloed memories into public histories.

For this review the Adelaidia mobile app was accessed on both a Samsung Galaxy S5 with high accuracy GPS feature enabled and a Samsung Galaxy Tab 3 8.0, with the GPS feature enabled.