Russian President Vladimir Putin and his Iranian counterpart, Hassan Rouhani, will meet for the eighth time in four years from March 27 to 29. According to the Tehran Times, both sides are "preparing more than ten documents for signing" on various economic and political issues.
The meeting, set in Moscow, highlights the debate surrounding the real nature of post-Cold War relations between Moscow and Tehran.
According to Western — particularly neoconservative — strategists, there is a way to stop Russian-Iranian military cooperation in Syria. Along with the Israeli right wing, they believe that while Iran and Russia form a united front against overthrowing Bashar al-Assad, they do not see eye to eye on a diplomatic solution to end Syria's civil war.
For its part, Iran favours an alliance with the Lebanese Hezbollah and Shia militias largely made up of Pakistani, Afghan and Iraqi fighters. These non-government military groups fought on the ground to recapture Aleppo, a city emblematic of the revolt against the Syrian government.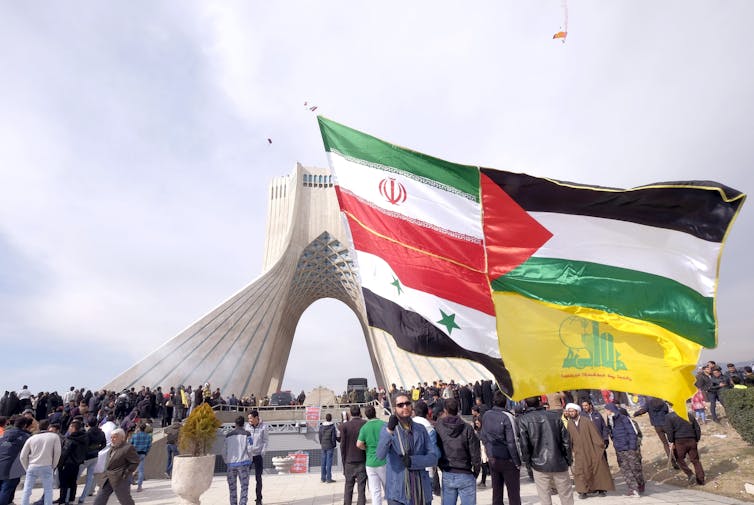 In November 2016, military groups allied with Iran and the Syrian governments suffered between ten and 15 fatal casualties every day, according to personal interviews I conducted with French military officials at that time.
Russia, on the other hand, is keen to preserve Syrian state institutions and does not support the Shiite religious proselytism of some of these military groups, such as the Hezbollah and Shia militias.
Russia wants to remain a major player in Syria
But does that spell the end of the Russian-Iranian post-Cold War understanding? Several factors tend to suggest otherwise.
According to Middle East experts I met in Moscow last February, Russia has no interest in being a junior partner to the US in the war against Islamic State. And it's keen to maintain a partnership with Tehran in which it appears as the dominant power.
Since the Soviet-Afghan War of the 1980s, Tehran and Moscow have a shared distrust of Western powers and their possible links with rebel Sunni Islamist groups.
And Russia is sceptical of a Trump administration that is already proving unpredictable. The consequence is likely to be a continuation of the Russian diplomatic strategy of entente with all countries in the region – Iran, Israel, and the Gulf's oil-rich kingdoms.
Russia will no doubt continue to leverage its relationship with Iran in its dealings with Washington to obtain concessions, such as the easing of economic sanctions targeting Moscow since the annexation of Crimea.
To be able to do so, it must reinforce and develop its cooperation with Iran, both in the region (fighting against "terrorism") and in crucial strategic areas, such as civil nuclear activities. Russia is currently helping Iran build two new reactors for the Bushehr nuclear power plant on the Iranian gulf coast. And it has provided its S-300 anti-aircraft system to the country.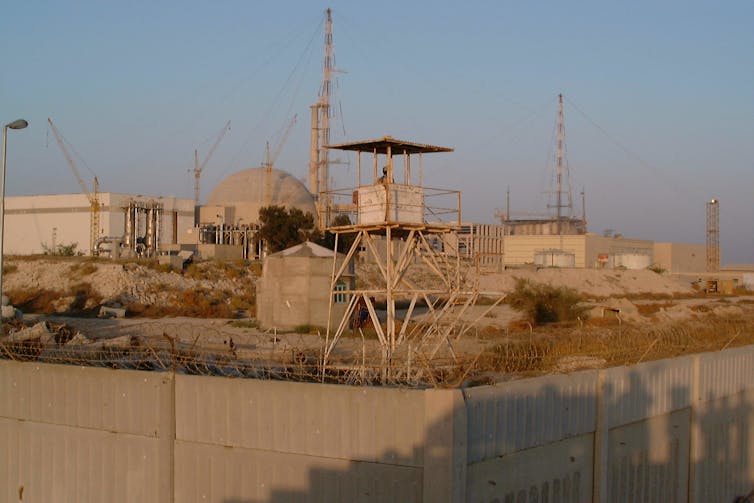 Faced with a Trump administration that appears anxious to drive a wedge between its Iranian and Russian rivals, Russia is more likely to take up the position of mediator it held during tensions between Iran and the West during George W. Bush's presidency (2000-2008).
Russia had then opposed both American threats to use force against Tehran in order to solve the nuclear question and Washington's policy of unilateral sanctions against Iran. What has changed since Russia decided on military intervention in the Syrian civil war in 2015, is a bilateral effort between Russia and Iran to fight "terrorism" – Sunni jihadist groups, especially those Tehran labels takfiri (those who excommunicate other Muslims).
A new Middle East driven by Russia?
Above and beyond a circumstantial deepening of ties arising from the emergence of a new Middle East, Russian military presence in Syria has led these two countries into a new military alliance against Sunni jihadists. But the Russian military intervention in Syria also represents a challenge to Iranian military doctrine on regional security.
Since Iran's 1979 Islamic revolution, which created a government centred around a religious power, Tehran has insisted on the need for Western Asian countries (the Iranian name for the Middle East) to reject all military interference from powers outside the region.
Iranian diplomats often make a distinction between so-called independent states, such as Iran, Russia and China, and those subservient to the United States, such as the oil-rich kingdoms of the Persian Gulf. Russian military intervention in Syria then constitutes a challenge to Iran, which opposes the international system dominated by major powers.
When Russia revealed in August 2016 that its armed forces had used the Noje airbase, just outside Hamadan in Iran, it provoked a controversy in the Islamic Republic as the country's constitution prohibits the establishment of military bases on Iranian soil by foreign powers.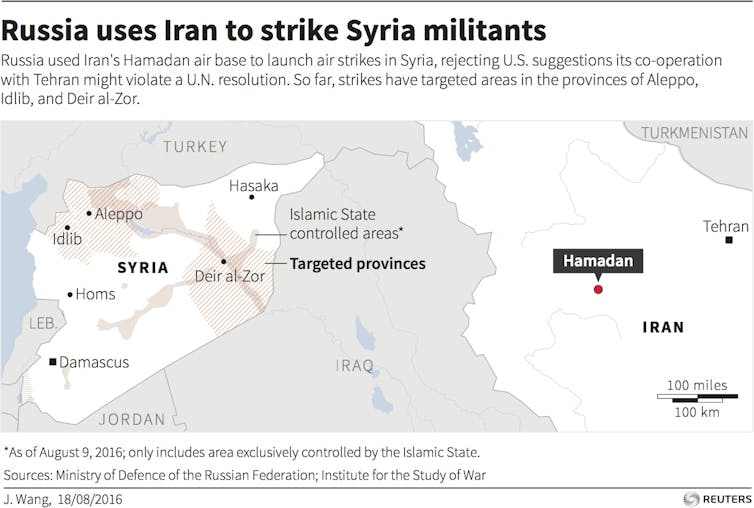 The chairman of the Iranian parliament, Ali Larijani, specified that the Russian air force only used the base temporarily, in order to bomb "terrorists" in Syria.
Despite the inherent limits of an asymmetrical partnership between a world power and a regional one, the Iranian political elite must be given their due for transforming the old Russian enemy into a partner, a feat which the Iranian communists from the Tudeh party failed to achieve in the time between the end of the second world war and their exit from the Iranian political stage in 1983.
Translated from the French by Alice Heathwood for Fast for Word.