You can't escape it. Advertising for Daily Fantasy Sports (DFS) is everywhere.
Put in some cash. Create a team – or multiple teams – on any given day. Root for your guys. Win big. It's a compelling story told thousands of times in 30-second vignettes of "ordinary guys" netting millions. And it makes for great ads.
In just one week in early September – the seven days leading up to the start of the NFL regular season – industry leaders DraftKings and FanDuel combined to spend nearly US$30 million on television advertising alone, in addition to massive ad buys on radio and online. By the end of the NFL season, that television number is expected to reach $200 million.
Where is all this money coming from? That's easy. DFS have millions of users, millions in revenue, and the backing both of major sports leagues and broadcasters.
Bloomberg recently reported that new investment rounds brought in $426 million for DraftKings and $363 million for FanDuel, raising their valuations to more than $1 billion each. It's the kind of money that buys a lot of advertising.
With all of the advertising and all of the money, attention is sure to follow – and not all of it has been good.
Lawmakers and law enforcement officials at all levels of government are asking the obvious questions: isn't this gambling? And isn't this kind of gambling illegal?
50 states, 50 sets of rules
As it turns out, this a surprisingly difficult question to answer. America's gaming laws are enormously complex. Most regulation occurs at the state level, with each state free to create its own set of rules regarding legality, administration and enforcement.
Layered on top of these state gaming regulations are federal statutes that help enforce state laws by addressing the use of interstate banking and the rise of offshore and online gambling.
Complicating matters even further is a federal law that specifically targets sports gambling by prohibiting states from legalizing wagering on the outcome of sports contests. (A few states, such as Nevada, are exempt.)
Given this complexity, the more important question may not be whether DFS are legal, but rather whether DraftKings and FanDuel can sustain their business models without knowing the answer.
Chance or skill?
The way the regulatory system is constructed, it is up to each individual state to define what does and doesn't constitute gambling.
In most states, gambling is defined as a contest in which participants pay a monetary entry fee (consideration) to compete for a prize (reward), with the winner determined primarily by chance rather than skill. And any contest meeting this criterion is either outlawed or very tightly regulated. This can include anything from poker and casino games to bingo and raffle tickets.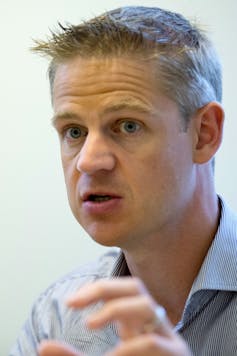 Applying this definition to DFS, where consideration and reward are a given, it is this last element – chance versus skill – that dominates the gambling analysis.
But using the same basic definition for gambling doesn't mean that every state reaches the same conclusion. It's one thing to draw a distinction between chance and skill. But how do you apply that distinction to a game that includes elements of both?
For instance, successful DFS managers possess considerable knowledge of the prior statistical performance of individual players and teams, as well as the skill to apply that information as a predictor of future performance in a particular context.
Yet certain elements remain beyond the knowledge and predictive abilities of even the most savvy manager – elements such as injuries, officiating, games plans and components of performance for which there is no statistical measure.
How much weight does each of these elements carry in determining the winner of a DFS contest? And is it the elements of skill or the elements of chance that dominate?
There is simply no one answer as to whether DFS are a game of chance or a game of skill. Instead, there are multiple and contradictory answers, each carrying the same weight of authority – that of the state in which that particular definition applies.
So far, five states have affirmatively banned DFS as a form of illegal gambling, and attorney Daniel Wallach, an expert in sports law, has identified at least eight other states where DFS are likely prohibited under current law. It just hasn't yet been challenged.
However at least two states (Kansas and Maryland) have moved in the opposite direction, expressly legalizing fantasy sports games. Many others, while not directly addressing the issue, have simply shown no inclination to apply existing gambling regulations to DFS.
This state-by-state approach creates immense commercial uncertainty for the entire DFS industry, which includes high-profile investors like Fox Sports, the NBA and the private equity firm Kohlberg Kravis Roberts.
At the moment, DraftKings and FanDuel prohibit residents of the five states where DFS is unlawful from participating. As additional states examine the legality of DFS, the operators of DraftKings and FanDuel must realize that only so many states can be excluded from participation before their continued growth and viability are undermined.
An 'imagined' national exemption?
In an effort to avoid this legal and financial uncertainty, DFS operators argue that federal law creates an express exemption for fantasy sports games, so that state gambling prohibitions do not apply.
Specifically, DFS operators point to the Unlawful Internet Gambling Enforcement Act of 2006 (UIGEA), a federal enforcement action intended primarily to combat the rise of online poker rooms and sports books that operated in violation of state and federal law.
However, the UIGEA contains what is known as a carve-out provision (or exemption) which excludes "any fantasy or simulation sports game" from its definition of an unlawful "bet or wager."
The entire DFS industry essentially hinges on this one provision of law. This is not merely an exemption from financial restrictions, the DFS industry argues; it is an affirmative statement that fantasy sports games are not to be treated as illegal gambling.
It's a bit of a stretch. And an incredibly shaky foundation for a billion-dollar business.
First, it's not at all clear that the UIGEA exemption applies to all or even some of the DFS games run by DraftKings and FanDuel. By its very terms, the exemption applies only to fantasy sports contests that meet certain conditions, one of which is that the outcome of the contest must "reflect the relative knowledge and skill of the participants."
DFS operators have interpreted this rather creatively, not as a condition, but as a definition – in other words, that all fantasy sports contests are, by definition, games of skill.
But the more natural reading of the provision is that some fantasy games are games of skill and some aren't, and that only those in which skill predominates are exempt under the UIGEA.
For the DFS industry, this "more natural" reading is problematic. It essentially leaves them exactly where they started in regards to state law: needing to show that DFS, unlike poker or traditional sports gambling (the original targets of the UIGEA), are games of skill, rather than games of chance.
Only then could the UIGEA exemption even arguably apply.
Second, even if the UIGEA exemption does apply to DFS, it doesn't necessarily make them immune from state gambling laws. It is true, as DFS operators point out, that the UIGEA excludes fantasy sports from its definition of "bet or wager." But it's not a declaration that all fantasy sports contests are legal, regardless of their status under state law.
In fact, the UIGEA includes a separate rule of construction indicating that "No provision…shall be construed as altering [any] State law…prohibiting…gambling." This alone would seem to leave intact any and all state prohibitions on fantasy sports.
And that would likewise leave DFS operators back where they started: subject to a minefield of state-by-state regulation that is simultaneously ambiguous, contradictory and unresolved.
The only solution is a federal solution
DraftKings, FanDuel and other DFS operators have built a billion-dollar business on a legal house of cards.
The entire industry rests on a singular legal premise: that an obscure statutory provision, found in a federal law intended to strengthen the enforcement of state anti-gambling statutes, somehow exempts them (and only them) from those very same restrictions.
It is an interpretation that can only be described as creative and optimistic. And it will soon be tested.
Despite their popularity with the general public, DFS are under scrutiny from all corners. For those who equate gambling with moral hazard – whether driven primarily by religious beliefs, connections with crime and corruption, or concern over socioeconomic impacts – DFS represents both a threat in itself, and a significant step toward the normalization of a destructive behavior.
On the other end of the spectrum, advocates of traditional gambling see DFS as unfairly exploiting a legal loophole to gain an advantage. Supporters of traditional sports books are particularly critical of the major professional sports leagues, which are presently profiting off DFS while continuing to oppose other forms of sports gambling. Not surprisingly, investigations have been launched and hearings have been requested.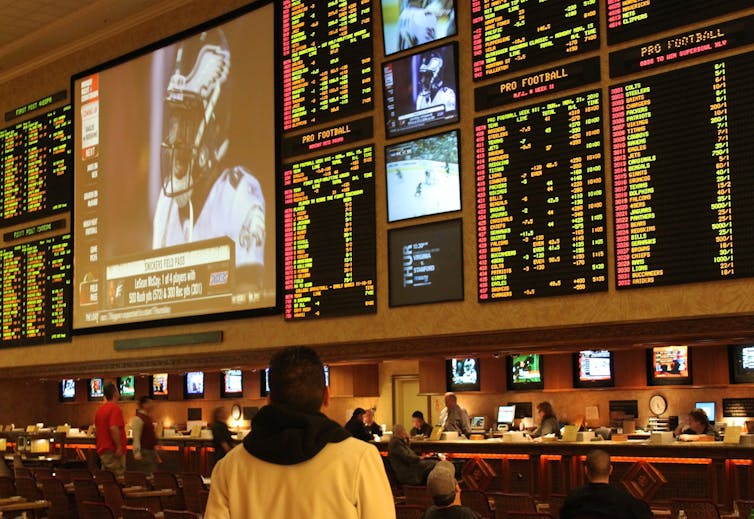 Some have suggested that DFS operators will counter with a state-by-state strategy to legalize fantasy sports. But this would be a Herculean task, with uncertain and uneven results. If even a few of the nation's largest states – say Texas, Florida or New York – were to conclude that DFS constitutes illegal gambling, it would be difficult to sustain anything close to the billion-dollar valuations investors have placed on DraftKings and FanDuel.
The only real option for the DFS industry is a clear statement from Congress that it is immune from all gambling prohibitions, whether state or federal.
So don't be surprised if the next phase in the rise of DFS is the employment of lobbyists – lots and lots of lobbyists – to swarm the halls of Congress in hopes of securing a more robust exemption.
If they get it, business will really start booming.