We're in the final few days of an election campaign that has had it all – comedy, conspiracy and claims of dirty politics – though none of it has dented New Zealand National Prime Minister John Key's chances of winning a third term in power. The predictions market puts 80% odds on a National prime minister after this Saturday's election.
For those tuning in late to what has been a dramatic and sometimes bizarre campaign, here's just a taste of what you've missed.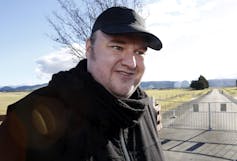 A German internet entrepreneur wanted for extradition by the US Federal Bureau of Investigation (FBI), Kim Dotcom, blows NZ$3.5 million to set up a political party with the hope of taking down the Prime Minister. He flies in Pulitzer prize-winner Glenn Greenwald to allege that the NZ government conducts mass cyber-surveillance of its citizens. Unable to stand for office himself as he isn't a citizen, Dotcom makes a pre-electoral pact with a Maori MP (Hone Harawira, Mana Party) to give his Internet Party something more than a nag's chance.
Meanwhile, an investigative journalist unleashes scandal after scandal by publishing hacked emails from the right-wing blogger behind a site called Whale Oil.
The first head to roll following these revelations is no less than the (now former) minister of justice. She is now aiming to clear up suspicions that, with help from her friend the blogger, she was "gunning for" the head of the Serious Fraud Office.
Throughout this, a seemingly Teflon-coated Prime Minister tells Kiwis they're "on the cusp of something special" – without being too specific about what that will mean – all the while denying allegations about mass surveillance of New Zealanders.
National government set to be returned
Opinion polls place the incumbent National Party well ahead of rivals, in the mid-to-high forties as preferred party. John Key walks on water as preferred PM.
The "Dirty Politics" revelations have only slightly tarnished his brand. Some polls even hinted at National being able to govern alone – unheard of since New Zealand switched to proportional representation in 1996. If, as is more likely, National falls short of a single-party majority, the question will be who else Key calls upon to form a government.
If National can't govern alone after the election, it will come down to the numbers of seats held by minor parties, two or three of which may have only one electorate seat each. Since 2008, National has tethered these political house pets through confidence-and-supply agreements, including ministerial portfolios outside cabinet.
NZ First and power in the balance
More drama will ensue if political veteran Winston Peters' NZ First Party holds the balance of power – or "balance of responsibility", as Peters puts it.
It looks like NZ First will pass the 5% threshold that gets a party their share of seats. Peters has refused to declare whether he prefers to back Labour or National in government. His admirers presumably don't care, but his political high-wire tricks cause some commentators anxiety.
In 2008, John Key emphatically ruled out forming a government with NZ First, consigning Peters to three purgatorial years out of parliament. Undeterred, Peters was back on the opposition benches by 2011.
This time, Key is no longer ruling out NZ First as a coalition or support partner. Depending on the numbers, he may have no choice.
Conservative seats to watch
Much depends too on the fledgling Conservative Party, the pet project of another millionaire, Colin Craig. Unlike Dotcom, Craig is not one of America's most wanted. But he has spent well over NZ$4 million on two election campaigns, including this one. And he has yet to make it into the House.
Conservatives don't normally indulge in relativism, but Craig grabbed attention for being unsure if men ever walked on the moon.
The Conservatives have been trying to steal NZ First's centrist political space, and they would prefer to support a National-led government. They may make it over the 5% threshold, but no poll indicates that so far. This could be fatal, as potential supporters may abandon them for fear of wasting votes.
On election night, all eyes will be on the wealthy Epsom electorate in Auckland. Although Prime Minister Key is the MP for the largely rural Helensville, he lives in Epsom and he'll vote for National's Epsom candidate.
Yet he has told fellow Epsom voters to back a young ring-in from the ACT Party. ACT is the last vestige of the far libertarian right that held sway in New Zealand in the late 1980s. They now poll at about 0.5% nationally. But the single ACT representative from Epsom adds a crucial seat for a National-led government.
Red and Green voters feeling blue
What about the opposition? Since Christmas, Labour's polling has dismally declined, from the low 30s to the mid-20s. Their natural coalition partner, the Green Party, has been steady at around 12.5%. On those figures, the two parties won't beat National. The Red–Green combination damages Labour, as centrist voters distrust the influence of the Greens.
In what has been a presidential-style election, focused heavily on the leaders, incumbent John Key and Labour's David Cunliffe have both delivered intelligent and equally strong performances in the head-to-head debates.
Key is affable and relaxed, while Cunliffe is concerned and responsible.
Key is wealthy, but – having been raised by a widowed mother with little money – makes his wealth look like something to aspire to, rather than resent. Cunliffe is most impassioned when he pledges to eliminate child poverty.
While National trades on its track record, Labour punts on new policies (such as a capital-gains tax) to differentiate itself. Labour pitches for fairness; National for keeping a foot on the accelerator of economic growth.
Votes lost from across the ditch and beyond
It's estimated there may be as many as one million New Zealanders living overseas. That is a huge expat community when you consider that just 4.5 million people live in New Zealand. The expatriate vote could – in theory – be crucial in this or future elections.
However, plans for an Expatriate Party to represent those Kiwis abroad have come to nothing. New Zealanders living overseas who have not been in New Zealand within the last three years are not eligible to vote back home.
The Expat Party estimated that there are 200,000 Kiwis in Australia who can't vote in New Zealand, so that many couldn't have voted for an Expat Party even if they tried. Most of them won't have gained Australian residency or citizenship either, often because they don't meet eligibility criteria. That means many have no right to vote on either side of the Tasman. Little wonder that the lack of social and political rights of Kiwi workers in Australia has simply not featured in this New Zealand election campaign.
So we have the strange situation where a large slice of a nation's voting-age population, who could be represented by one of the world's oldest continuously functioning parliaments, are not represented at all. While that may not be as bizarre as some of the other things that have happened in this election campaign, that doesn't make it any less remarkable.