Review: The Poison of Polygamy, directed by Courtney Stewart, La Boite and Sydney Theatre Company.
Early Chinese migrants to Australia believed in ghosts.
Hailing mostly from a handful of villages in China's southern Guangdong province, these migrants were Cantonese peoples. For them, the undead had immense power – given the right circumstances.
It was beholden upon the living to manage the dead: bury them appropriately, return their bones to China, arrange for ancestor worship.
Archives tell us Chinese migrants in Australia feared the consequences if such rituals were neglected, even in the chaotic environmental mess of the Australian goldfields.
I've read court records from this period in which Chinese witnesses recount "angry ghosts coming to strike them at night".
The Poison of Polygamy begins with a ghost. The play directly addresses Australia's Chinese ancestors, conjuring up the past while speaking directly to the present.
Issues of tyranny and servitude, oppression and resistance, violence and its afterlife are marshalled to speak to our modern souls.
What is the link between colonialism and environmental destruction? How do we tell the story of a group of people – themselves victims of European racism – who in turn were invaders of Indigenous land?
What do we do with a 19th-century Chinese-Australian morality tale which insists that Christian values, with all their concurrent conservative gender politics, will save us from moral dissolution?
---
Read more: New Gold Mountain review: a compelling murder mystery shines light on early Australian multiculturalism
---
Chinese migration
An evangelical Chinese Christian, The Preacher (an excellent Shan-Ree Tan), walks towards the audience through a sea of mist, his throat cut and clutching a Bible. He is righteous and here to save our souls.
The Preacher is especially forthright on the questions of polygamy, a common practice in 19th-century China, which took on a new life among overseas Chinese migrant communities. Many first wives were "left behind" in the village while their men took a second or third wife overseas.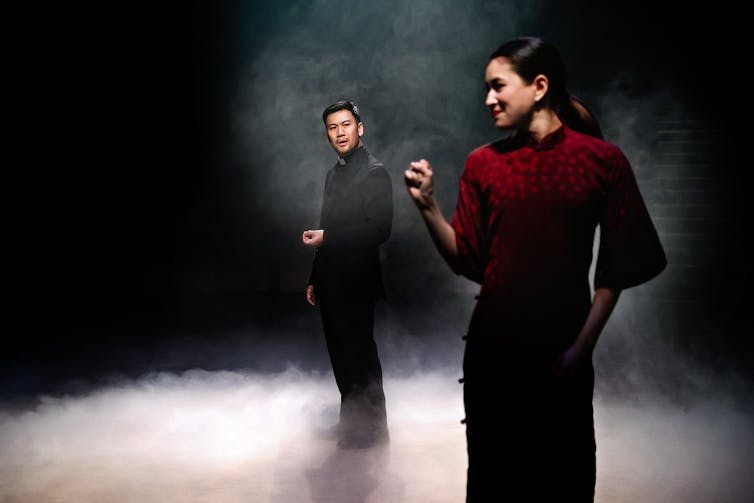 The play's hero ("and there is nothing heroic about him", The Preacher dryly informs us) is Sleep-Sick (also played by Tan): an opium-addicted scrounger who mistreats his wife (Merlynn Tong) and is bundled off to the Australian goldfields by her cousin (Silvan Rus) due to his debt and social malignancy.
There, he befriends other Chinese migrants, eventually settling in Melbourne's Chinatown. Their banter and debate encompass all the issues of the day: democracy, racial equality, capitalism, mateship, feminism and, of course, the scurvy of polygamy.
The Preacher will use Sleep-Sick's misadventures as a warning to us all, until another equally righteous narrator – the servant girl or bond maiden Tsiu Hei (Kimie Tsukakoshi) – questions his right to tell her story.
A lost classic
The Poison of Polygamy was likely the first Chinese Australian novel. It was serialised in the Australian Chinese-language press, Charles Dickens-style, from 1909-1910 in 53 instalments.
The author was a Chinese Christian, Wong Shee Ping. The son of gold-rush migrants, he drew on his own experience to write a book about life on the goldfields and in Melbourne.
Australia is lucky in two regards when it comes to the recovery of our Chinese past. We have one of the best-preserved Chinese-language presses in the West, and we have a leading bilingual historian in Mei-fen Kuo, who has been working her way through this massive archive over the past 15 years.
Australia's booming Chinatowns serviced several newspapers from the 1890s to the 1940s, read by Chinese Australians throughout Australia and beyond.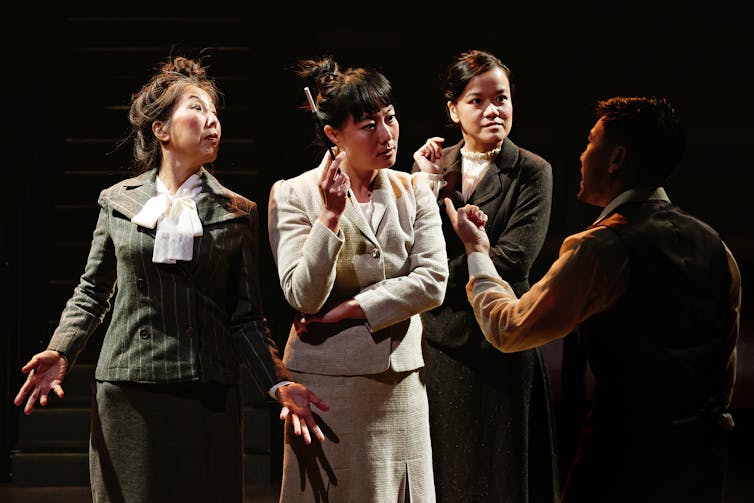 Prior to digitisation, much of this newsprint sat mildewed in Melbourne and Sydney's Chinatowns. It took Mei-fen's tenacity in 2006 to discover The Poison of Polygamy in the pages of the Chinese Times, which was published in Melbourne for a national readership.
The novel was translated by Ely Finch and published by Sydney University Press in 2019.
Playwright Anchuli Felicia King read the novel and rightly saw it as an "Australian classic" and a "lost piece of our cultural heritage". She wanted to stage a production "which spoke directly to our ancestors".
A brilliant success
The result is a gothic, brilliant success, darkly funny and subversively political.
"We made your unions, we built your democracy," Tsiu Hei tells the audience at the end. "We are in your limestone, in your clay."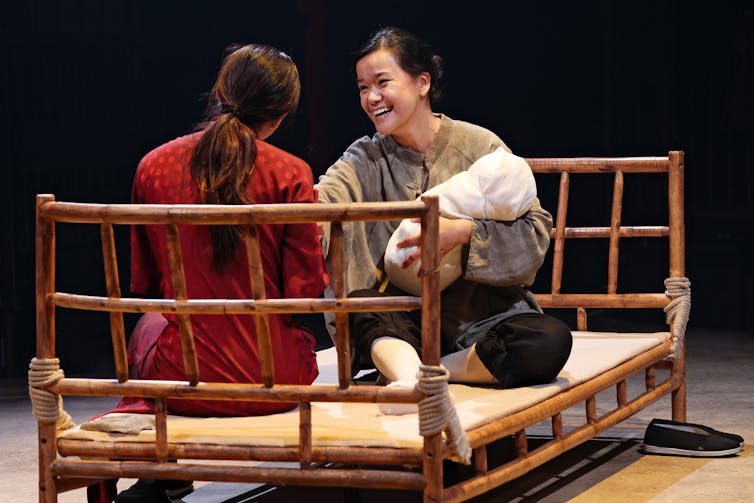 Under the direction of Courtney Stewart, clever staging using rolling red columns, muscular choreography and a startlingly effective lighting design (Ben Hughes) allow for transitions across space and time, creating a world where Europeans are on the margins of historical action in this country.
Australia's Chinese heritage is wrestled from the grip of our Euro-centric past and – finally – told from the perspective of Chinese migrants themselves.
This is a triumphant reclamation of an Australia denied to us in monolingual readings of our history.
The Poison of Polygamy is at the Sydney Theatre Company until July 15.
---
Read more: From lurid orange sauces to refined, regional flavours: how politics helped shape Chinese food in Australia
---