The Greater Western Sydney (GWS) region is the fastest growing region in Sydney. It has a population of more than two million people and more than 240,000 businesses.
It also has a large student population in both primary and secondary schools of over 300,000 students, and a university that is going from strength to strength in the areas of research and innovative blended teaching and learning, and up-to-date TAFE Colleges.
What it doesn't have is a science centre, such as Questacon: somewhere people – particularly young people – can go to engage with science. Building such a centre in Western Sydney would have tremendous benefits not only for students but also for the public awareness of science and Australia's future prosperity.
Falling behind
The 2012 OECD Program for International Student Assessment (PISA) report assessed the competencies of 15 year olds in reading, writing and science in 65 countries and economies. It placed the East Asian nations – China, Singapore and Hong Kong – at the top three spots, while Australia was ranked number 19.
Both Hong Kong and Singapore established science centres in the early 1970s. They are now reaping the benefits of their investment in involving youngsters at a very early age in science through a hands on science experience.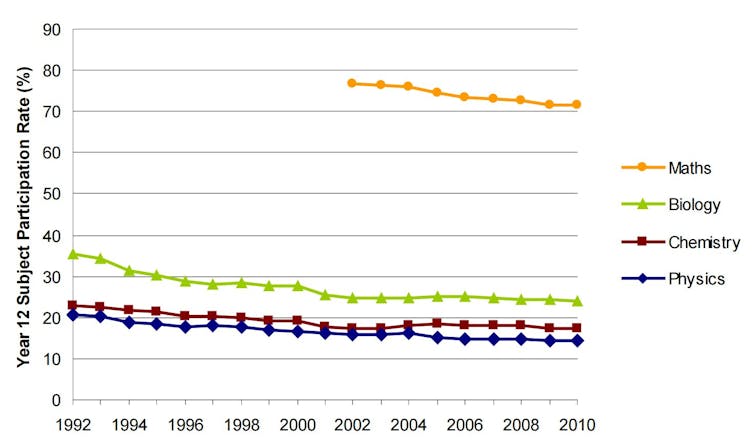 If Western Sydney wishes to compete in the international science and technology market, it needs to urgently establish a hands on science centre to entice more young people into taking up careers in science and engineering, which are the drivers of economic growth. Otherwise it will remain in the backwaters of the digital age that is engulfing world economies.
Australia's Chief Scientist, Ian Chubb, has already noted that there has been a serious decline in the number of Year 12 students doing biology, physics, chemistry and mathematics.
In fact, in the period 1992 to 2010, the proportion of year 12 students in biology fell from 35% to 24%. In physics it fell from 21% to 14%, and chemistry from 24% to 16%.
This is serious for the nation, but more so for a Western Sydney that wants to compete in the international science and engineering markets. And according to Chubb, if we fail to act, "a decline in our productivity growth relative to our region's leading economies would put us at a growing disadvantage in maintaining our national wealth and security".
Getting ahead
The closest up-to-date hands-on science centre for teachers, students and the public to visit is in Canberra. This is about four hours away from Western Sydney. Added to this is the high cost of visiting this centre.
As a consequence a very large fraction of the schools in Western Sydney do not use this facility to expose their students to a hands-on enquiry based science experience, which is a teaching and learning strategy strongly advocated by the Australian Academy of Science and eminent science educators.
A science centre in Western Sydney will be of immense value to science teachers in exposing their students to the latest developments in science and engineering, which is doubling every 18 months according to the American Society of Training and Documentation.
Science teachers will also be able to use specialised scientific equipment which is normally not available in their schools. It will also assist them in explaining difficult scientific concepts in a hands-on environment.
Science programs run by the science centre for teachers will keep them up-to-date with the latest developments in science. If attendance at other Australian cultural institutions is anything to go by, a science centre could attract over 180,000 visitors per year.
The University of Western Sydney is one of largest universities in Australia and is one of the top 100 newly emerging universities in the world.
It is well placed to provide training for the scientific and technical manpower for the industries in the Western Sydney region. It can do this in a more efficient and productive way by getting more young people engaged in science and engineering activities when they are young and their minds are most plastic to absorb the new concepts of science and engineering.
With the location of Badgery's Creek Airport in Western Sydney, this becomes even more important for the economic growth of the region. The science centre will become a crucial institution for attracting young people to consider careers in science and engineering which will support the new high-tech industries that will be built in and around the airport.
It will also help to redress the shortage of skilled scientists, technicians and engineers which has been affecting the region into growing into the technological powerhouse for NSW.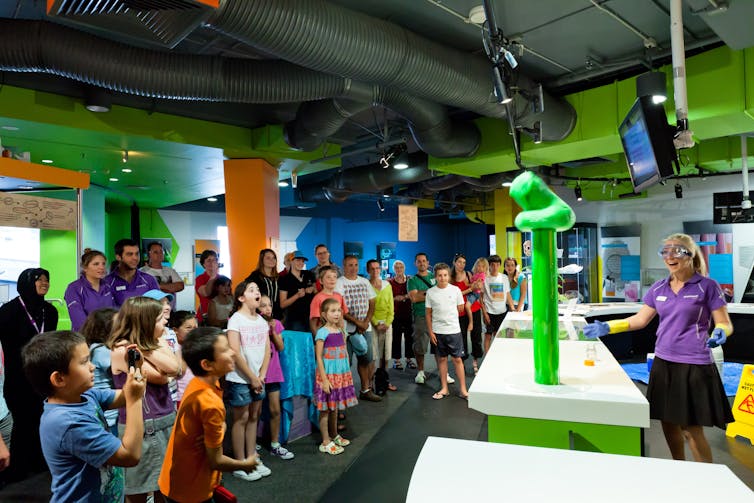 Embracing STEM
The establishment cost of a science centre is estimated to be between A$15 million and A$20 million, depending on the design, exhibits space and architectural layout of the building.
This is a modest sum when one considers that the NSW government has been subsiding the city's cultural institutions, such as the Power House Museum, Art Gallery of NSW, the Australian Museum and the Historic Houses Trust, to the tune of several million dollars for the last ten years. It spent over A$80 million in the Financial Year 2012-2013, excluding the capital works grants that the government has been providing these institutions.
The relocation of the Powerhouse Museum to Western Sydney is not going to solve the problem of attracting young people to embrace the new technologies that are coming online at an exponential rate. By the time the relocation of the museum is completed it is estimated that it will cost the NSW taxpayer over A$60 million.
This money could be much more wisely spent on building a hands-on science centre for the youth and citizens of Western Sydney. A science centre by definition is a hands-on enquiry based institution which provides interactive exhibits that illustrate the concepts, principles and applications of science and engineering which are focused on the latest advances in science and engineering. The Powerhouse Museum is a great institution which serves its purpose of showcasing nostalgic 19th century technology and the applied arts.
The benefits a science centre will provide for Western Sydney are manifold:
a highly educational hands-on science experience for primary and secondary school students, including Indigenous youth

an innovative and up-to-date resource for science teachers

research-led programs on the latest developments in science, medicine and engineering through refresher courses for teachers

information on the latest developments in science, engineering and medicine to the public so as to enable them to participate actively in science policy issues, such as climate change, sustainable energy, etc

a venue for industry to showcase their new inventions and products and promote high-tech industry to locate in Western Sydney and

an exciting and innovative attraction for tourists visiting Western Sydney.
The leaders and citizens of Western Sydney need to grasp the idea of a hands-on science centre if they wish not only to compete with the East Asian nations in the coming years but also give the young people in schools today the scientific and technological expertise to compete in the digital age which is raising ahead at an exponential rate.