Prime minister Tony Abbott will be hoping the Japanese leg of his ambitious trade trip to northeast Asia can replicate the success of securing a free trade agreement (FTA) with South Korea.
The close relations between Japan and Australia have become even warmer since both Japanese prime minister Shinzo Abe and Abbott have been in office. Abbott declared at the East Asia Summit leaders' meeting last year that Japan was Australia's "best friend in Asia". The Australian government sees securing the Japan-Australia FTA as vital to strengthening that relationship further.
However, a tight strategic friendship with Japan (and the US) may come at the cost of a FTA with Australia's largest trading partner, China.
The politics of trade
Japan has long been Australia's second-largest trading partner, and third-largest source of foreign investment, as postwar economic ties steadily grew following the 1957 Agreement on Commerce.
A FTA is expected to deliver greater access for Australian agricultural exports, particularly beef and dairy, to Japanese markets. Lower tariffs on Japanese manufactures, particularly cars, would no longer displace Australian industry, given that its car manufacturing is ending.
One of the CEOs accompanying the large Australian trade delegation to Asia is James Packer. He is eager to set up casinos in Japan, pending their expected legalisation in time for the Tokyo Olympics in 2020.
However, the Japan-Australia FTA is not yet a sure thing. Trade minister Andrew Robb has warned the final round of negotiations will be tough.
Japan's agriculture lobby, a core constituency of the ruling Liberal Democratic Party (LDP), remains firmly opposed to allowing easier access to food imports. The Cattle Council of Australia retains doubts that an FTA can be successfully concluded.
The determination of Abe to press ahead with his economic stimulus plan, popularly called "Abenomics", favours achieving the FTA. As part of the "third arrow" of Abenomics, which supporters claim is successfully revitalising Japan, various sectors of the economy are to be opened up to more international competition. Abe is therefore prepared to override the farmers' lobby and internal critics within the LDP, given his current dominance of Japanese politics.
A Japan-Australia FTA suits the wider neoliberal economic agendas of both Abbott and Abe, creating greater momentum towards completing the Trans-Pacific Partnership regional trade agreement. Both leaders are committed to this too.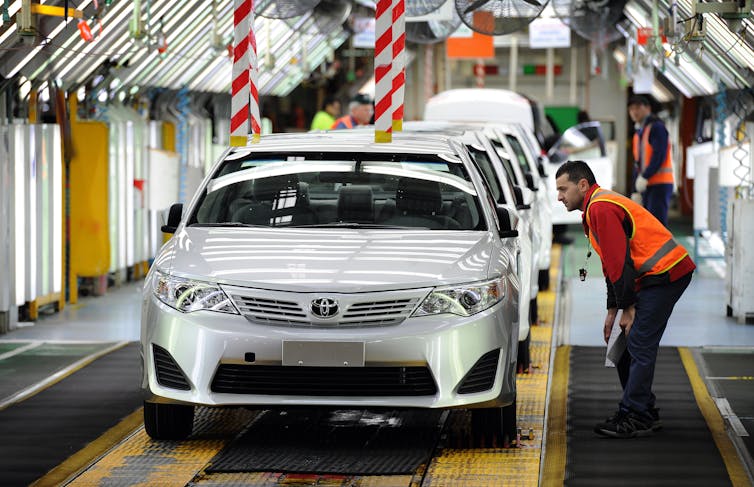 Security ties
Often overlooked are the closer security ties between Australia and Japan. The Australian Defence Forces (ADF) and Japanese Self-Defence Forces (JSDF) have co-operated in UN peacekeeping operations since the 1990s in Cambodia and East Timor, and also in Iraq and in UN-authorised anti-piracy operations in the Indian Ocean.
A formal Joint Declaration on Security Cooperation was signed between Australian and Japan in 2007, and upgraded in 2010.
This recent history of defence co-operation now has heightened resonance. Abe and the LDP are controversially set on reinterpreting the pacifist Article 9 of Japan's constitution, which restricts the use of force. Abe's cabinet has already increased defence spending and eased restrictions on arms exports. An expert review panel is expected to recommend that Japan can exercise its right to participate in collective self-defence with its allies.
While this constitutional change is generally assumed to be referring to the US – Japan's key ally – it could also involve Australia. Since 2002, Australia, Japan and the US have occasionally held the Trilateral Security Dialogue meetings between their defence and foreign ministers. The ADF and the JSDF could therefore conceivably conduct combined combat operations with the US in future.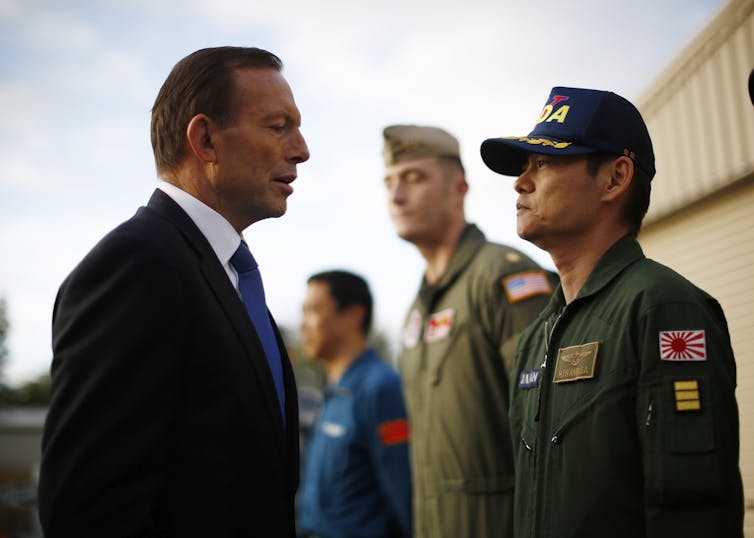 Abbott welcomes Japan taking a more active role in international security, praising it for sharing similar democratic values with Australia. In his 2009 book Battlelines, Abbott regarded Japan as part of the "Anglosphere".
Reflecting this mutual admiration, Abe is due to make a return visit to Australia in July. He will be granted the rare honour of an address to a joint sitting of parliament, the first Japanese prime minister to do so.
What might Abbott's trip achieve?
Fortuitously, following the recent ruling by the International Court of Justice, Japan has announced the cancellation of its Antarctic whaling program. However, Japan is likely to pursue its whale hunt in the northern Pacific on a smaller scale, so whaling will continue to be an irritant in the relationship.
Deepening military ties between Japan and Australia will not be publicised on Abbott's visit since these generate concern and distrust in China. Abbott faces a far greater challenge in securing a FTA with China. Beijing is already angered by Australia effectively siding with Japan in the dispute over the Senkaku Islands.
Abbott and foreign minister Julie Bishop continue to repeat their optimism that all nations in the region realise it is in their best interests to maintain peaceful relations, with Australian diplomacy providing a positive example. There is a real danger, though, that a closer security relationship with Japan will entangle Australia more deeply in the worsening geopolitical tensions of the region.