Rap music is a transnational genre with many socially and culturally aware artists pursuing important collaborative projects – not least a current pairing in south-west Sydney.
Indigenous rapper Izzy (Jacob Ballard) met Mamali (Mohammad Ali Gholami), who recently arrived from Ahwaz in Iran, at Krosswerdz Hip Hop Church in Sydney's suburb of Belmore.
The two men have been showcasing their rhyming skills together at Liverpool's Street University (created by The Ted Noffs Foundation) and Hip Hop Monthly at Valve Bar (hosted by Izzy). Using their mutual love of hip-hop to break through language and cultural barriers, they formed a close bond and moved naturally into a working partnership.
Following substantial cuts to Indigenous programs in the 2014 Federal Budget and amid a highly politicised debate regarding asylum seekers arriving in Australia, this unconventional music project promises to make an insightful contribution to social and political discourse, and make its mark on the Australian hip-hop scene.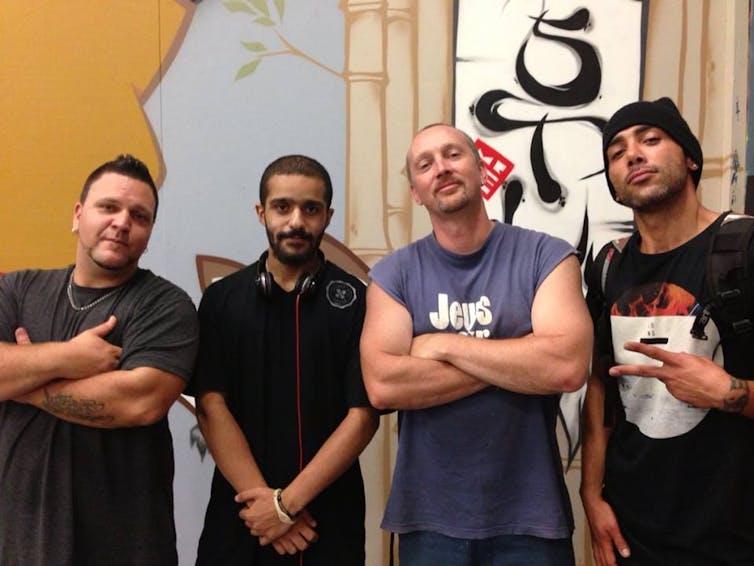 'Aussie rap' remixed
Watching the two rappers perform, you can tell they exchange ideas, themes and emotions freely and easily. Inspired by the moods evoked by beats and samples, Izzy and Mamali harmonise their individual experiences. Their rhythmic flows portray layered narratives otherwise difficult to express accurately and difficult to convey through conversation.
It doesn't make sense, these borders to protect
when our government's doing more harm to us instead …
… Stolen generation didn't have to go that way
ain't no one learnt, it's still happening today
– Izzy (from untitled song)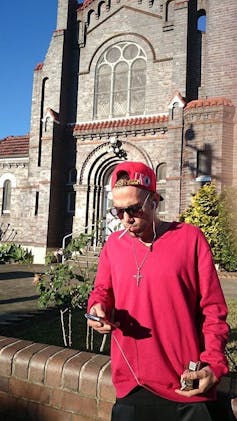 خوردند٫ بردند٫ تاراج کردند٫ حراج شد هرچه که بود٫ تا آخرین نفر بر چسپ خورد٫ عدد خرد٫ شمردنش قبل از شروع٫ کشتنش بعد از بلوغ

Cheated and stole, they plundered and sold everything from old
Accused every last one, numbered everyone
A target prior to beginning, barely an adult and a victim of their killing
– Mamali (adapted translation from untitled song)
Their raps contextualise experiences of injustice and hardship through different characters and render complex commentary on greed, war, colonialism, persecution, loneliness, friendship, belonging and hope.
Using digital technology and innovative techniques – and driven by the unique critical and creative impulses characteristic of marginalised people – rap music has the potential to deliver witty and nuanced social and political messages in aesthetically appealing and confronting ways.
Rap allows musicians to synthesise traditional cultural elements and contemporary social experiences with personal thoughts and feelings. The genre communicates particularly well with cultures that have enduring oral traditions.
Australian hip-hop is still forming an identity and questions regarding "Australianness" and authenticity are vigorously debated among artists and enthusiasts. Rappers from culturally and ethnically diverse backgrounds such as Kween G, L-Fresh, Remi, Jimblah, Flybz, Briggs, Pataphysics, Mirrah, groups Soul Benefits and Brethren, and Maya Jupiter complicate mainstream notions of "authentic Aussie" rap.
Slowly, different languages, accents, social and cultural experiences and identities are helping to create a picture of Aussie hip-hop culture that reflects an ever-changing multicultural society.
But as Izzy and other practitioners explain, many Australian fans still tend to make a distinction between Aboriginal rap and what they assume is "real" Australian rap.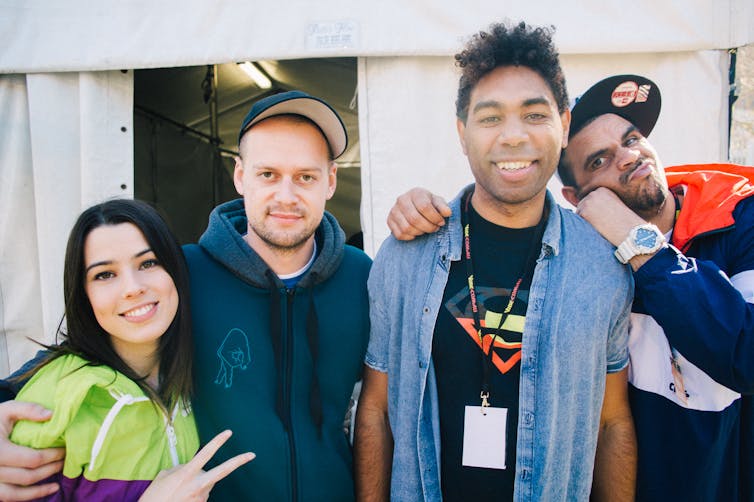 Last week, Indigenous hip-hop had a strong presence during NAIDOC celebrations with rapper/ producer Jimblah, rap group Horrorshow and soul singer Georgia Humphreys performing in Sydney's Hyde Park.
Bryte MC, Trooth, The Last Kinection and many local performers featured at Hip Hop NAIDOC Family Day organised by CAN WA. The Last Kinection also showcased their work and ran workshops at the National Museum in Canberra.
Desert Pea Media released a new hip-hop album featuring Spear of Destiny and Built to Last. And Izzy hosted and performed at the Riverstone NAIDOC Celebration.
On a weekly basis, Munkimuk (founding member of South West Syndicate), who raps in English and Jardwadjali, presents an Indigenous hip-hop show on Koori Radio. And rapper Briggs recently collaborated with the legendary Gurrumul with great success.
Blaring across borders
Class struggle is oppressive over here (adapted translation)
اختلاف طبقاتی اینجا بیداد میکنه - Hichkas
Young people in Iran draw on their rich cultural heritage and contemporary urban experience to write raps that are satirical, blending personal testimony and scathing political denunciation.
In 2009 Persian rapper Hichkas (Nobody) attracted international attention to Iranian rap when his song Ekhtelaaf (Inequality) featured in No One Knows About Persian Cats (2009) by Kurdish-Iranian director Bahman Ghobadi (who fled Iran after making the film).
Other prominent dissident Iranian rappers include Fadaei, Bahram, Pishro, Ali Sorena, Yas, Quf, groups ZedBazi, Digaran and Cherik, Shahin Najafi (now in Germany) and Saye Sky, a lesbian activist who fled Iran to Turkey and now resides in Canada.
Transnational initiatives such as Ana Tijoux/Shadia Mansour, Dragon Balti/Killer Priest, Tunisian rappers/RC, Yas/Tech N9ne, Sawtuha, The Grand Cypher and the 2010 Nomadic Wax World Cup Mixtape have a distinct social justice message.
And, for now, south-west Sydney is host to a noteworthy music partnership with edifying social messages.