Meet Dr Patricia Baker; not a medical doctor but a doctor of scrapology, founder of SCRAPS, the Society (for the) Care, Repair (and) Analytical Probing (of) Scrapbooks.
She has an alluring range of CSI-like clinical instruments to examine her serendipitous finds and sleuth interesting deductions about their unknown, original owners. She's onstage investigating The Curious Case of Josephine Bean's Scrapbook, Shona Reppe's show for children currently playing at the Adelaide Festival.
Under her magnifying glass this time, both literally and figuratively, is a Victorian-era scrapbook. Initial investigation suggests it was kept by a pipe-smoking, bewhiskered man with a passion for collecting seaweed. Artemus J. Mood, as it turns out, Edinburgh clockmaker and officially a Lonely Man, pasting in his train tickets to Elie beach and the odd snippet from the local newspaper ("Child Labour Age Raised to 5!"; "Chimney Sweep Stuck in Chimney: Fed by Mother Upside Down!").
As each scrutinised page coughs up its clues, Dr Baker gets more and more excited. Artemus has a soul mate, it seems, a young woman. Scraptastic! But who is the mysterious Josephine Bean and why does she not appear in a single photograph?
And what is the meaning of the exquisite "sea bean", the Entada Gigas, symbol of good luck and fertility, that Artemus discovered on the beach and which contains a tiny, perfectly formed keyhole?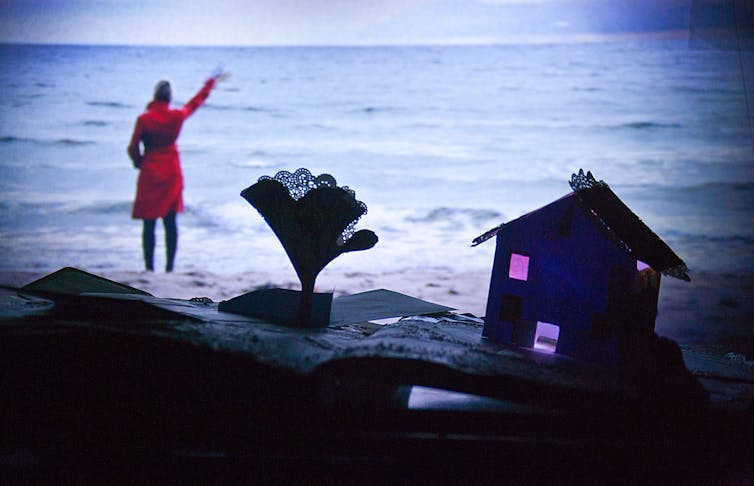 Children's shows are a fab theatrical form. When they miss their mark it's usually because they freight an adult's idea of what children will like and end up in a zone of condescension. So it's good to bring a Young Person (YP) along as a critical adviser, someone who can speak with authority about the relevant expectations.
At 10 years old my YP was at the outer edge of Dr Baker's demographic, though this did not stop him chortling away at her sight-gags and free-flowing gentle patter (his favourite joke: "I used to love romance stories. Of course, now I'm married").
Shona Reppe is the creator, designer and performer of a beautiful play that never puts a foot wrong. As Dr Baker she gives off a continual, engaging goofy warmth, like a human lighthouse, driven by enthusiasm, curiosity and empathy in equal measure. She's not beyond having a lick of her scrapbook specimens, for analytical purposes, and her methodical madness is neither coy nor contrived.
There's just the right amount of gee-whizz technical effects in the production too, which means you never notice them as effects, only as well-crafted insets in the arc of the drama. A projected image or a recorded sound appears at just the right moment, nudging YPs into the inner world of a strange but moving relationship.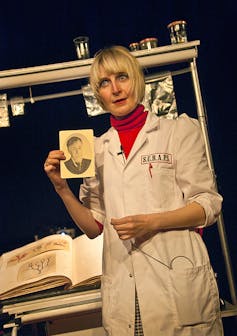 I asked my YP afterwards what he thought the play was about. "About a man's life and how he finds and gets to know a tiny tiny tiny tiny tiny tiny Jamaican lady and later falls in love her". He thought it a romantic comedy, genre-wise, and that it would appeal to "all age degrees". Asked to describe it in three words, he chose "funny, intriguing and ridiculace" (sic).
There you have it, straight from the horse's mouth.
He felt that it perhaps lacked a bit of suspense, that an alien or a spaceship might possibly spice up the narrative line. We talked about this, I maintaining the opposite view, that a show about a lonely middle-aged Victorian and his miniature love should remain firmly in a register of action appropriate to its whimsical but compelling theme. A laser skirmish would be out of place. He took my point, I think.
Towards the end of an hour-long parade of sheer delight, there is a modest coup de theatre that I won't reveal, save to say it lends the show the formal resolution of a polyphonic motet. All things are brought to a point in a way that is both surprising and, if you look hard enough, implicit in the structure all along.
I didn't discuss this observation with my YP, but watched his face out of the corner of my eye, clocking its rapt expression, even as he clocked Dr Baker's. Ridiculace, indeed. But very lovely. Very welcome and very lovely.

The Curious Scrapbook of Josephine Bean plays at the Odeon Theatre as part of the Adelaide Festival until March 9. Details here.

Are you an academic or researcher? Would you like to review something for The Conversation? Contact the Arts + Culture editor.