Is it a spaceship piloted by a friendly alien, a metallic pine cone or a giant cheese-grater?
No, it's Adelaide's South Australian Health and Medical Research Institute (the SAHMRI building for short), designed by architectural firm Woods Bagot and opened in November last year.
It's just one building but its impact on architecture in Australia is likely to be profound. If the building's environmental sustainability performance lives up to its promise, it will make a significant contribution to sustainable design.
And if, as its architects hope it will, this building's interior facilitates an interdisciplinary research culture, it will be of interest to designers, scientists and scholars not only in Australia, but internationally.
Under one roof
The SAHMRI building, found in North Terrace, is not designed to blend into the Adelaide skyline – it's a floating object. The building is lifted, creating a partially open ground plane in an integrated landscape, opening the building to the public as well as users. The 25,000 square metre facility is located adjacent to the new Royal Adelaide Hospital, sharing its forecourt entry.
The institute will conduct collaborative interdisciplinary research with South Australia's three universities and the new Royal Adelaide Hospital and is the first stage of a new health and bio-medical precinct. A second SAHMRI research building (already proposed) and two multi-storey medical research and training facilities owned by the University of South Australia and Adelaide University will create the largest health and biomedical research precinct in the southern hemisphere.
South Australian researchers working there will also collaborate with other organisations, including the CSIRO and the European Molecular Biology Laboratory. There are numerous advantages to bringing a range of research areas under one roof, including sharing the cost of expensive technology, state-of-the-art laboratories, improved sharing of research techniques and outcomes.
Thousands of staff will be employed across the health and bio-medical precinct and their presence will boost the city's economy and vibrancy, further transforming Adelaide's West End and enhancing its social and economic sustainability.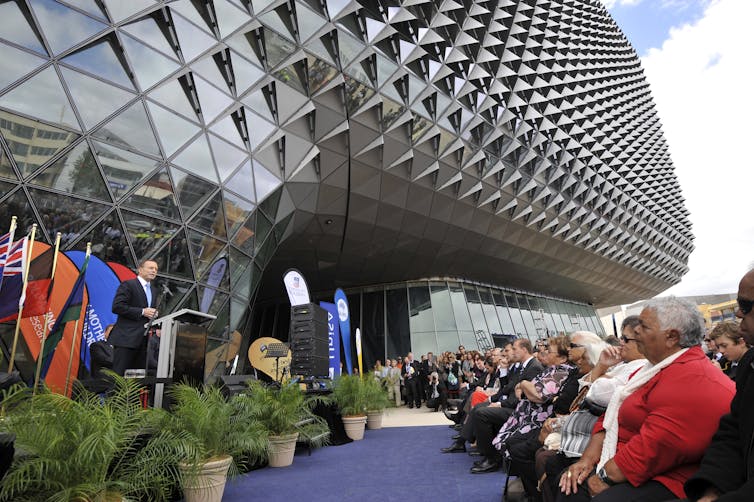 Disco bling aesthetic
The building shows strength of character and makes the most out of its exposed North Terrace location. It has an envelope of diamond-shaped façade elements wrapped around its exterior. The triangulated dia-grid facade covers the entire surface and responds to sunlight, heat load, glare and wind, while maintaining views and daylight.
The first impression is that the building's structure and number of storeys are hard to discern. Who knew that disco bling could be an ideal motif for a 21st-century research facility?
Without doubt, the object's sculptural quality and unusual envelope are its most striking features, which is appropriate for a facility that is all about innovation. The complex façade structure is a combination of a structural steel dia-grid sub-frame with an external aluminium suite and double glazed triangular panels, woven mesh panels, and perforated and solid aluminium infill panels.
The glass skin comprises 6,300 triangular glass panels. The structural steel grid spans up to 40 metres with no additional support and has less embodied energy than if it would have been made of aluminium. The sunshades have been designed and orientated for optimum thermal and light efficiency (reducing also heat load and glare), and sizes vary for that reason, making it nearly impossible to register the building's scale accurately.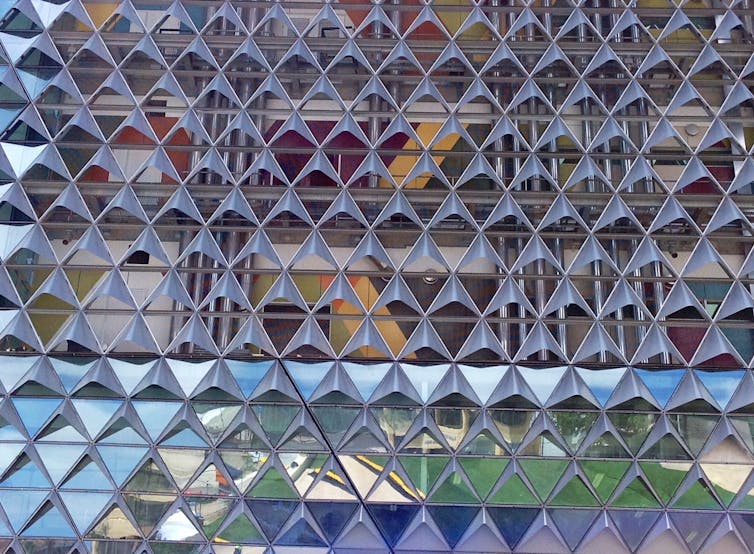 Inspiring insides
An interesting shell is always about sculpture, surface and object; but architecture is primarily about creating spaces and this building is also inspiring on the inside. In fact, it does not disclose itself until you are inside, starting with the two large day-lit atria.
The enclosed lab support spaces are located along the western façade to provide protection from the harsh afternoon sun. The architects suggest that glass partitions, open atria and bridges, as the visual connection between floors and an interconnecting spiral stair will encourage connectivity and collaboration between researchers based there.
(While the motivation is commendable, crossing the traditional boundaries that sometimes hamper research communities will require more than a spiral staircase.)
The laboratory building minimises the use of energy, using an energy-efficient heating, ventilation and air-conditioning system, with high levels of outdoor air supply (something that is still unusual for laboratories); intake of fresh air is through the cooler plaza gardens and a sub-labyrinth to cool the air naturally.
Other features include rainwater harvesting and the re-use of processed water; and an intelligent integrated building system to improve energy efficiency and provide real-time measurement of operational measures, such as energy and water consumption (e.g. no potable water is used in cooling towers or for toilet flushing). The operation costs of such a facility over 20 years can easily be higher than initial construction costs, so hopes are high that the design will save energy and money over time.
The future of architecture?
In keeping with South Australia's history of progressive reform, Adelaide has frequently led Australia in implementing environmental sustainability initiatives.
In addressing some of the environmental challenges cities face, the principles at work in the SAHMRI building could guide Adelaide's sustainability trajectory over the coming decade and offer an example for other cities to emulate.
In South Australia, greenhouse gas emissions per person and emissions per unit of gross state product are high compared to the world average and other Organisation for Economic Cooperation and Development countries, according to the Environment Protection Authority of South Australia.
The main contributors to this are increases in population, energy-intensive transport, and commercial and residential buildings' air-conditioning. Adelaide is on a trajectory to become an ecologically sustainable city but it needs more outstanding green architecture and low-carbon precincts to achieve that goal.
Perhaps architects in this city and beyond could look to the SAHMRI building for inspiration.
More images of the SAHMRI building can be viewed here.