Anyone with a passing interest in Australian football will know the AFL Grand Final is unlike any other game of the season.
There's more hype, more expectation, more emotional investment from players and fans when it comes to the big day.
But the game itself is also quite different, as are each of the games in the finals series.
But why?
I'd argue it's more than just an intangible sense of occasion. I have collected data that show AFL players run faster, harder and further during finals matches than at any other time during the season.
Tracking performance
Australian football is a highly intermittent sport, requiring athletes to accelerate hundreds of times with repeated bouts of high-intensity running.
It's also a contact sport. Its players need a blend of physiological capacities – the chief one being endurance, but also strength power, speed and agility.
Players need to maintain or develop these capacities over the course of a long competitive season with a view to peaking for finals games.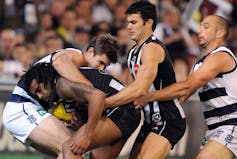 In my study – the first to examine the running demands of finals games – player movement was recorded using GPS trackers and expressed per period of the match (rotation), for total distance, high-intensity running and maximal accelerations (the fastest speed at which a player can take off).
Eight Australian footballers participated in this study – each a registered player with an elite Australian club. I can't tell you who they were, but they would be very well known to fans.
Information was included for the same eight players in three regular season games against the same opponents during finals in the 2008 AFL season. Each player played the same strategic role during each of these games.
Distance runners
During finals games, players covered on average 11% more total distance, and the greatest increases in total occurred during rotations in the second half of matches.
Not only did players spend a greater amount of time running at moderate to high speeds – but they also had to accelerate hard at these speeds. That is, players accelerated more often from a higher velocity, with less time between accelerations.
In finals games, the extra distance covered during maximal accelerations was approximately 450 metres. The elite AFL players in this study required an additional 410 kilojules of energy during finals as a result of these increases in acceleration alone.
The players undertook approximately 9% more high-intensity running during finals games, for an average game total of approximately 3,500 metres per person.
So how did the players feel about all this extra strain?
I measured their reaction to the increased workload by asking them to rate their effort. This measure, known as "rating of perceived exertion", quantifies how athletes perceive their workout.
They reported feeling the same amount of exertion after a finals match as they did after a season match, which indicates training had led to increased aerobic capacity.
Conditioning
Players can be effectively conditioned to cope with increased demands, even during a long competitive season.
Elite Australian footballers undertake a lengthy and rigorous pre-season training regime.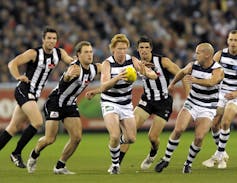 Typically, the training year is divided into the general preparatory phase (November and December), the specific preparatory phase (January to early February), the pre-competition (February and March) and competition phases (March through September).
Most physical development of players is therefore complete by the commencement of the competitive season.
Various training regimes for enhancing the aerobic conditioning for team sport athletes have been attempted, ranging from traditional aerobic interval training and classical team sport conditioning. Such regimes were defined in a recent review as the integration of strength, power, speed and aerobic conditioning.
A question of tempo
It's also possible that the different running demands observed in finals were due to a different game tempo. This could be related to tactical and strategic differences on the part of the coaches during these games.
In my applied experience, the opposing team affects the tempo of the game more than the type of game played.
It's also possible athletes played to a higher percentage of their individual physical capacity during finals games. But this is by its nature difficult to quantify, and there is no strong evidence for it.
The total load was not seen as different between regular season and finals games, indicating an equal perception of effort for players across both of these game types.
Players had a similar decline in running performance from the start to the end of the game whether in season or finals games, indicating similar levels of fatigue, and seemingly not related to any difference in effort.
There can only be speculation regarding the reason for players' enhanced physical capacities in finals games, as no physiological testing has been undertaken to determine the specific mechanisms involved.
And so how will my study help AFL players and coaches?
Fitness and coaching staff can successfully manipulate training to condition athletes for increases in both the total distances run, and the number of high-intensity activities players will need to undertake during finals games in the weeks preceding those games.
Such knowledge, at this level of the sport, could make all the difference.