There has been much public condemnation of the destruction of the Temple of Bel at Palmyra by Islamic State (IS), as well as the wider devastation being inflicted on the cultural heritage of Syria and Iraq by both IS and its opponents in Syria's civil war.
Both Syria and Iraq are party to all relevant treaties protecting cultural heritage, but this has not stopped the rampant violations. This implies that the problem doesn't lie with inadequate laws, but rather with compliance and enforcement.
This is not just a matter for states involved in conflict. A major problem with the international law on pillaging, looting and smuggling is that a number of prominent states, including the UK, are yet to ratify key treaties in this field.
That's a grave shame – especially since the international laws that protect antiquities and cultural treasures are actually fairly strong, at least on paper.
In black and white
International humanitarian law clearly prohibits the destruction or damage of cultural property in armed conflicts, in particular under the 1954 Convention for the Protection of Cultural Property in the Event of Armed Conflict and its two protocols. Pillage is also prohibited in international humanitarian law, and constitutes a war crime under the Statute of the International Criminal Court both in international and non-international armed conflicts.
In a separate branch of international law, regulations such as the 1970 UNESCO Convention ban illicit trade in stolen cultural property, whether in peacetime or in the thick of armed conflict.
While these laws may be difficult to enforce in these uncontrolled areas, the world could still be doing a lot more to secure compliance wherever possible – especially by those parties to armed conflicts who, unlike Islamic State, could be stopped from doing these things.
There are a number of workable ideas. Italy has proposed a specialised international rapid response force tasked specifically with defending cultural property from any abuse. Another way to ensure greater awareness and protection of cultural heritage would be to write its protection into the mandate of international peacekeeping missions, as has been done in Mali.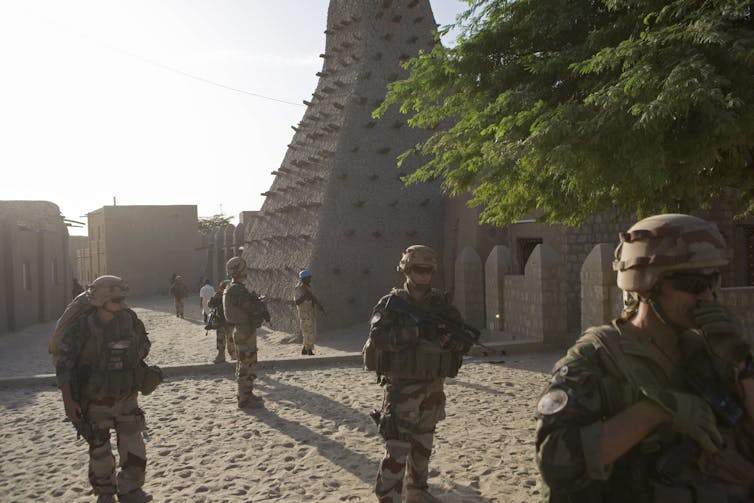 Some have suggested embedding cultural property specialist officers, akin to World War II's "monuments men", alongside deployed military forces participating in hostilities.
Both looting on the ground and illicit international trading demand not only laws, but serious international policing. Any effort with a chance of success must involve both war-torn states that provide the supply and the states that provide the demand, which often include Western countries.
Those states should be able to dedicate resources to recover stolen antiquities and hold those implicated responsible.
Emotional survival
The most crucial missing piece of the puzzle is support for the people these artefacts actually belong to, especially those who risk their lives to protect artefacts and cultural sites in their neighbourhoods.
This can be achieved by providing training on preservation methods, as well as by supplying the resources and means needed to safeguard and record protected objects, including 3D imagery and printing to replace originals removed for safekeeping, or to recreate them if destroyed.
Not everybody can be expected to be as committed as Khaled al–Asaad, the prominent Syrian archaeologist who was beheaded by IS for refusing to reveal where Palmyra's mobile artefacts had been hidden. But as was made clear by the efforts to secure Palmyra's and Timbuktu's antiquities, people all over the world have more than enough enthusiasm and determination to save their own cultures. They must be given the help they need to do so.
Above all, it must never be forgotten that, as is written outside the National Museum of Afghanistan, "a nation stays alive when its culture stays alive". This is in large part what made the destruction of Palmyra so devastating for Syrians.
Cultural heritage has a crucial role to play in reconciliation and unification of the nation in the aftermath of conflict, and in the emotional survival of people during it – and it's the world's responsibility to preserve it.