The exuberant exhibition Clay Stories: Contemporary Indigenous Ceramics from Remote Australia is part of the 2017 Tarnanthi Festival of Contemporary Aboriginal and Torres Strait Islander Art. While pottery making and firing were never part of the pre-contact repertoire, the pulse of tradition infuses these ceramic artworks.
Held at the JamFactory's Seppeltsfield Gallery, Clay Stories is a collaboration between the Remote Communities Ceramic Network and Sydney's Sabbia Gallery. The spacious, light-filled gallery on Seppeltsfield's winery estate is the picture perfect setting for displaying these strikingly variegated bodies of work.
The ceramic artworks in Clay Stories have been sourced from remote Indigenous Art Centres located on the homelands of Indigenous people, from island to inland. These centres, controlled by members of local Aboriginal or Torres Strait Islander communities, represent optimal practice in the field, with profits routinely re-invested back into the organisation, providing grassroots infrastructural support for younger or emerging artists.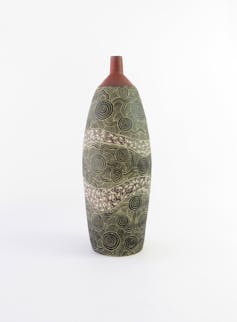 Clay Stories includes works by ceramists from Hermannsburg in Central Australia, Ernabella Arts on the APY Lands, the Tiwi Islands, the Torres Strait Islands and the Girringun Aboriginal Art Centre in far northeastern Queensland. They have been grouped on the basis of their regional provenance, thus capturing the distinctiveness of each body of work.
A sensible curatorial decision, this allows visitors to understand the specific zeitgeists and socio-cultural contexts that have given rise to the works, in terms of location and terrain, whether land and/or sea, and each group's unique pre- and post-contact historical circumstances.
The works of Tiwi potter Jock Puautjimi, equally esteemed for his sculptural Pukumani (funerary) poles, are those of an artist at the top of his game. Puautjimi's Tiwi Bird is a re-creation of an episode in Tiwi oral tradition chronicling events that brought death to the Tiwi Islands.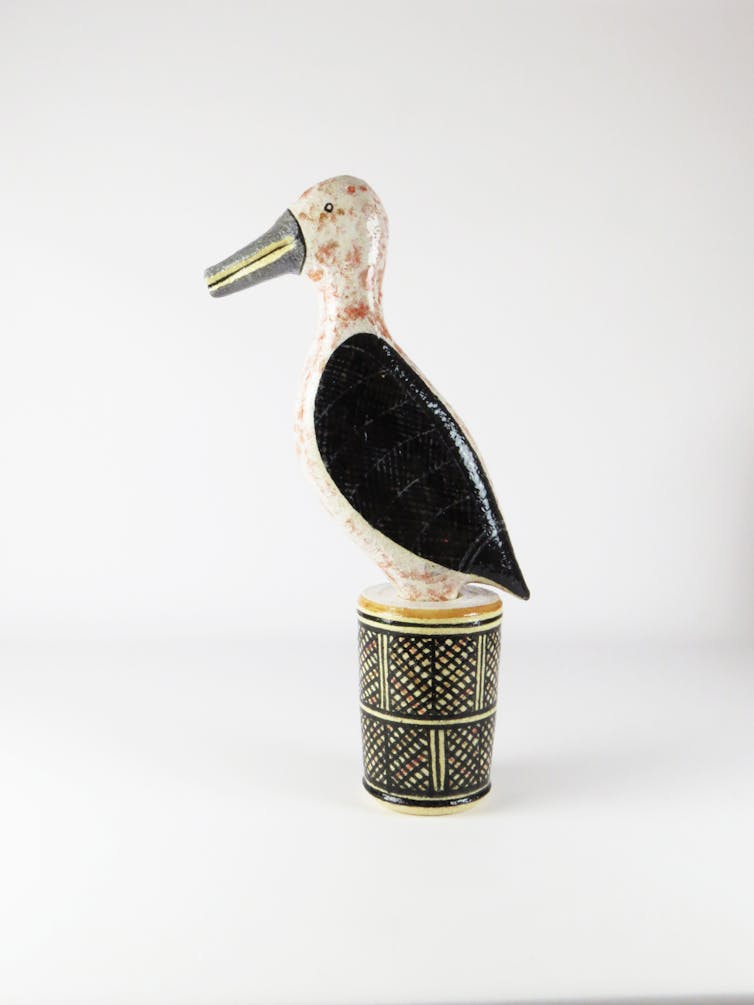 Two Ancestral Beings, the adulterous lovers Bima and Japara, contravened Tiwi Law. Their sexual transgression led to the death of Bima's baby Jinani, the demise of these two star-crossed lovers and their eventual transformation into Other Beings. Tiwi Islanders became forever mortal thereafter.
Birds figure prominently in this foundational Tiwi narrative. Tiwi Bird is an elegant, deceptively simple work, masking the true art that conceals art. Puautjimi's marvellous visual poetry is also evident in his Open Vase. Adorned with classical Tiwi geometric designs, the clean lines, bold design and skilled craftsmanship informing this work confirm Puautjimi's status as an Old Master.
Erub Islander Jimmy Kenny Thaiday evokes age-old Torres Strait Islander tradition in his dramatic ceramic rendering titled Le Op. In this magisterial sculptural piece, Thaiday re-creates a type of ceremonial mask originally carved from turtle shell and worn by Torres Strait Islander men. Thaiday's younger countrywoman, Ella Rose Savage, also demonstrates in her ceramic works how the richness of Islander tradition and cultural practice continues to serve as an abundant source of creativity, regardless of medium used.
Artistic renaissance at Girringun
Cardwell, a small township some 1,500 kilometres north of Brisbane on Queensland's north-eastern coast, is the home of the Girringun Aboriginal Art Centre, a collective representing nine distinct language groups. Girringun has very quickly become a hothouse of constant, bubbling artistic activity. Ceramic works are at its forefront.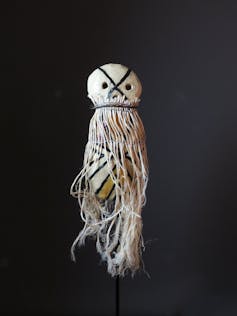 The local people, mostly descendants of rainforest tribes, traditionally carved Bagu figures, ochre-painted Fire-Spirit Beings, from slow-burning wood, typically the milky pine (Alstonia scholaris). These curious little wooden homunculi have deep cavities in place of the eyes from which licking flames and smoke would leap. Traditionally, jiman (firesticks) were attached to the Bagu (fireboards). In the old days, these enchanting, mercurial beings were regarded as having sorcery power, but their practical use was paramount. Fire was a precious commodity to be transported everywhere, lest flames be extinguished in that damp, dank rainforest environment.
An exciting artistic and cultural renaissance is currently taking place at Girringun Art Centre. People are making ceramic Bagu figures ranging in size from diminutive to monumental. Major artists include Sally Murray, Emily Murray and Eileen Tep, all of whom have Bagu ceramic works on display in Clay Stories. Something else very powerful seems to inhabit these charismatic Bagu re-creations, partially related to the force field that these figures seem to exert. In equal measure this is a result of the artists' sheer brilliance.
Moving inland to Ernabella Arts, another ceramics workshop and business is thriving. Based in Pukatja in northern South Australia, and located on the homelands of the Anangu Pitjantjatjara Yankunytjatjara people, the Ernabella potters have been collaborating with the JamFactory for some years now.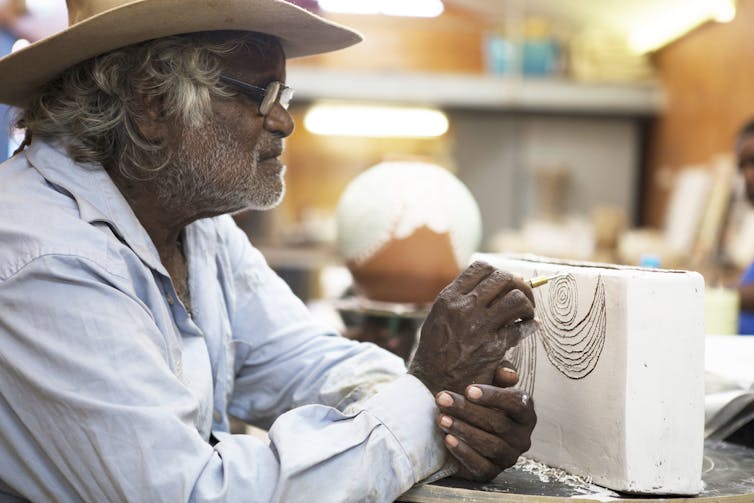 Rupert Jack's stoneware with sgraffito work Ili evoking the native, desert or rock fig (Ficus platypoda) is among the standout exhibits on show, along with terrific work by Lynette Lewis, Alison Milyika Carroll and Derek Jungarrayi Thompson.
The Hermannsburg Potters
Hermannsburg, now known as Ntaria, is where the first modest foray of Aboriginal people into making and firing ceramics began on mainland Australia in the early 1960s. Two local Western Aranda men, Joseph Rontji and Nahasson Ungwanaka, worked with the mission gardener Vic Jaensch to construct a rudimentary kiln. They fired small, rather kitsch figurines.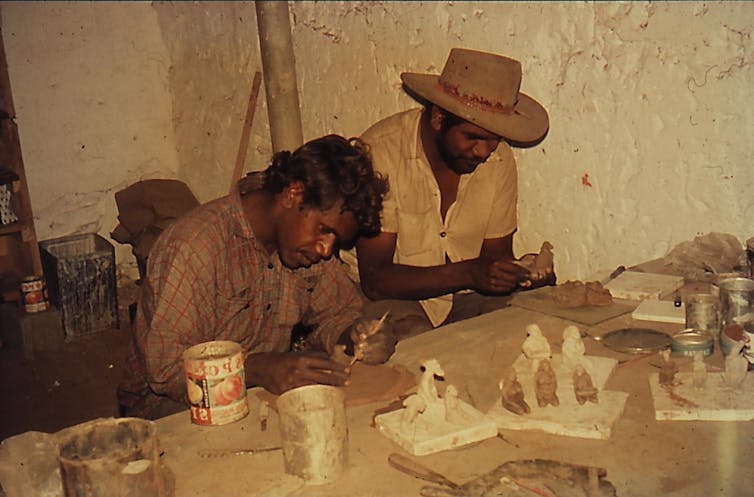 After Jaensch departed the Mission there was a long hiatus in making ceramics until 1990 when the professional ceramist Naomi Sharp arrived. Sharp stayed for 16 years during which time the ceramists acquired professional skills.
Today's Hermannsburg Potters are nationally and internationally acclaimed. Rahel Kngwarriya Ungwanaka, Nahasson's widow, has work in Clay Stories, as does Rona Panangka Rubuntja and the current and long term Chairperson of Hermannsburg Potters, Judith Pungkarta Inkamala. All three women began working with Sharp from the very beginning of what has now become a major enterprise.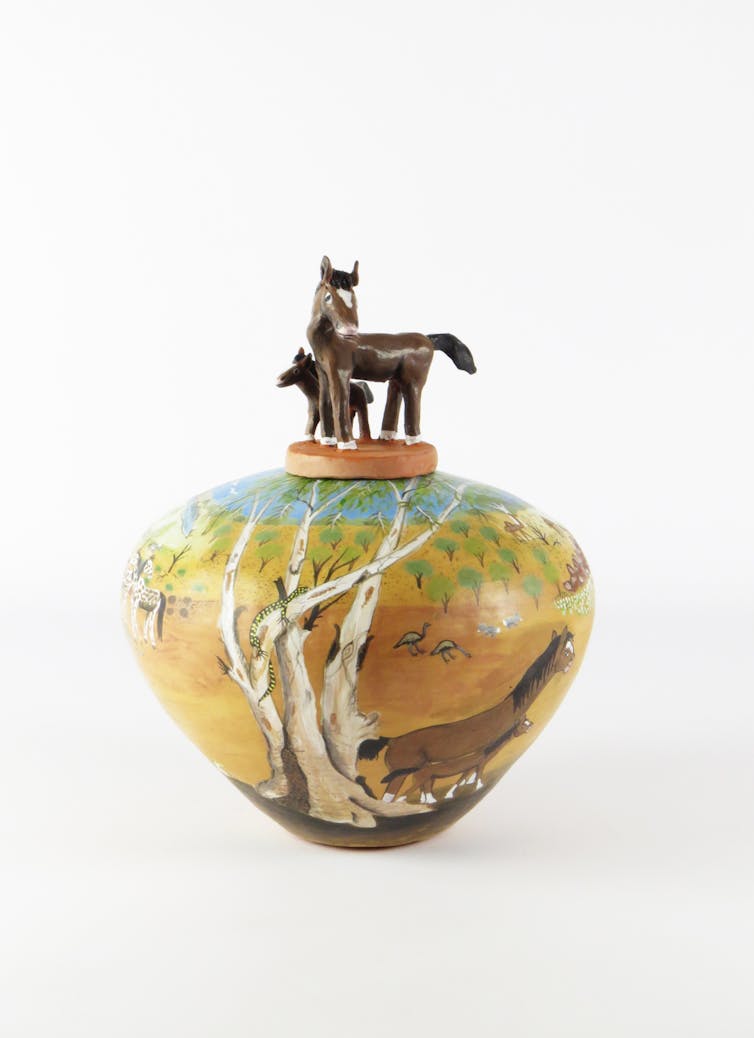 Rona Panangka Rubuntja's Nuka Pmere ("My Country"), in which she portrays a mare and her foal, reveals this artist's impish sense of fun. Peeking around the pot's circumference, one can't fail to notice that the foal's mother is in fact taking a massive dump, graphically and humorously represented, in an understated way. This sent children (and many adults) off with big smiles on their faces as they moved through the gallery space.
The women's ceramic works are mostly comprised of rounded bellies, a direct influence of Pueblo Native American pottery. Their lidded tops depict Dreamings, and/or local fauna and flora, historical scenarios, or scenes drawn from everyday life or other subject matter meaningful to each individual artist.
"Bush creatures" lovingly created by Judith Inkamala perch atop her rounded bowls. Inkamala's ceramic magpie, for instance, seems poised to take flight, either to swoop down to gorge an attractively bald pate or take off skyward.
A brave new world
The works in Clay Stories also materialise to a greater or lesser extent the brave new world imposed upon their makers by British colonisation. But collectively, they serve to retain each group's long-term social and cultural memories, standing against cultural and political amnesia.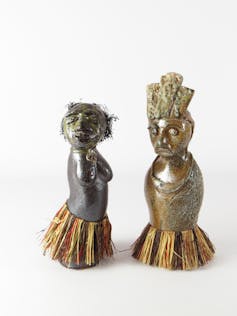 Not only are these ceramic works grounded in everyday living, but they're also connected to country, and to narrative. Whilst many other contemporary Australian artists at times struggle to find inspiration for their artwork, these artists never angst about their choice of subject matter.
Clay Stories is a triumph. (It also exists at a fortuitous crossroads where art meets business.) These ceramic artists' specific histories, Dreamings, and their country constantly replenish and refresh their artistic vision. Drawing on rich repositories of narrative these visual traditions continue to flow through the current generations. For this enduring source of cultural and visual fluency the artists have their Ancestors to thank. It isn't just a matter of "mining the archive" but a means of representing their living cultures.
Clay Stories continues at the JamFactory's Seppeltsfield Winery location until 10th December, after which it embarks on a national tour, which will continue well into, and beyond, 2019.